Social Enterprise
|
Community
Ate Jelyn "The Weaving Warrior" Livelihood Livestock Raising
Philippines
Ate Jelyn is a Bayani Artisan dreaming to establish an alternative livedhood of raising livestock to supplement her income from weaving
ABOUT BAYANIHAN

ANTHILL (Alternative Nest and Trading /Training Hub for Indigenous or Ingenious Little Livelihood seekers) is a social and cultural enterprise in Cebu, Philippines with a strong mission to preserve our craft traditions and provide sustainable livelihood to Filipino artisans. It is integral in our core of our values to seek innovative and inclusive solutions on how we can build entrepreneurial capacity and ensure that our artisans do not get left behind.
Bayanihan was born out of the presence of a growing global community showing up for us in the toughest times throughout the pandemic. We aim to activate this contagious spirit of bayanihan once again to connect our artisans directly to the market, expand their reach to a global market and support their desire to weave tradition and technology by learning digital skills in storytelling and marketing. The value and the spirit of Bayanihan is the common thread that lives among us in a way that honours this connection. It gives us the opportunity to grow a community and be of service to each other in a way that fosters resilience and lasting change.
In partnership with The Spark Project, an initial funding from the Australian Alumni Grant Scheme, and our Design Collaborators, we provide a platform for our entrepreneurial artisans to weave new dreams with you!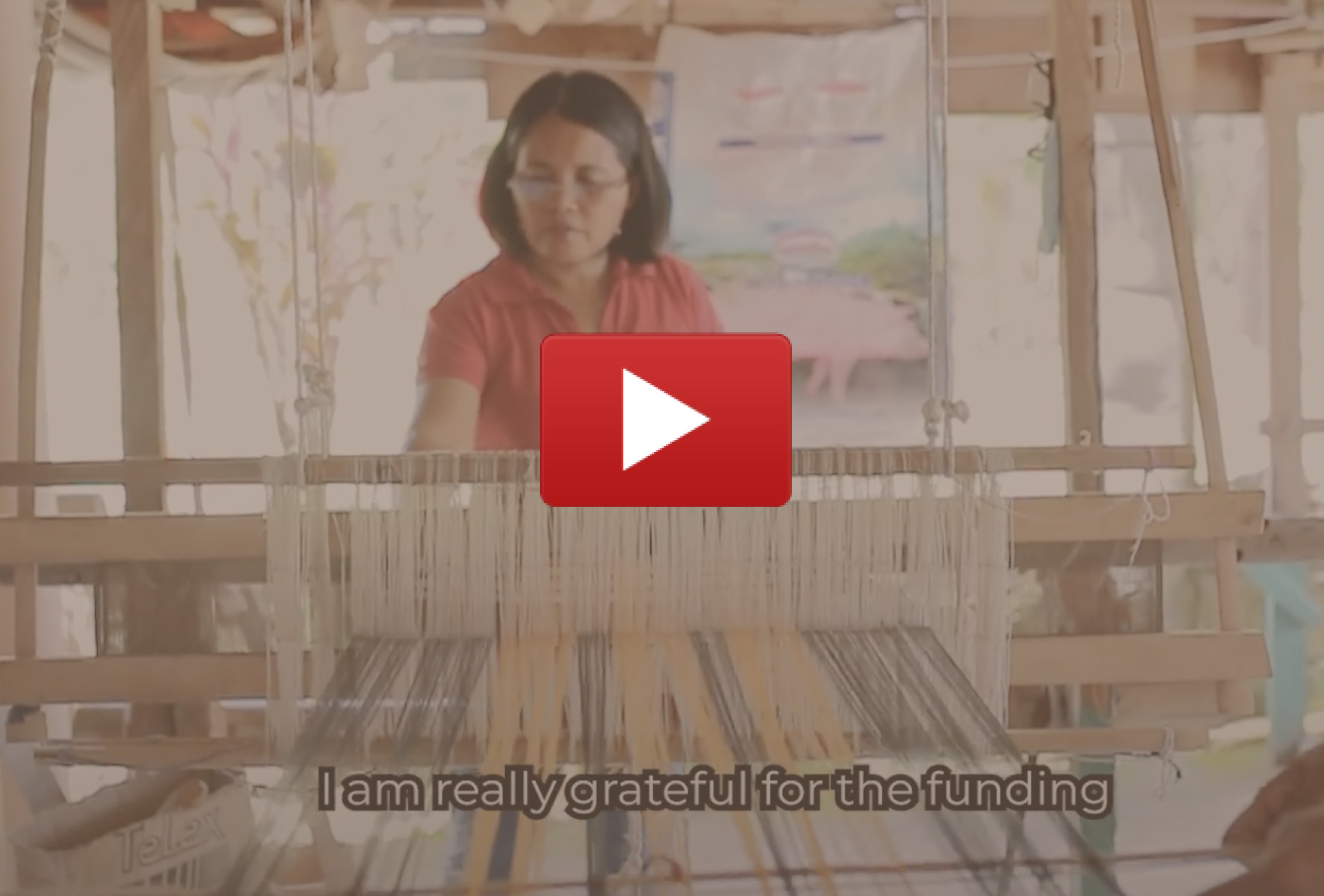 ATE JELYN "The Weaving Warrior" Raising Livestock for Livelihood
Ate Jelyn is ANTHILL's partner Hablonan ni Lauriana's Community Manager from Argao, Cebu. Hablon ni Lauriana has become ANTHILL's Center for Research and Textile Innovation where the weavers are able to learn new weaving techniques and it is also the birthplace of our zero waste fabrics. They are a promising community of female weavers with experience in innovation. Gaining the skill of weaving from her mother, she has been hard at weaving for the past four years until the pandemic hit. During the slow months of the pandemic, Ate Jelyn had to be resourceful to put food on the table. She started selling home-cooked meals to sell among her neighbors in order to provide additional income to support herself, her husband, and their lovely daughter.
Aside from her skills in weaving and community enterprise management, Ate Jelyn also graduated from Cebu Technical University in Argao with a degree in Forestry. It has always been her dream to use her education and explore sustainable livestock farming by raising her own poultry, pigs, and cows. She feels that having a mini farm of animals would allow her family to have a more stable and secure income. She dreams of being able to purchase a few animals, grow them and sell them when they are healthy and ready. Our Weave Warrior dreams beyond the loom and we are excited for the possibilities of her new venture!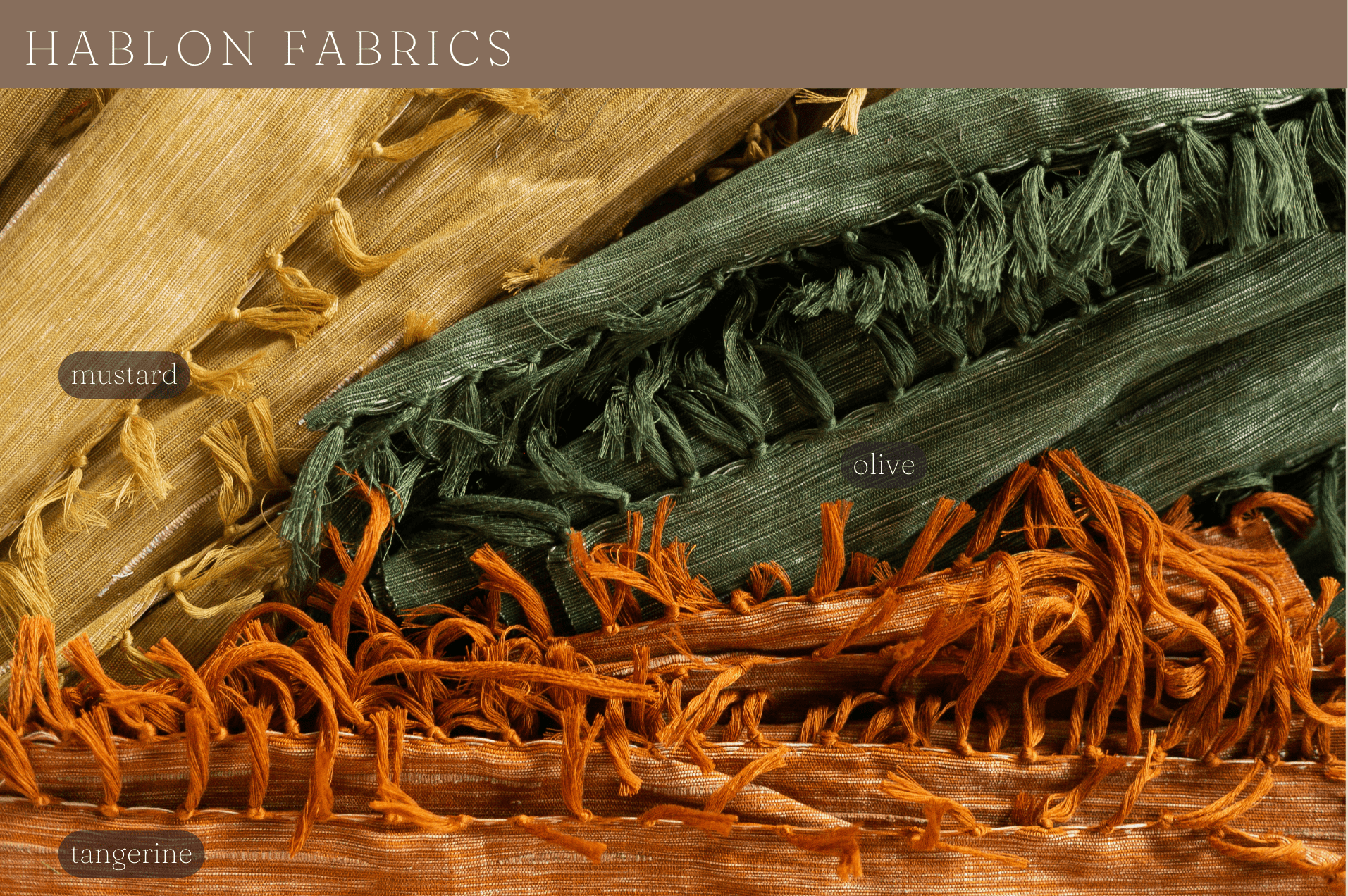 HABLON PLACEMAT TANGERINE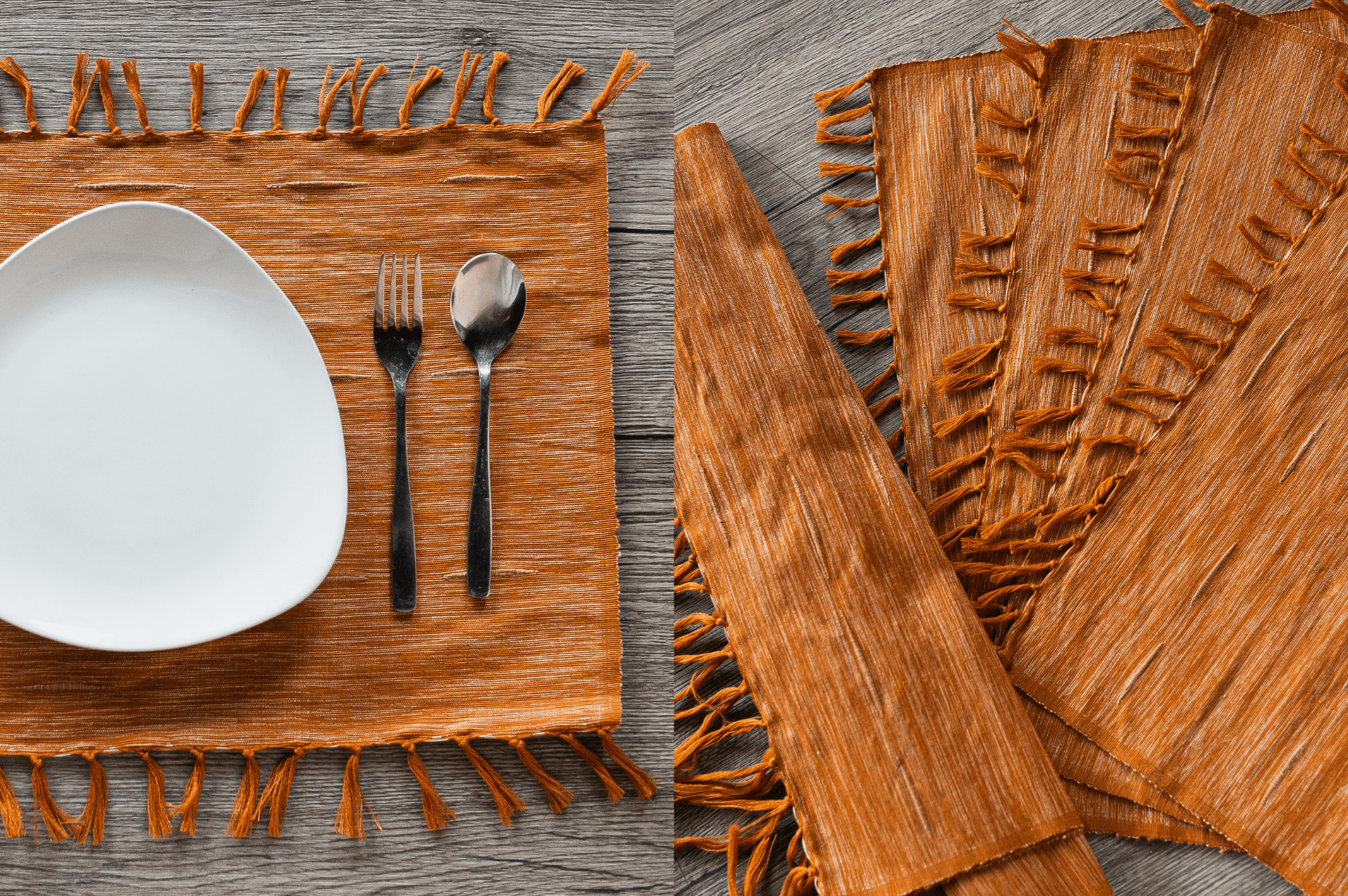 HABLON PLACEMAT OLIVE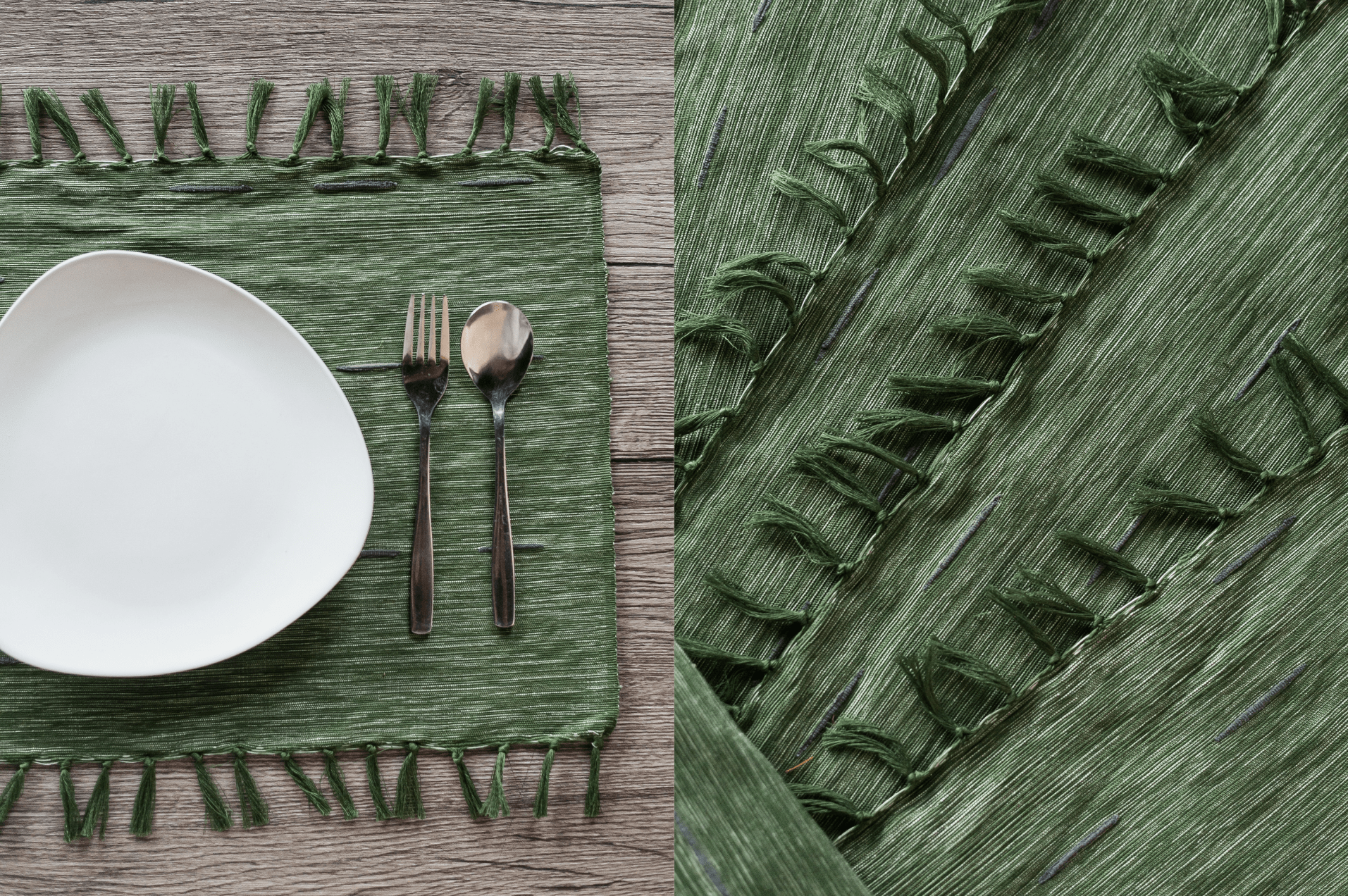 HABLON PLACEMAT MUSTARD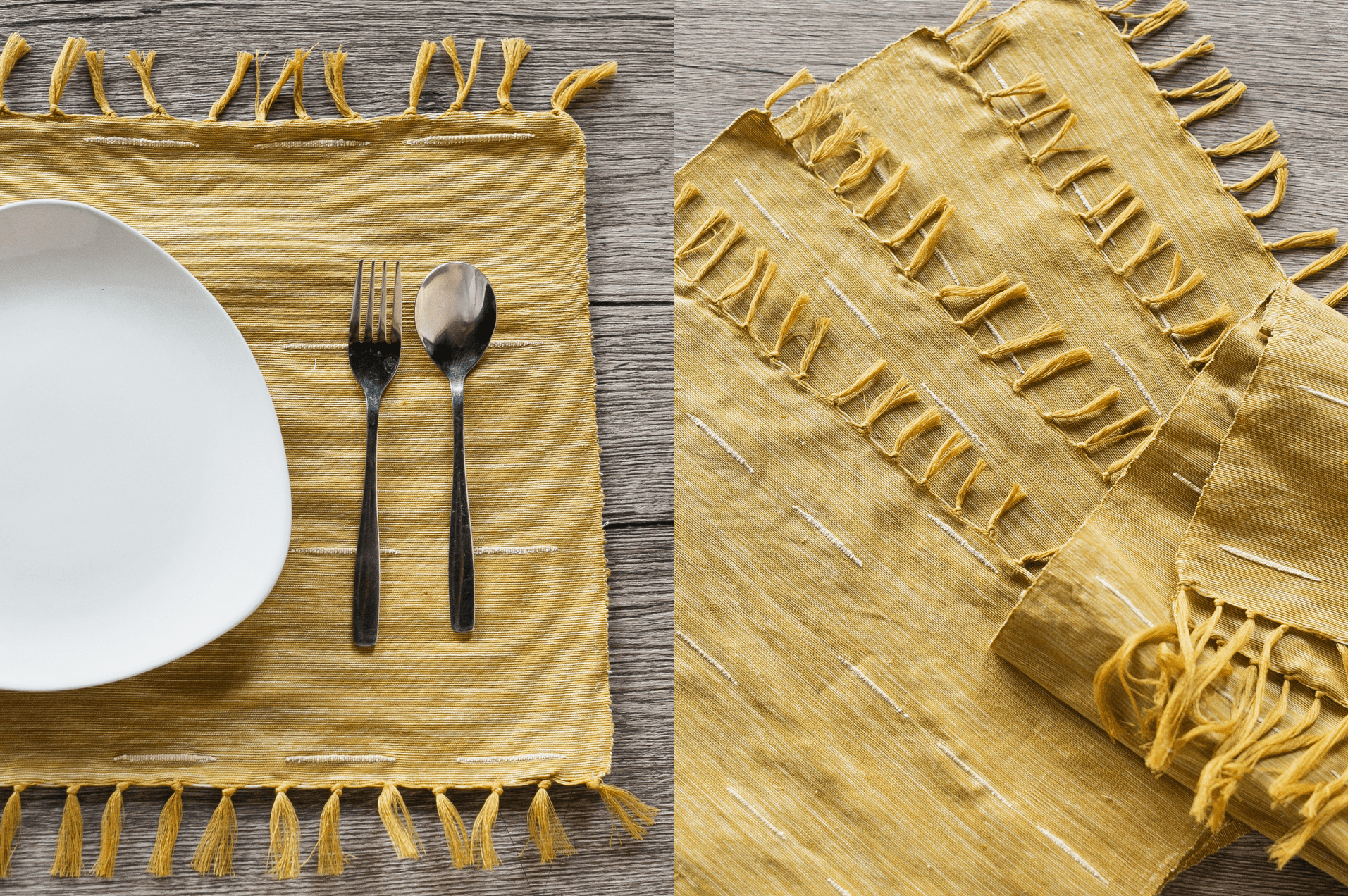 POLYHEMP TABLE RUNNER ASH GREY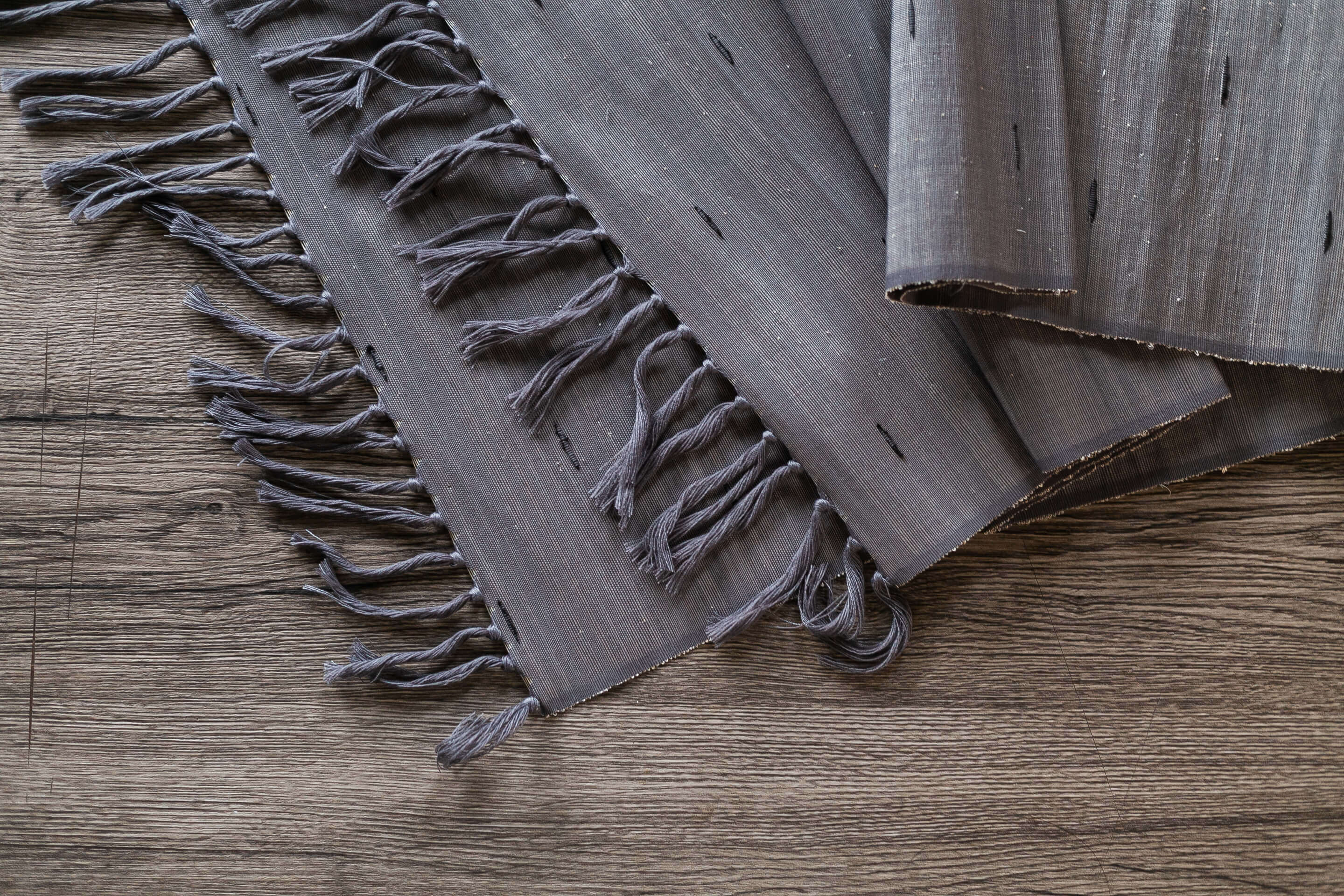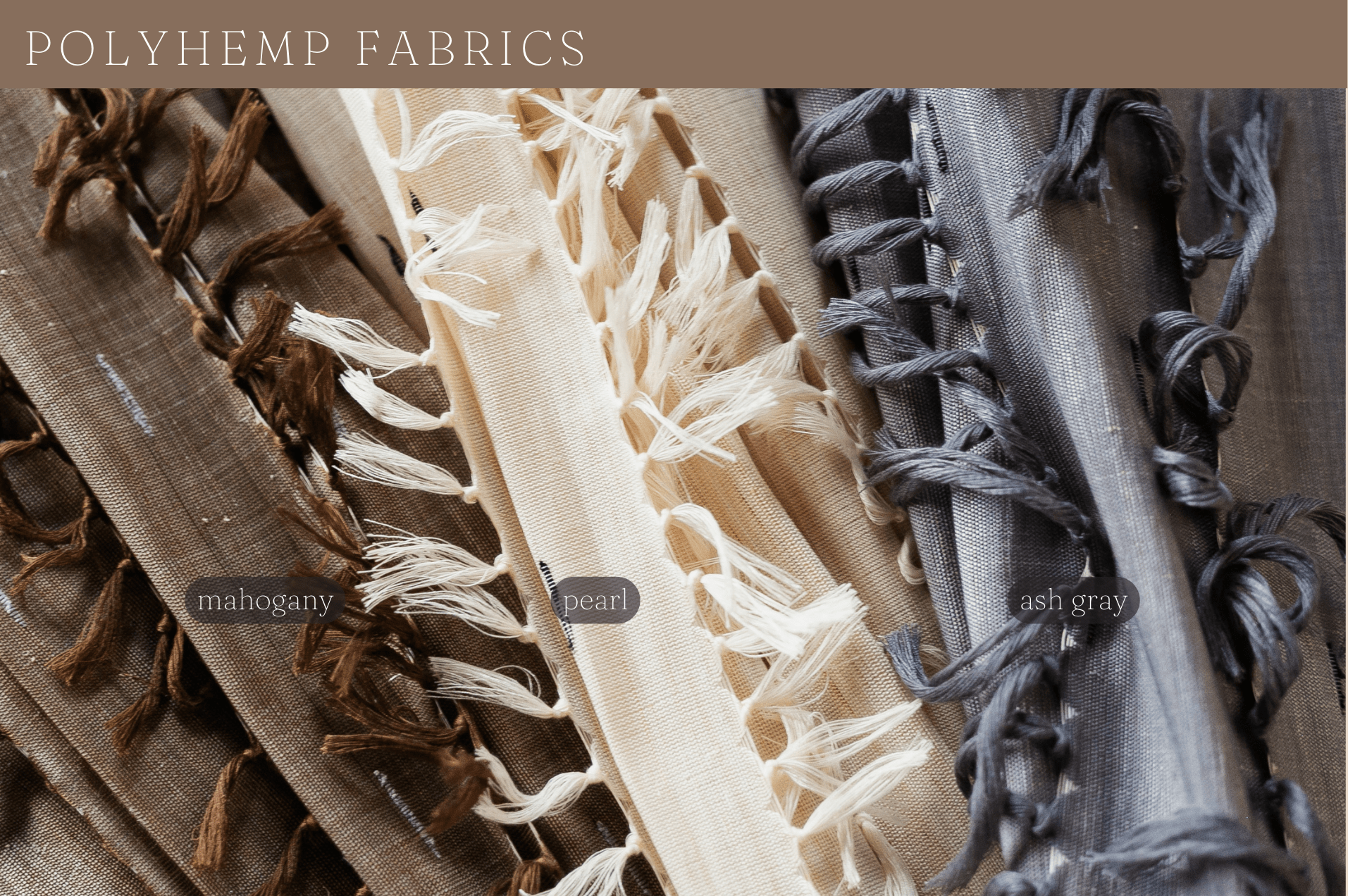 POLYHEMP PLACEMAT PEARL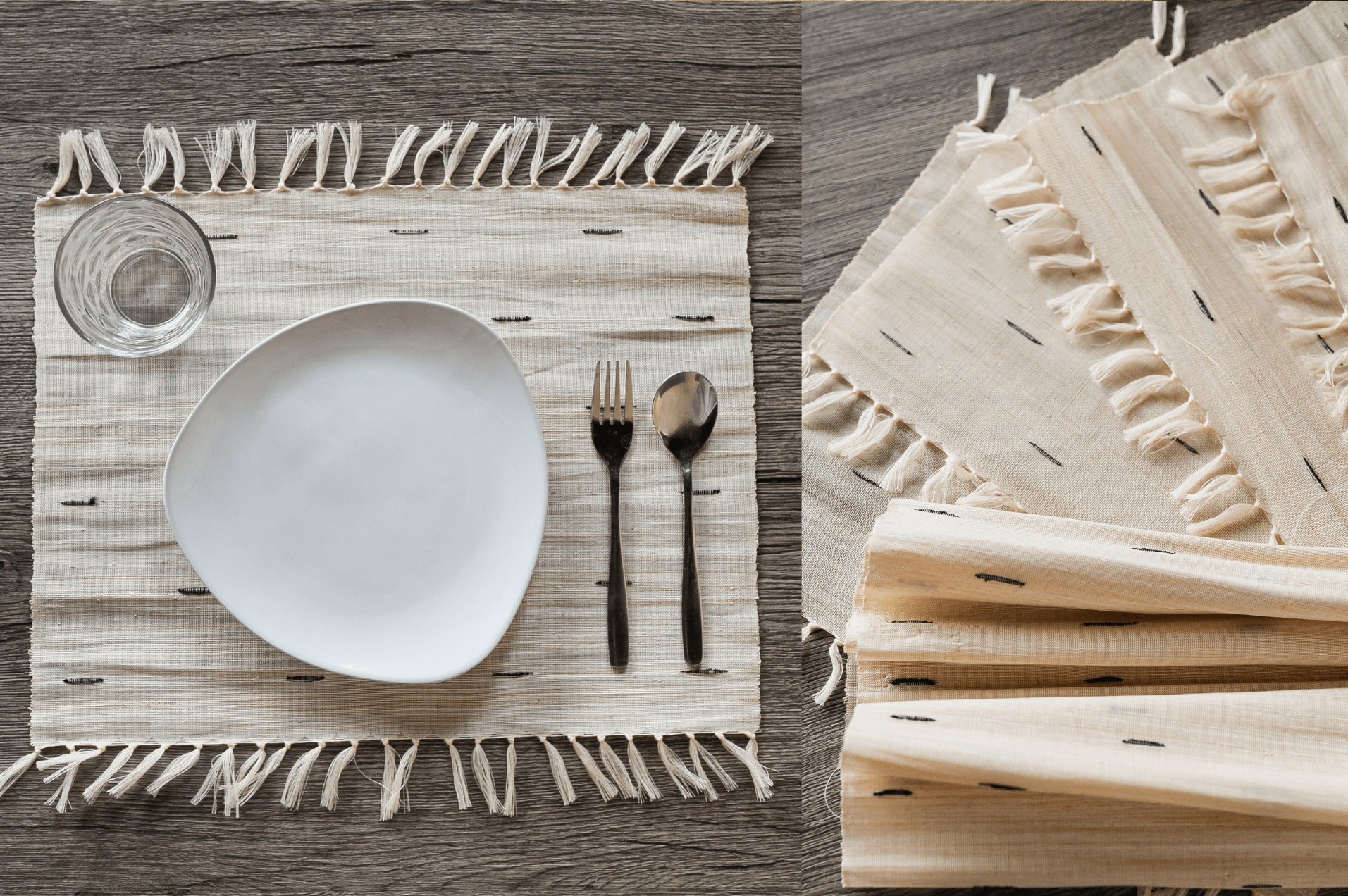 POLYHEMP PLACEMAT ASH GREY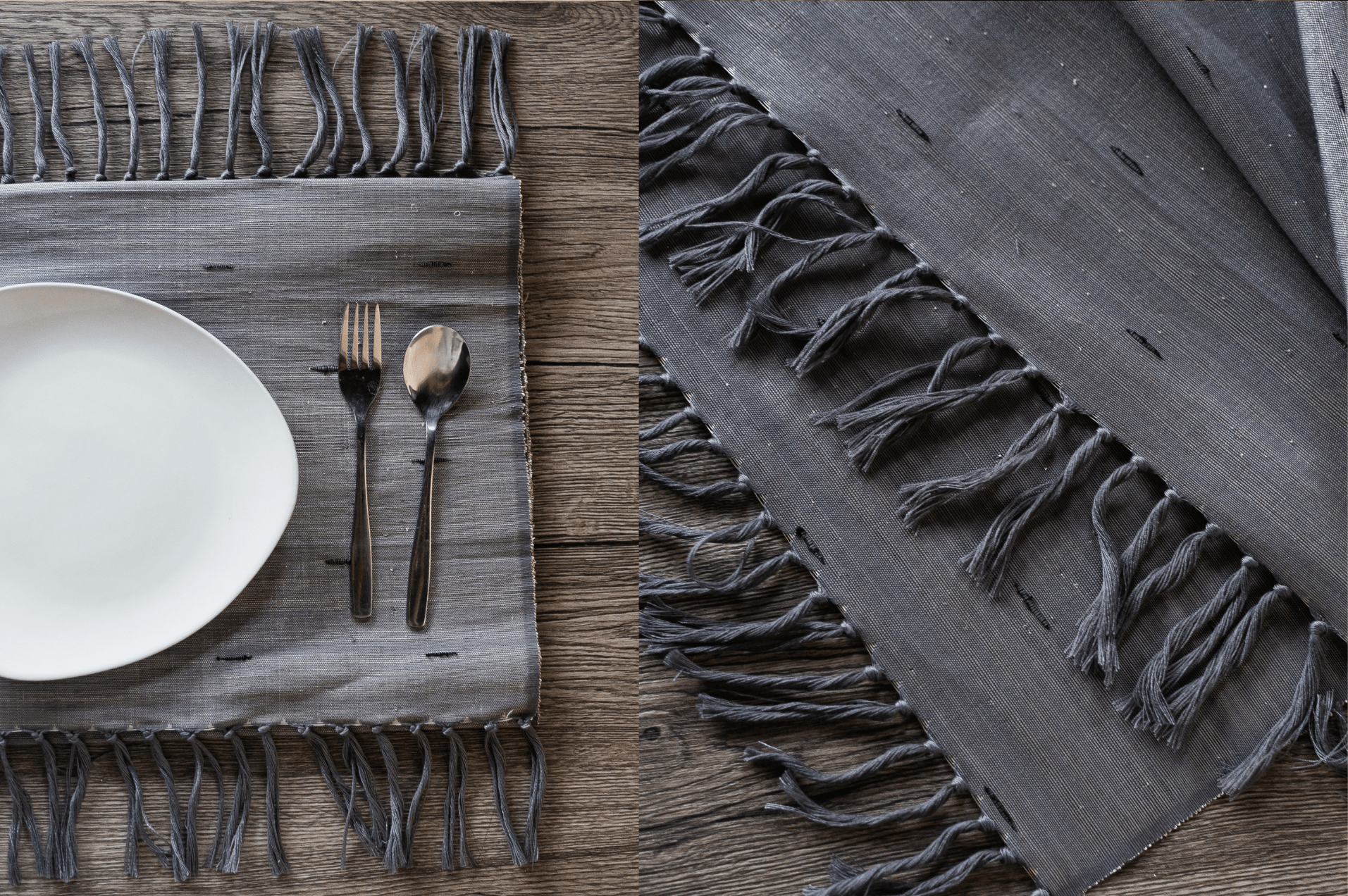 POLYHEMP PLACEMAT MAHOGANY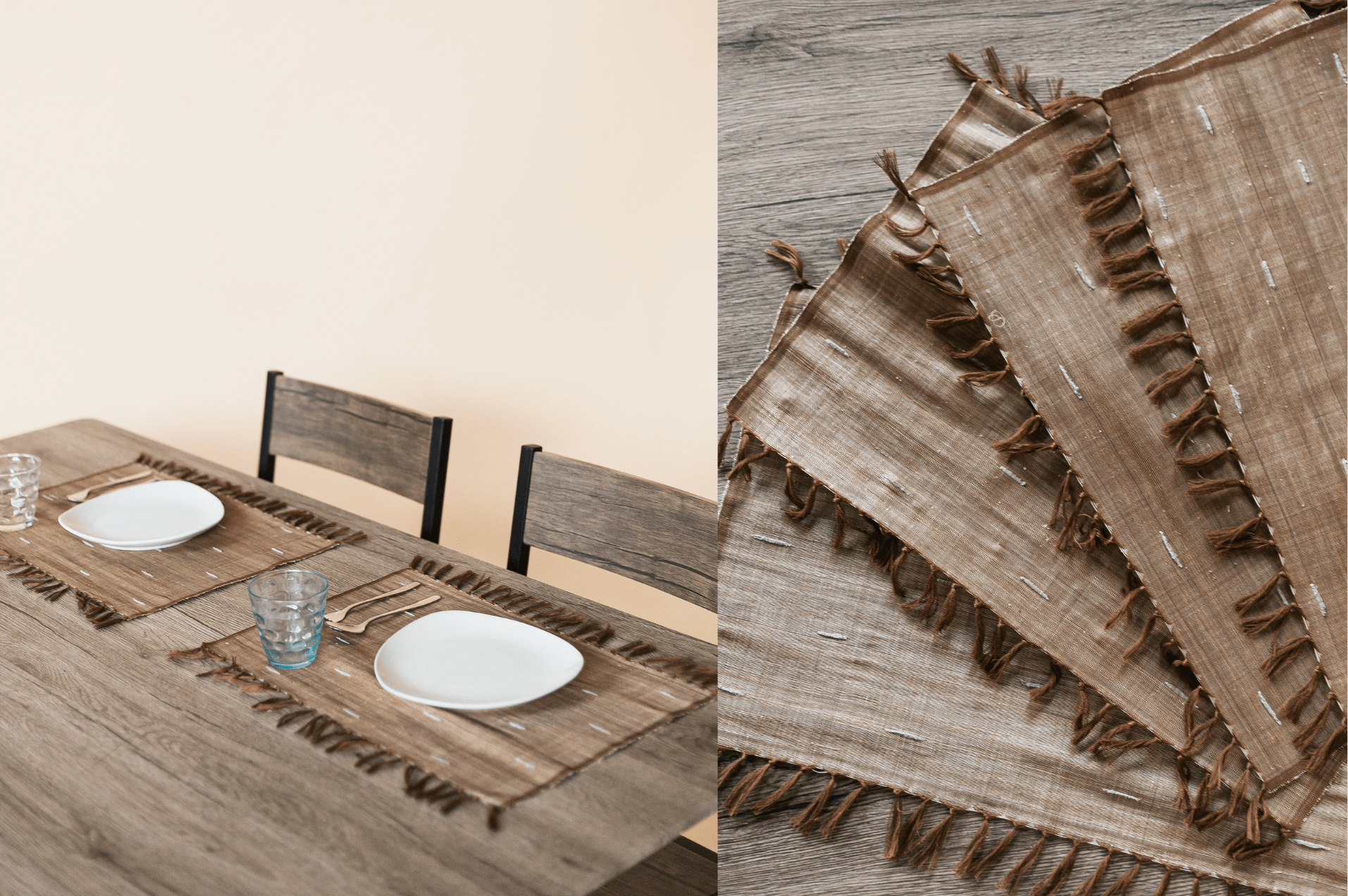 These beautiful rewards are thoughtfully designed in collaboration with Bayani Designer and Modern Weaver Jessica of Damgo Studio, a Philippine design studio specializing in ethically made handwoven textiles for fashion and interiors.

At 25,000 she can purchase a male and female cow with enough feed to last a few months
At 50,000 she can purchase an additional male and female pig with a few hens and enough feed to last a few months
At 75,000 she can purchase more feed for the livestock to last a few months and materials to build a fence and improve her livestock farm
At 100,000, Ate Jelyn can pursue her long-term plan of starting a livestock business with all the resources she needs. In time, the cattle will continue to produce offspring in order to grow the lot and sell the fully-grown ones. The funds collected will act as seed capital for her sustainable business plan.

Unlike other crowdfunding initiatives, the funds received from the campaign will directly benefit the Bayani Artisans. The money gained either through reward pledges or donations will be utilized for the purchase of supplies necessary to put in the work required to fulfill the production of the rewards or contribute to fulfilling their aspirations.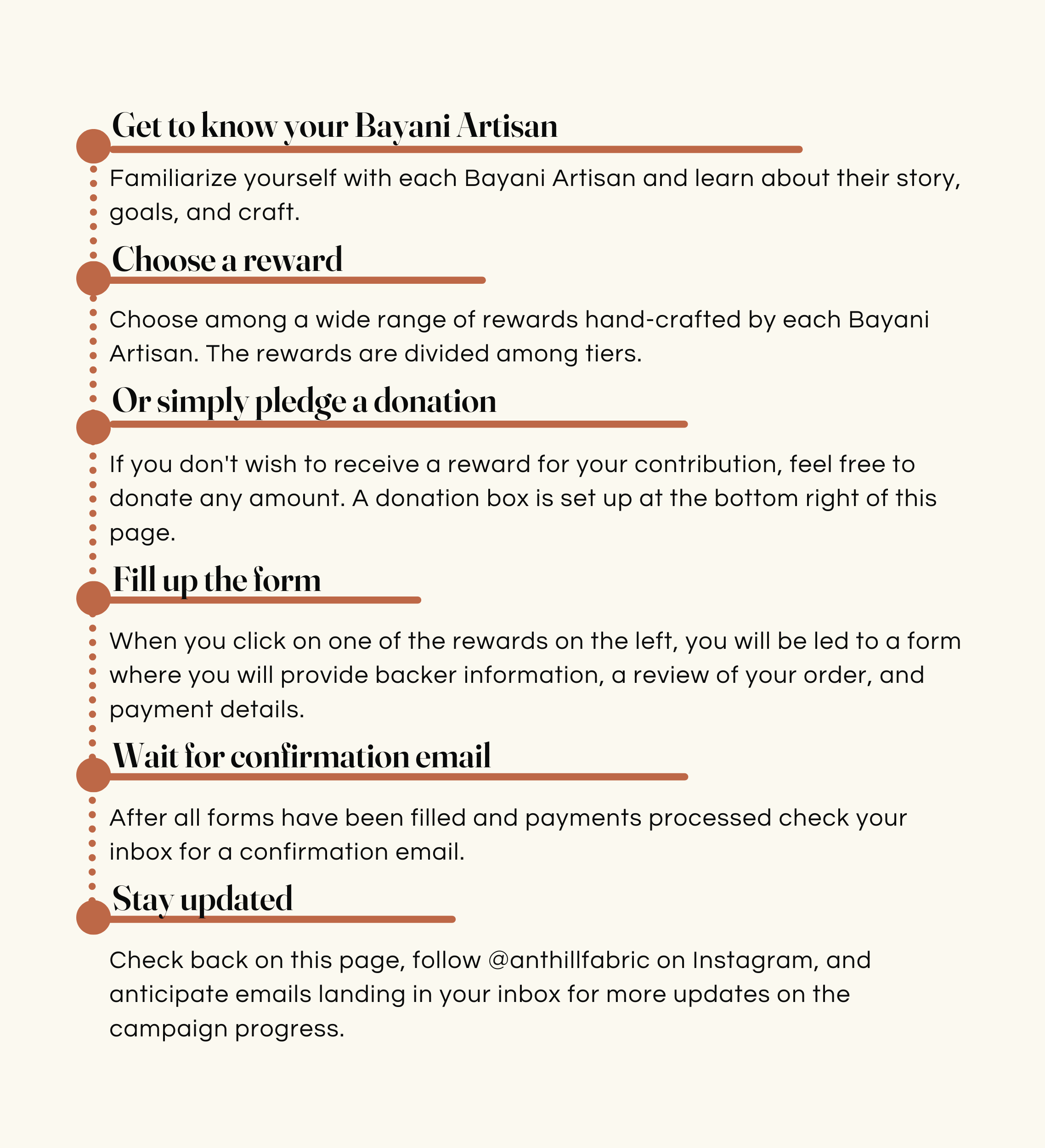 Keeping the BAYANIHAN spirit alive and spreading it to more communities will support the Bayani Artisans to reach their target goal however, if the target goal is not met, the artisan still receives the funds due to them from the campaign.
Thank you for your pledge to #BeABayani!
| Name | Date |
| --- | --- |
| Leonard Umali | 19 April, 2023 |
| Yella | 26 April, 2023 |
| Hannah Lim | 2 May, 2023 |
| Bernadette lim | 7 May, 2023 |
| Panghain | 8 May, 2023 |
| Patch Dulay | 15 May, 2023 |
| Ma Roma Agsalud | 20 May, 2023 |
| Jenn R | 31 May, 2023 |
| Tala Ocampo | 31 May, 2023 |
| Anonymous | 1 June, 2023 |
| Alesha Borbo Kilayko | 7 June, 2023 |
| Alyanna Tenorio | 8 June, 2023 |
| Imelda Deligero | 8 June, 2023 |
| Danielle Stratton | 9 June, 2023 |
| Oj | 15 June, 2023 |
| Alexandra Cojuangco | 26 June, 2023 |
| Alexandra Cojuangco | 26 June, 2023 |
| Bernadette Lim | 27 June, 2023 |
| Brigit Helms | 29 June, 2023 |
| Karen Carter | 11 July, 2023 |
| Jessica Ouano | 11 July, 2023 |
| Jessica Ouano | 11 July, 2023 |
| anonymous | 13 July, 2023 |
| Bernice Roldan | 17 July, 2023 |
| Anonymous | 18 July, 2023 |
Frequently Asked Questions
Deliveries would depend on the destination. For local addresses, it would take 3-4 business days while international addresses would take 5-7 business days.
Of course! You can send us a message and we can facilitate an introduction between you and Ate Belen.
Yes, your pledges would only cover the rewards you choose. We will email you an invoice for the shipping once the rewards are ready to be delivered.
Yes, we do ship internationally! We will email you an invoice for the shipping once the rewards are ready to be delivered.
At the end of the campaign, your pledges will go straight to the artisan to support them in their new venture. Click here: https://fund.thesparkproject.com/project/tailoring-a-sewing-studio
Yes, we will be posting updates on ANTHILL's social media accounts (@anthillfabric) and sending updates through emails. As a Bayani (contributor), you will also receive emails from Spark Project about the campaign.
You can back this project via Bank Transfer/Deposit and PayPal.
Check your inbox, you should have received payment instructions.
Yes! If you scroll all the way down to the bottom of the reward packages on the right side of the page, there will be a field where you can input any amount that you want to contribute to the project
After your payment has been verified, check your email for the next steps. You will be linked to a form where you can provide your delivery details. If you do not receive an email, please contact audrey@thesparkproject.com.
If your backing has been completed, you should receive a confirmation email. If you paid via Bank Deposit and PayPal, you may have to wait for up to 24 hours upon uploading your proof of payment for your transaction to be verified. If you haven't received an email yet and you think there was a technical issue, you may contact audrey@thesparkproject.com.
There may have been an error with the link, please email your screenshot/deposit slip to audrey@thesparkproject.com and we will have your contribution reflected in no time!
If you just want to contribute to the project, and not receive the rewards, be sure to click the "Do not receive the reward" option when you are processing your payment.
If you think there was an issue with your payment, or if you have any other questions or concerns, please email audrey@thesparkproject.com with the subject "Problem with Payment". *include project name.
Back this Project
TIER 1: PANGHAIN - ₱1,500.00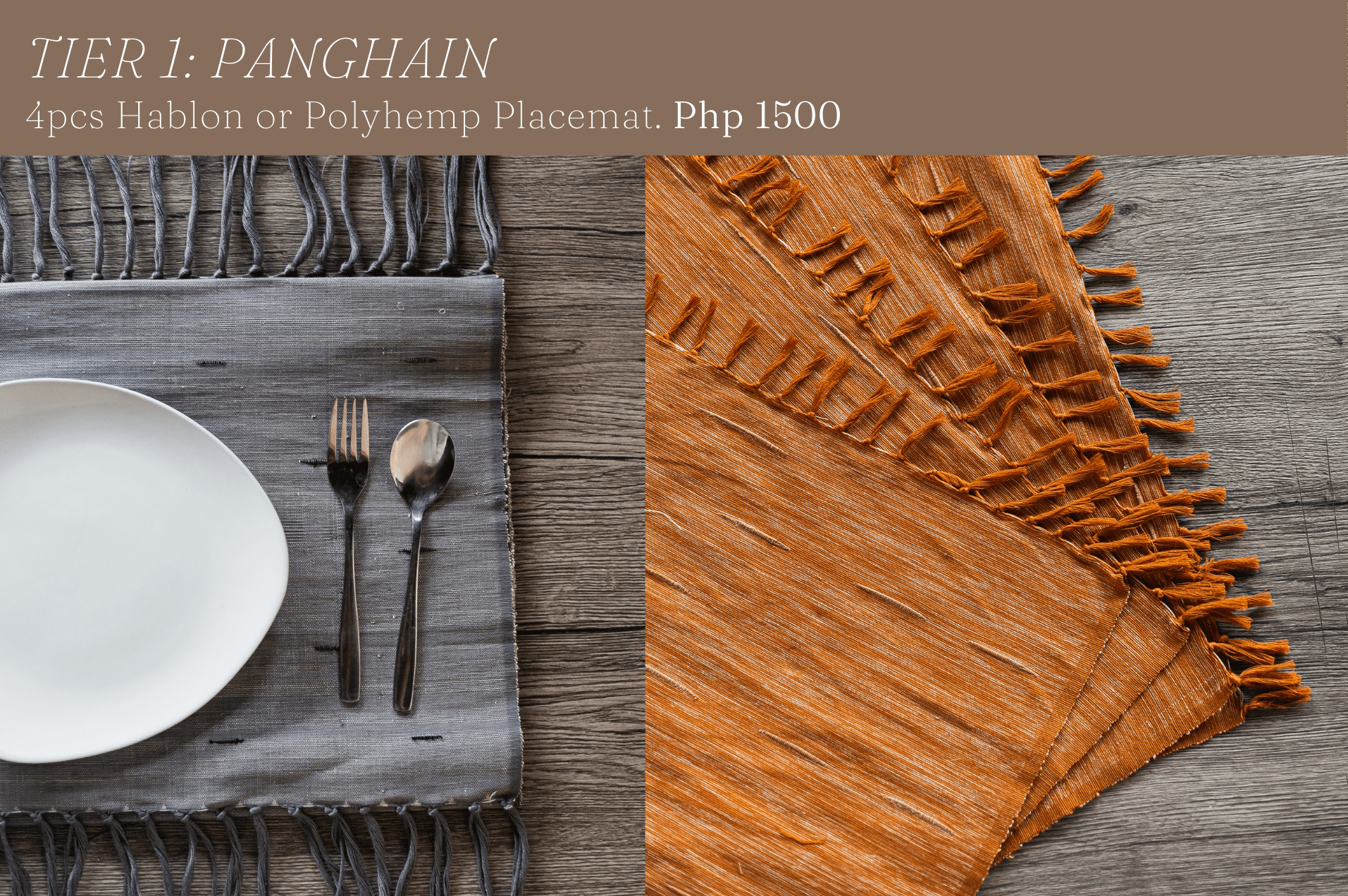 OPT 1: 4PCS HABLON ZERO WASTE PLACEMAT
OPT 2: 4PCS POLYHEMP ZERO WASTE PLACEMAT

The Pang Hain Set includes four pieces of placemat handwoven in (1) polyester blend weave or (2) polyester and abaca blend with textile waste used as supplementary weft giving the fabric texture and a contemporary look. Each piece is uniquely woven to make your table setting meaningful and memorable. This thoughtful piece will definitely add to the many conversations over meals. You'll also get a personal thank you note from Ate Jelyn!

Get the Hablon Placemat in these delicious colorways (1) olive, (2) mustard, and (3) tangerine.
Get the Polyhemp Placemat in classic colors (1) pearl, (2) mahogany, and (3)ash gray
7 claimed
TIER 2: PANGHAIN PAMPAMILYA - ₱2,500.00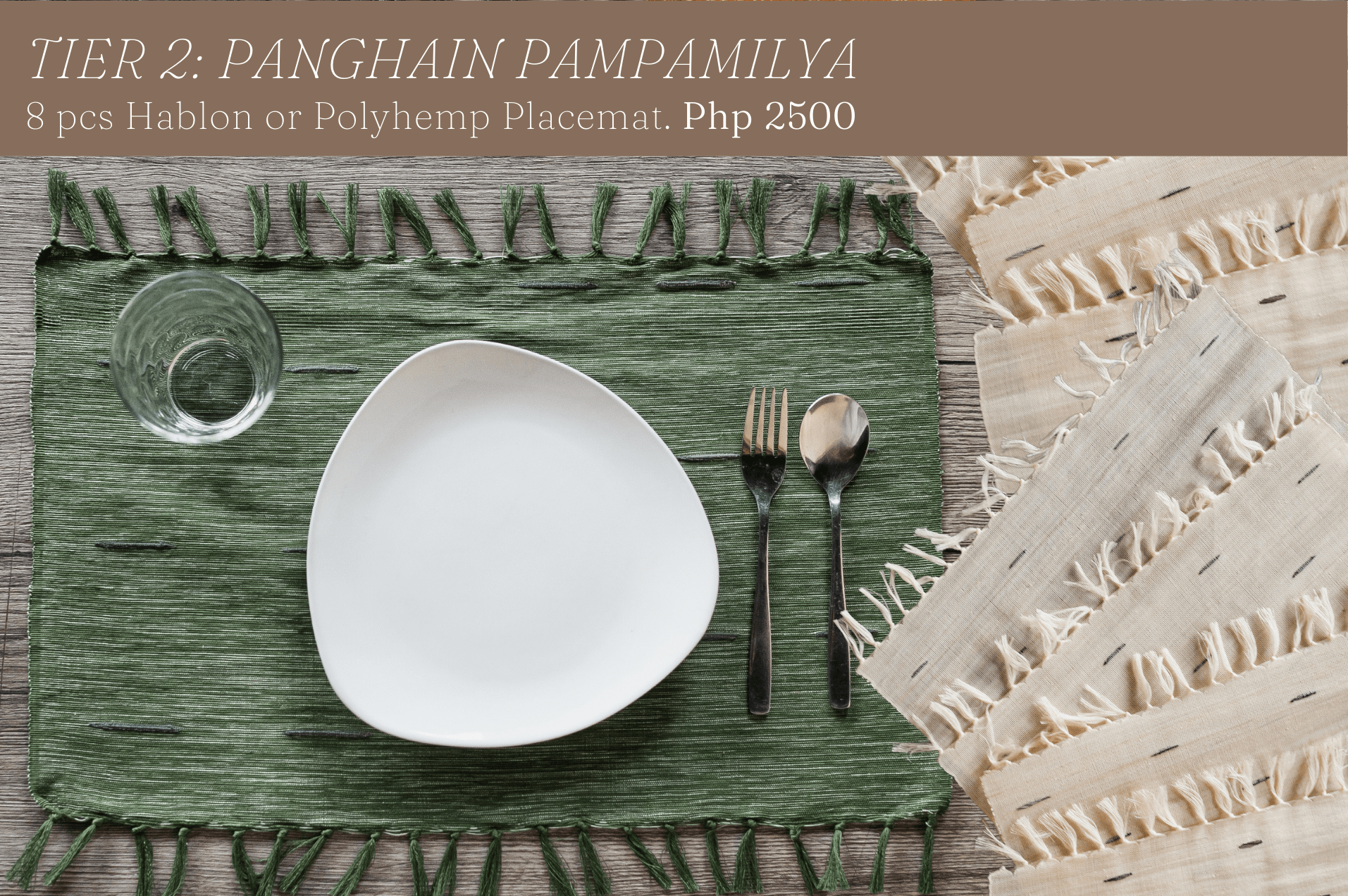 OPT 1: 8PCS HABLON ZERO WASTE PLACEMAT
OPT 2: 8PCS POLYHEMP ZERO WASTE PLACEMAT

The Pang Hain Set includes eight pieces of placemat for the pamilya handwoven in (1) polyester blend weave or (2) polyester and abaca blend with textile waste used as supplementary weft giving the fabric texture and a contemporary look. Each piece is uniquely woven to make your table setting meaningful and memorable. This thoughtful piece will definitely add to the many conversations over meals. You'll also get a personal thank you note from Ate Jelyn!

Get the Hablon Placemat in these delicious colorways (1) olive, (2) mustard, and (3) tangerine.
Get the Polyhemp Placemat in classic colors (1) pearl, (2) mahogany, and (3)ash gray
7 claimed
TIER 3: PANGHAPAG - ₱3,500.00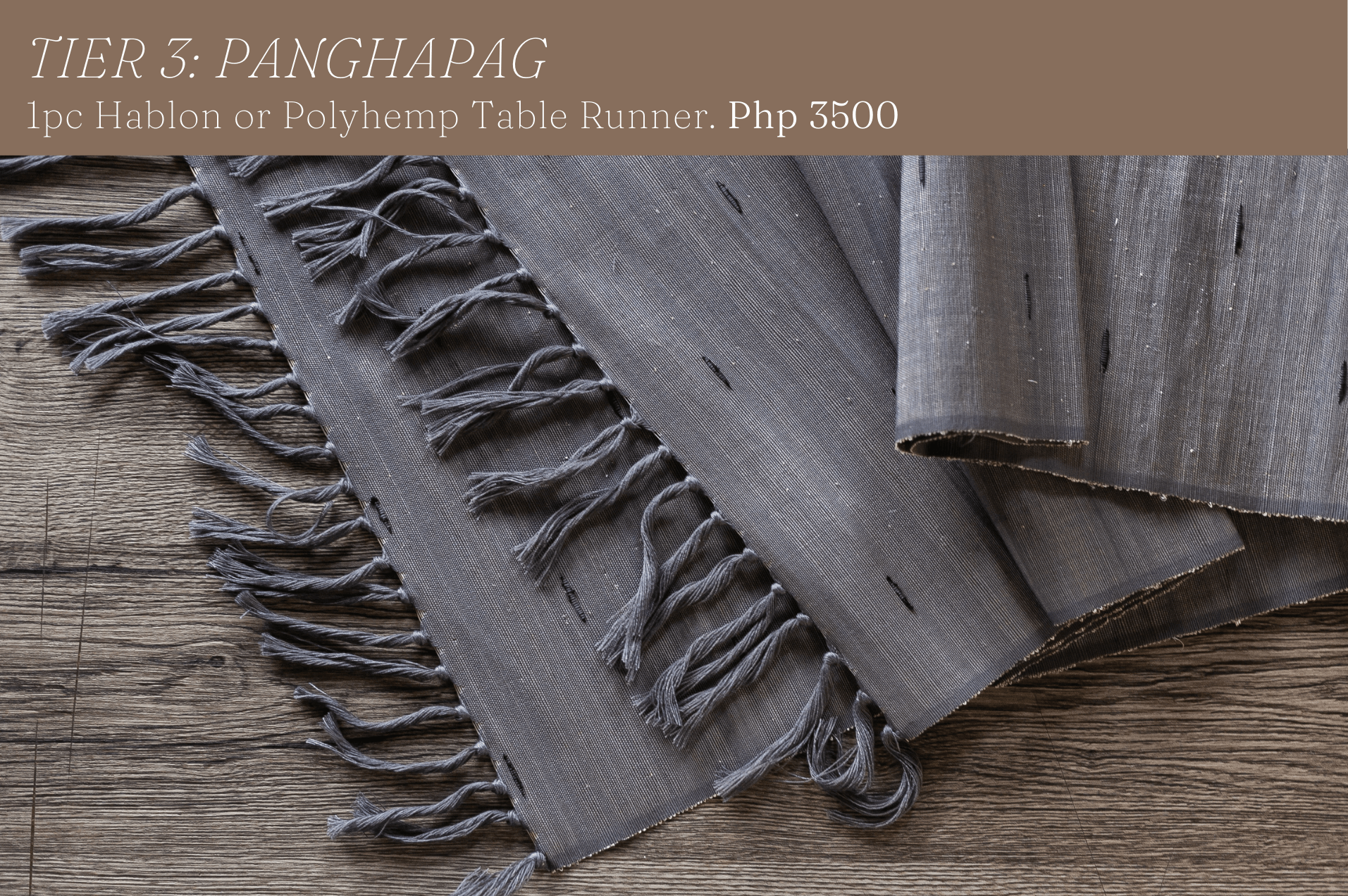 OPT 1: 1PC HABLON ZERO WASTE TABLE RUNNER
OPT 2: 1PC POLYHEMP ZERO WASTE TABLE RUNNER

The Pang Hapag reward includes a piece table runner handwoven in (1) polyester blend weave or (2) polyester and abaca blend with textile waste used as supplementary weft giving the fabric texture and a contemporary look. These table runners add style and sophistication to every table and counter top, perfect for every gathering and dining experience. You'll also get a personal thank you note from Ate Jelyn!

Get the Hablon Table Runner in these delicious colorways (1) olive, (2) mustard, and (3) tangerine.
Get the Polyhemp Table Runnerin classic colors (1) pearl, (2) mahogany, and (3)ash gray
5 claimed
TIER 4: SALO-SALO - ₱5,000.00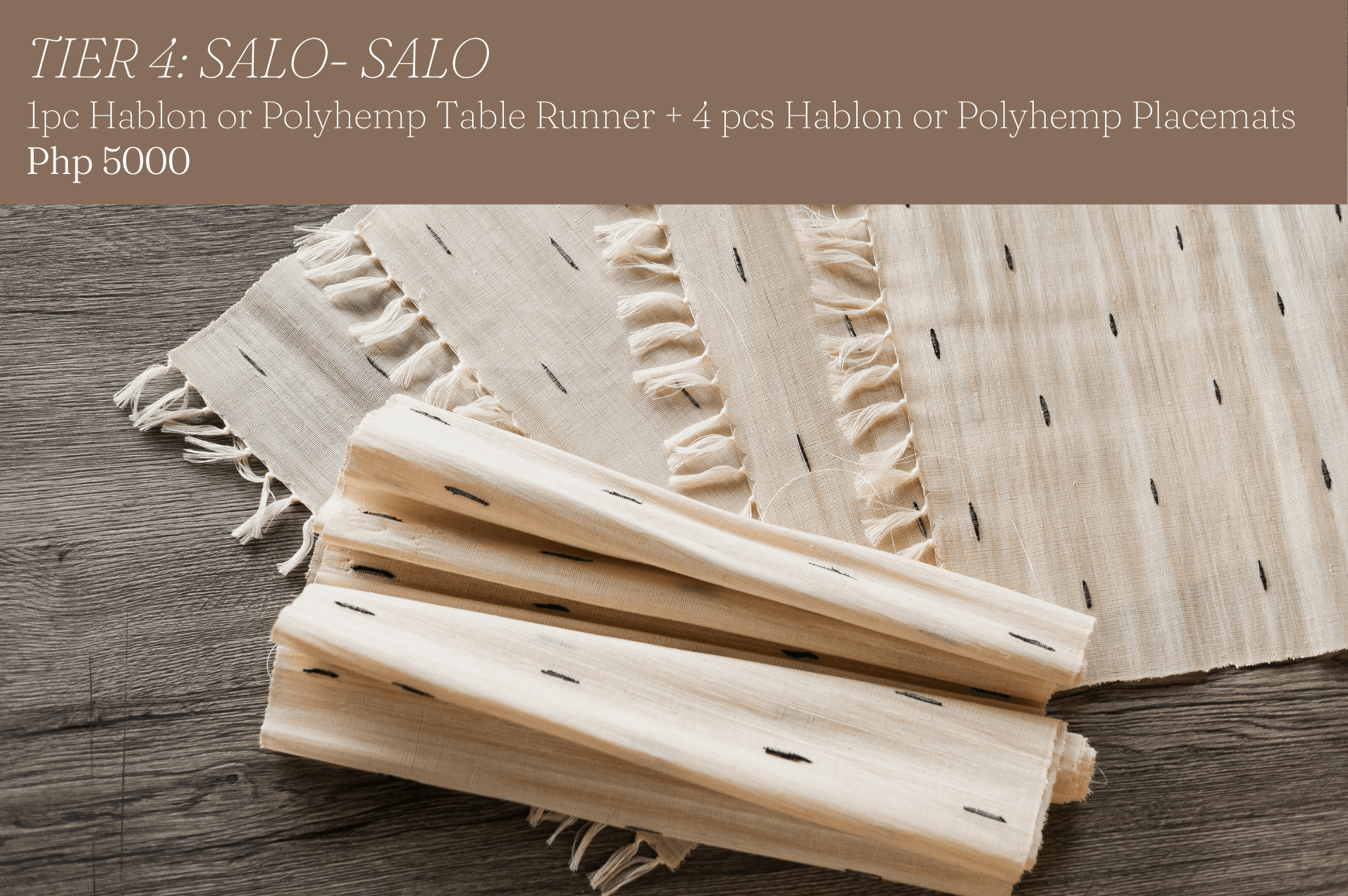 OPT 1: 1PC HABLON ZERO WASTE TABLE RUNNER + 4PCS PLACEMAT
OPT 2: 1PC POLYHEMP ZERO WASTE TABLE RUNNER + 4PCS PLACEMAT

The Salo Salo Set includes the four pieces zero waste hablon or polyhemp placemat with a matching table runner to complete that whole look for a sumptuous tablescape. Your dining table is ready to receive some guests! Mix and match the colors you fancy! This reward will also include a personal thank you note from Ate Jelyn.

Get the Hablon Table Runner in these delicious colorways (1) olive, (2) mustard, and (3) tangerine.
Get the Polyhemp Table Runnerin classic colors (1) pearl, (2) mahogany, and (3)ash gray
1 claimed