Music and Film
|
Music and Film
Taking My Time to Dance: Help us keep safe from COVID-19
Philippines
Help us stay healthy and safe during the Pre-post production phase of our film "Taking My Time to Dance"

Hi! I'm Celeste, my pronouns are she/they, I'm a damn fine transfeminine nonbinary individual, and in 2020 developed the best tres leches ice cream recipe (I also don't make the rules). Currently, I'm taking up my bachelors degree in Digital Filmmaking in the De La Salle - College of Saint Benilde.
When I was 16, (credited under Jared Joven) I co-wrote and directed the film CONTESTANT #4 (2016) which won the Audience Choice Award in the QCinema International Film Festival and premiered at Lovers Film Festival in Torino of the same year. In 2017 it won Best Film at the Shanghai Queer Film Festival.
Being a drag queen myself, I hold the local club scene very, very close to my heart. As a young queer person, it is where I was exposed to flamboyance, to drag, to so many expressions of gender, whether it was through clothes, hair and make up, or dance. I've kept in my memory (and in my phone photo gallery) images of so much freedom on that dance floor, but one thing I found incredibly important— born out of dancing and sharing the club scene— are the friendships between queer people.
And I have held a passion for visual arts the moment I started listening to women, and this is my attempt in combining the things I find very close to my heart…

Starts with Rana (they/them), an eighteen-year-old bakla (Filipino queer individual), who sneaks into their grandmother Nanay's (she/her) room to steal clothes from her closet and finds an old pink satin dress… but gets caught! Saada (she/her), their older transwoman friend, pays them a visit to help them get into drag for the first time. Before things get glamorous, Nanay asks the two to help her rearrange the living room. Eventually, she lets Rana try on her old pink satin dress, and when they do, it lights up the whole room pink. While Rana and Saada get ready for their Friday night dancing, Saada shares her experiences being a transwoman while Rana shares their anxieties towards their gender identity. It's difficult to be queer, but Rana notices the light coming in through their window and watches the sunset…and its pink, again. They arrive that night at a club, where at first Rana is overwhelmed by their anxiety, only to be comforted by more seasoned drag queens. The night is over and Rana arrives home. The light from the pink sun rising enters the room, they're at least sure of one thing: they're ready to dance.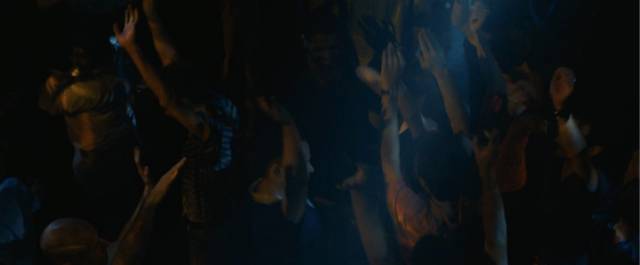 This is a reimagined queer experience, where there are no external conflicts which come from masculine voices, masculine characters— those who dictate onto queer individuals a lifestyle accustomed to heteronormative society. Conflict only comes from Rana, who's afraid and knows how dangerous it is to be queer. I've been afraid and still am. I know exactly this feeling Rana has facing the world as someone different, someone labeled as not a "real (woman)". And just like Rana, I'm taking my time to unlearn, to realize, and look out for others. It takes time to arrive at a new society, at a new self.

It is images of looking out for each other, the small details of touch and conversation, of rearranging and listening that I want to show in this film. Far different from what other films present when their queer characters are in so much danger. Forcing them into prostitution for financial needs, into drug abuse from so much trauma, or experiencing violence, whether from the police, their fathers, or partners; so as to say there is no escaping this cycle—hopelessness. The pink light— a color which rightfully represents queerness; as the pink triangle stitched on queer Jewish prisoners' uniforms during the holocaust or when it represented the Act Up group fighting for medical research when the AIDS pandemic started— appears only to Rana, so as to say maybe queerness will come.


"Queerness is not yet here" says Jose Esteban Muñoz who argues that queerness is a utopia. I share with him the idea where we realize that queerness is a potential consciousness, something not present in the here and now, but something found when looking at the horizon, far away…
I promise these images of women looking out for each other, queer individuals confiding in each other's femininity— perhaps images of a queer utopia.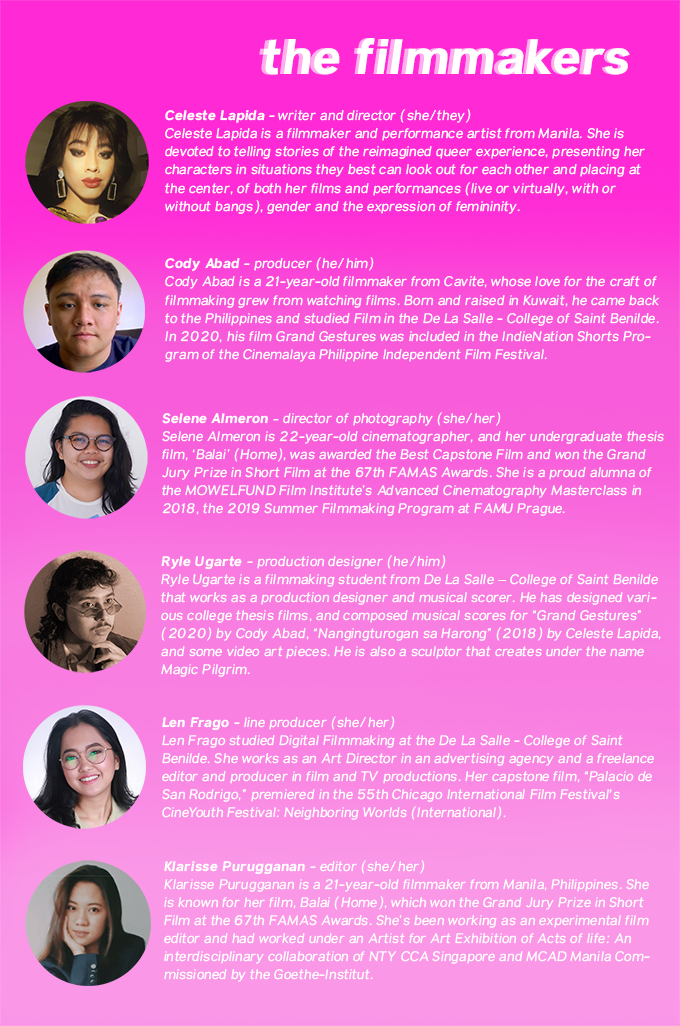 We are currently on our pre-production stage and we plan to hold principal photography in August. The first week of that month will be allotted to our COVID testing before we lock-in and have our shoot mid-August.
Being only a student, I've applied TAKING MY TIME TO DANCE to a number of grant-giving bodies. We have received a grant from Globe Studios in 2019 (yay!). This amount will fund our film in the most usual way, from pre to post production. However, COVID-19 (read with an Australian accent) happened! Our movement as filmmakers was put to a stop in early 2020, and now we're finally ready to dance… and make the film this year, in August. COVID-19 (Aussie accent, please) protocols currently take up 33% of our expenses, and is a huge gap with our current funds! Kakaloka! So, your help will go directly to our expenses for testing and disinfection, making sure that the cast and crew are all safely dancing! Help us keep safe from COVID-19 (Aussie huh!!) so that we can finally show you these images we promise. <3
And by the end of the year we get to send the film to different film festivals and hopefully to your own screens!

So… do you work for/own a make-up company?
The film revolves around drag both in its visual and performance form; a scene where Saada applies make up on Rana as they get in drag, and when Rana befriends three seasoned drag queens.
We can have this opportunity to partner with your company! If you're interested in having your brand appear in our film, please do reach out to us at takingmytimefilm@gmail.com

All our backers will receive in their email the link to CONTESTANT #4 once they have completed their payment.
Since prints, zines and posters will need materials shot during our principal photography, production of these will take place during September-October 2021 and by December 2021 shipped to all of our Kembot, Cha-cha, Locomotion, Physical, and Voguing backers.
The Joke of the Day video will be emailed to our Locomotion, Physical, and Voguing backers on the same week they receive their rewards.
The Dancing Figurine will be handmade by our production designer Ryle Ugarte and will be shipped along with other rewards to our Voguing Backers in December 2021.

COVID-19 is the biggest challenge we are all facing. The whole cast and crew will make sure to follow protocols during principal photography, where a health and safety officer will also be present to remind us and keep eye on us. Globe Studios will also be providing us help with sanitizing instruments and consumables (masks, alcohol, etc.) to strengthen the integrity of our set. Cast and crew will be asked to quarantine before the shoot once we all get tested, which will be funded by our backers.
We are also reaching out to private investors to raise more funds in addressing other expenses we might meet during post production and distribution, as well as to support testing expenses in the case that our campaign does not meet its 100% goal.
Please do share our page to your friends— however cringe they dance sometimes, or spread word about TAKING MY TIME TO DANCE to drag queen friends and other women and queer individuals you hold close to your pink heart, as this film is for all of us. Thank you so much for your time!
| Name | Date |
| --- | --- |
| Apa Agbayani | 11 June, 2021 |
| Bebe Go | 11 June, 2021 |
| Bakla Ako Lang To | 11 June, 2021 |
| Jv Librea | 11 June, 2021 |
| Sospooky | 11 June, 2021 |
| Kevin Cantos | 11 June, 2021 |
| Bom | 11 June, 2021 |
| Carissa | 11 June, 2021 |
| Steffi Sturm | 11 June, 2021 |
| Emmanuel Tanghal | 12 June, 2021 |
| Kathy Gener | 12 June, 2021 |
| Issa Amores | 12 June, 2021 |
| Karlo Vicente | 12 June, 2021 |
| DVS | 13 June, 2021 |
| Marielle Filoteo | 14 June, 2021 |
| Te Candano | 14 June, 2021 |
| Glenn Barit | 14 June, 2021 |
| Jovi Becaro | 15 June, 2021 |
| Mai Sia | 16 June, 2021 |
| Christina Lopez | 16 June, 2021 |
| Fetalver | 16 June, 2021 |
| James Barbee Olaivar | 17 June, 2021 |
| Janelle Aina Baylosis | 18 June, 2021 |
| Janelle Aina Baylosis | 18 June, 2021 |
| Miguel Infante | 18 June, 2021 |
| Japh ❤️ | 18 June, 2021 |
| Jorge Juan Wieneke V | 19 June, 2021 |
| MarianneTC | 19 June, 2021 |
| Loi Ameera Almeron | 20 June, 2021 |
| Versailles | 20 June, 2021 |
| Pio | 21 June, 2021 |
| Christine Ferrer | 22 June, 2021 |
| Lace Solis | 23 June, 2021 |
| Judd Figuerres | 25 June, 2021 |
| Patch Dulay | 25 June, 2021 |
| Cru Camara | 1 July, 2021 |
| Gunta | 1 July, 2021 |
| Iya Arias | 1 July, 2021 |
| KEEP MOVING FORWARD! | 1 July, 2021 |
| Leeza Vale | 2 July, 2021 |
| CL | 2 July, 2021 |
| Jermaine Choa Peck | 2 July, 2021 |
| Chesby Gabalones | 3 July, 2021 |
| Krish | 3 July, 2021 |
| Wanda | 3 July, 2021 |
| CJ Villa | 5 July, 2021 |
| Norman Abad | 7 July, 2021 |
| Isti | 8 July, 2021 |
| Jenzel Mhar | 9 July, 2021 |
| acedo-lim family | 12 July, 2021 |
| RINA GLORIANI | 14 July, 2021 |
| MARIEL PUEBLO | 14 July, 2021 |
| Aaliyah Reodica | 16 July, 2021 |
| Kishan Garcia | 17 July, 2021 |
| Cristina Gante | 17 July, 2021 |
| Hermie Callanta | 17 July, 2021 |
| Bullet Crisologo | 17 July, 2021 |
| Frances | 17 July, 2021 |
| Giancarlo Abrahan | 18 July, 2021 |
| Madge Reyes | 24 July, 2021 |
| Rachel Herbosa | 24 July, 2021 |
| Vianch Arevalo | 25 July, 2021 |
| Tito Uncle | 25 July, 2021 |
| Bryan and Kat Joven | 25 July, 2021 |
| Angelu Zafe | 25 July, 2021 |
| Seymour Sanchez | 26 July, 2021 |
| Mano Gonzales | 26 July, 2021 |
| Giliw | 26 July, 2021 |
| Eric Magdato | 26 July, 2021 |
Frequently Asked Questions
You can e-mail us at takingmytimefilm@gmail.com or contact Cody Abad (09772886876)
June 17, 2021

We reached 20% in just 5 days! Wow!!! THANK YOU SO MUCH from our pink little hearts <333 Help us reach 30% by the end of this week! - Celeste
Back this Project
Link to Contestant #4 (2016) dir. Celeste Lapida & Kaj Palanca
Thank you! in the closing credits of the film
25 out of 30 claimed
SIGE, IKEMBOT! - ₱1,500.00
Print featuring photos from the film
Link to CONTESTANT #4 (2016) dir. Celeste Lapida & Kaj Palanca
Thank you! in the closing credits of the film
19 out of 30 claimed
CHARAP MAG CHA-CHA! - ₱3,500.00
3 prints featuring photos from the film
Link to CONTESTANT #4 (2016) dir. Celeste Lapida & Kaj Palanca
Thank you! in the closing credits of the film
2 out of 30 claimed
DO THE LOCOMOTION - ₱5,000.00
(Video) Joke of the Day from Celeste Lapida
3 prints featuring photos from the film
Zine containing BTS and other stills from the film
Link to CONTESTANT #4 (2016) dir. Celeste Lapida & Kaj Palanca
Thank you! in closing credits of the film
3 out of 30 claimed
LET'S GET PHYSICAL! - ₱10,000.00
Minor sponsor in closing credits of film
Private streaming link of the film (Target 2022)
Framed movie poster
(Video) Joke of the Day from Celeste Lapida
3 prints featuring photos from the film
Zine containing BTS and other stills from the film
Link to CONTESTANT #4 (2016) dir. Celeste Lapida & Kaj Palanca
0 out of 30 claimed
COME ON, VOGUE! - ₱20,000.00
Major sponsor in closing credits of the film
Private streaming link of the film (Target 2022)
Dancing figurine
Framed movie poster
(Video) Joke of the Day from Celeste Lapida
3 prints featuring photos from the film
Zine containing BTS and other stills from the film
Link to CONTESTANT #4 (2016) dir. Celeste Lapida & Kaj Palanca
2 out of 30 claimed