Publishing
|
Publishing
RESPARK Book
Philippines
Lessons and conversations on how to spark your enterprise in the new normal. A book independently published with the help of the crowd.

Hi, my name is Patch Dulay. I'm an entrepreneur and the founder of The Spark Project.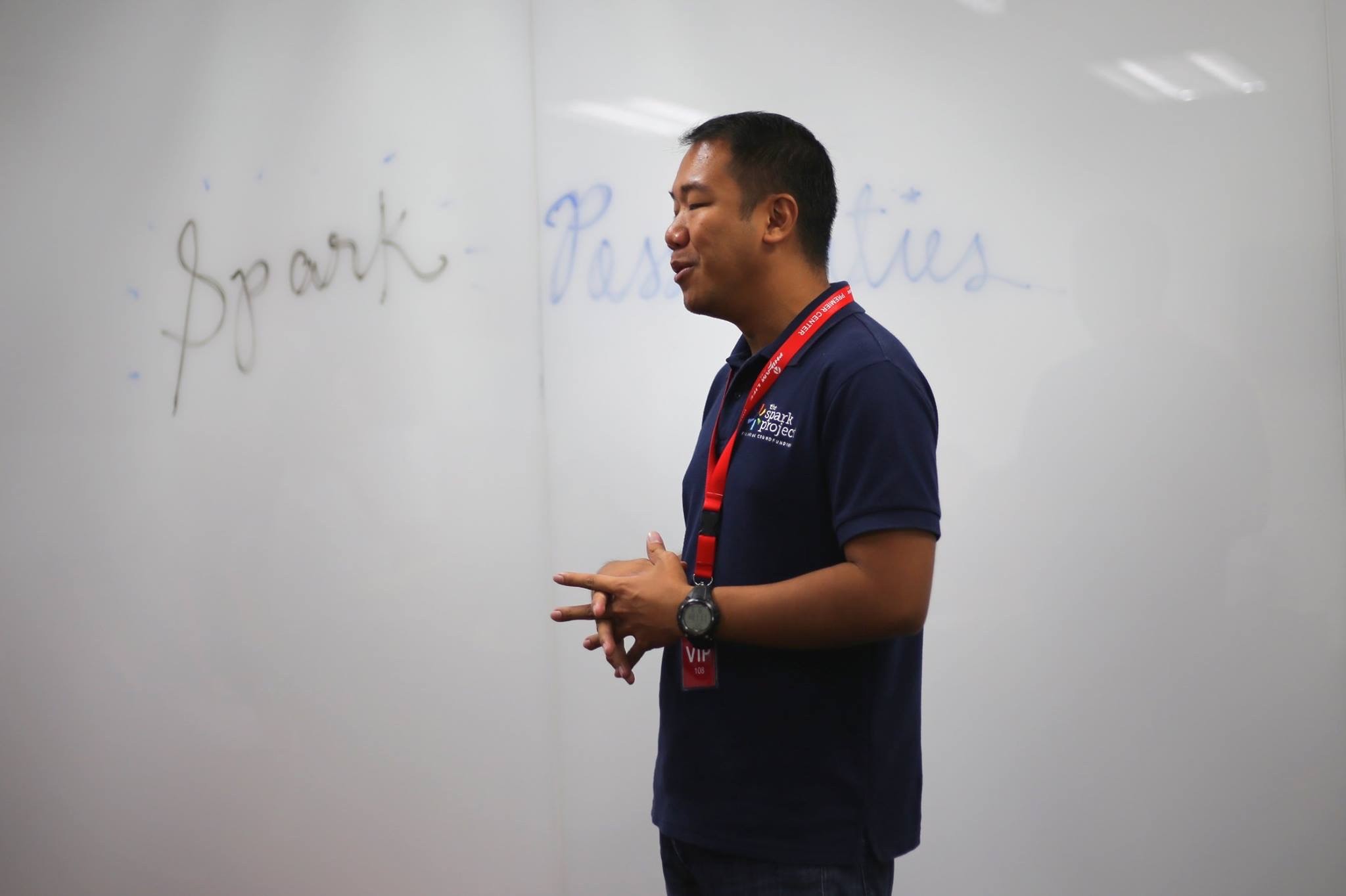 Ever since this pandemic started, it feels as if we're in an episode of Twilight Zone that just wont end. Things are so uncertain. It's hard to move. Hard to plan and think forward. As entrepreneurs and business owners, it's been really tough. We have to keep our businesses operating while making sure that we keep our employees and community partners safe and with work.
During these trying times, it helped me a lot to have fellow founders who I can share my struggles with. I've spoken with them about their experiences and how they've been managing during the pandemic. It's comforting to know that I'm not alone in all this. Not only does having a safe group of friends keep my mental wellness in check, I also learn a lot from them.
The past few months my team and I have been busy with finding ways to help entrepreneurs, creatives, and changemakers survive this pandemic. We've organized crowdfunding campaigns, webinars, and virtual conferences. It was also through these activities that I was able to learn from people. Conversing with them have helped me navigate through this new normal.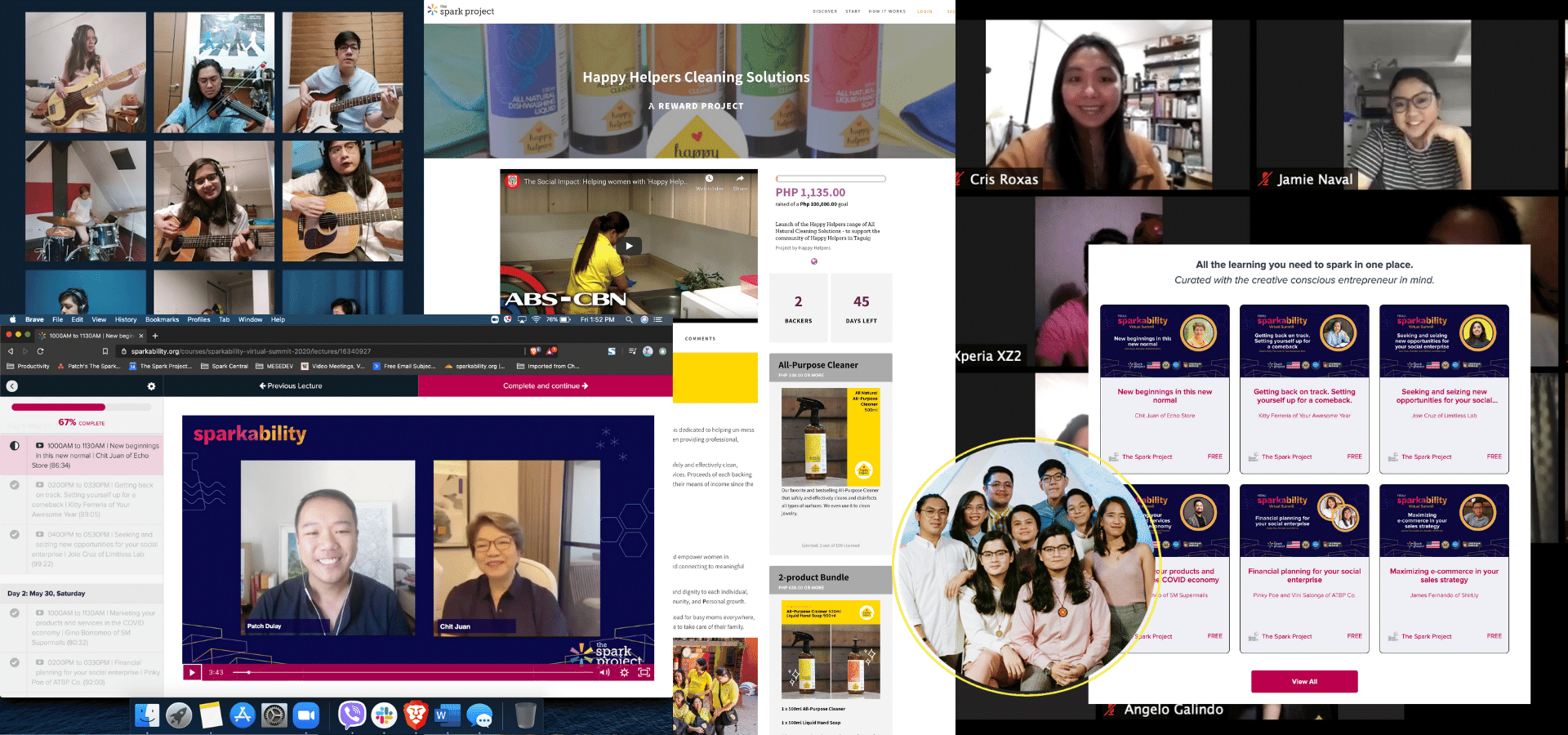 What do I do with all these insights and learning? I can't just keep them all to myself. That would be such a waste!
This inspired me to write this book. Write!? Yes, write!
To those who know me, I really dread writing. I don't consider myself as a writer at all! I'm no author. But thanks to my friends who encouraged (forced) me do this. Sayang naman daw if I don't share what I've learned. They've really helped me put this book together.
So here I am, sharing my latest project with you. My hope is to get this book to as many entrepreneurs who are experiencing the overwhelming stress caused by the crisis. To be that encouraging nudge, a guiding light for them during this time. A reminder that we are not alone. And just like many other entrepreneurs out there, we can re-spark our businesses and create a better normal.
I hope you can help me make this happen.

Respark is a book that will initially be offered exclusively through this The Spark Project Crowdfunding Campaign.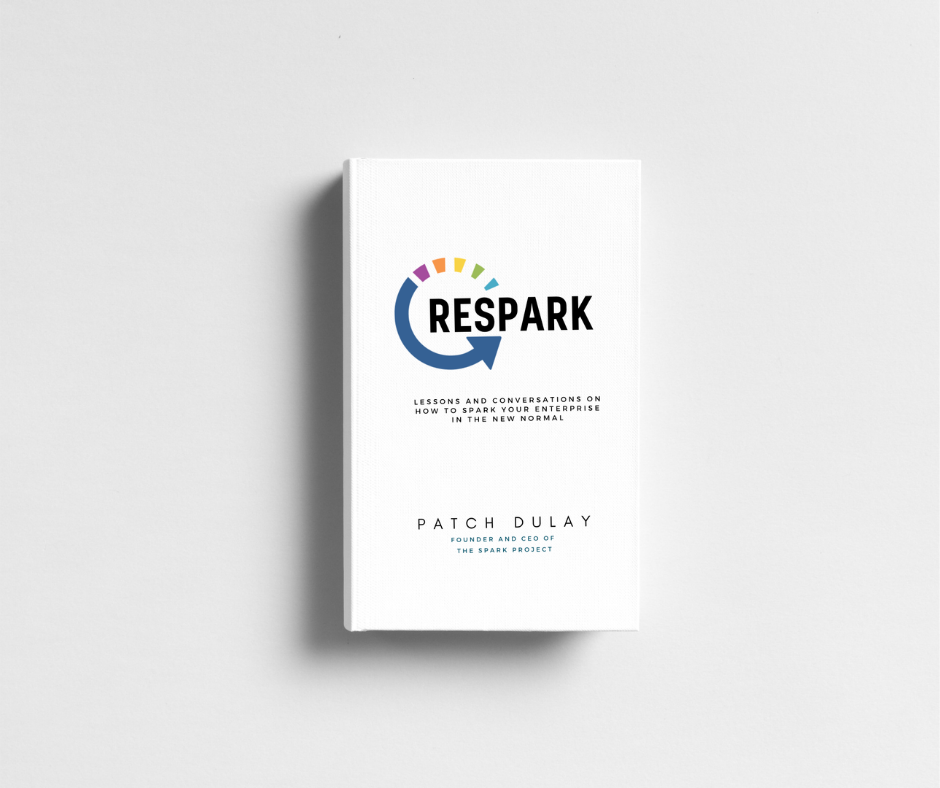 This is only a visualization of the book. The actual book will be printed in paperback.
Respark is aimed at entrepreneurs, creatives, social innovators, or anyone trying to start a new in this pandemic. The book is full of stories about how companies both large and small are adapting and pivoting during this time. I pick the brains of 7 amazing people who I think could best talk about what to do at each stage of re-sparking.
Think of the book as your personal Yoda, a guide that will help you get back on track.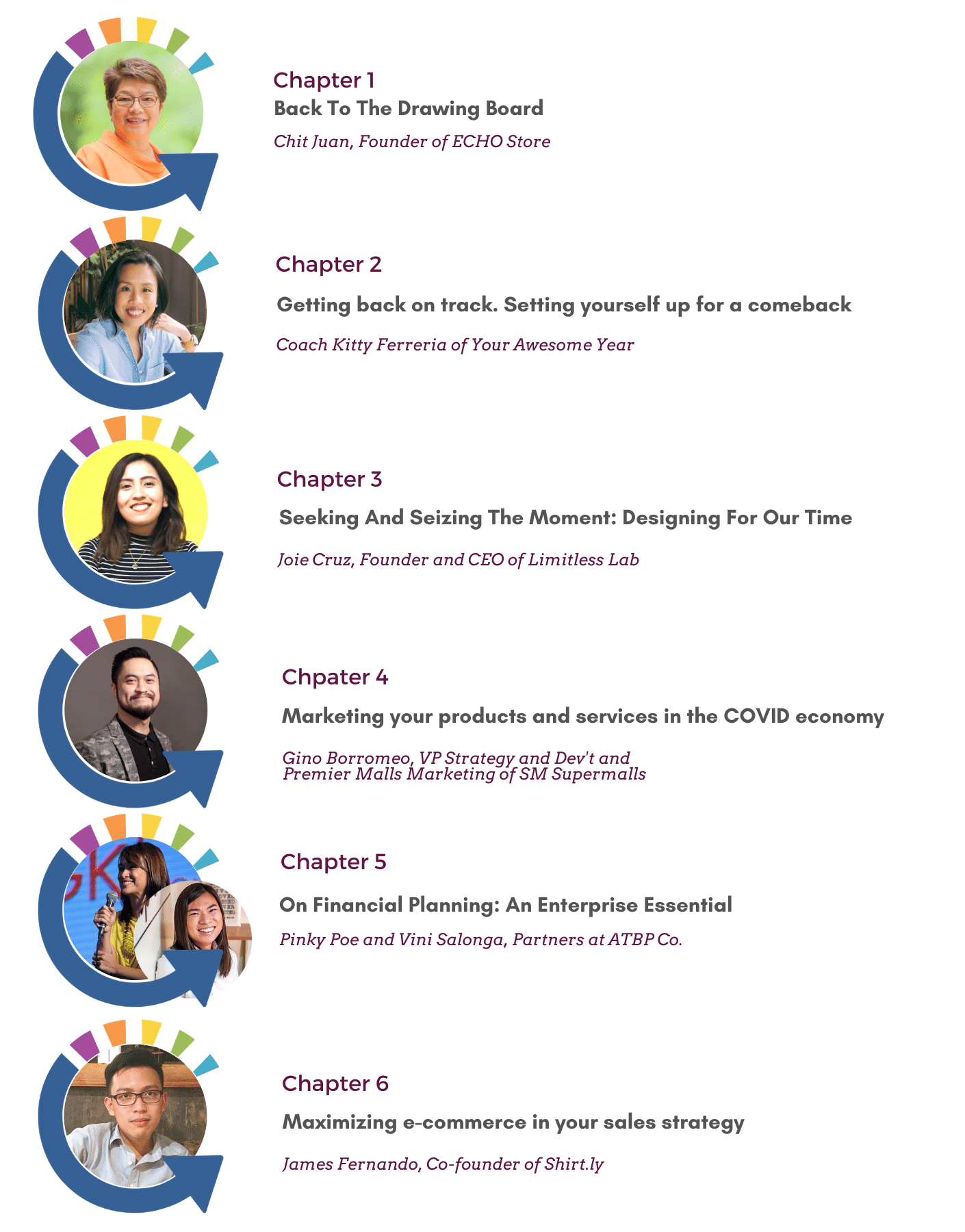 Each chapter has pause points to help you reflect and strategize for action. It includes questions like:
Given current circumstances, what changes do you notice in your leadership style?
In this time of transition, what zone are you in?
How can you apply design thinking to your enterprise?
If you were given an opportunity to broadcast your message, what would it be?
What other ways can you leverage what you already have to generate additional revenue?
Just like a slingshot, we entrepreneurs need to pause and pull back for a moment in order to gain momentum as we move forward to great comeback. This book will be your companion in this journey.

This campaign is also the launch of Spark Books. A new program for self-publishing creators we're testing out.
We've helped a couple of authors spark their books at The Spark Project. I feel that this is so empowering for writers to be able to take matters into their own hands and share their big message to the world without the limitations and restrictions of working with a publisher.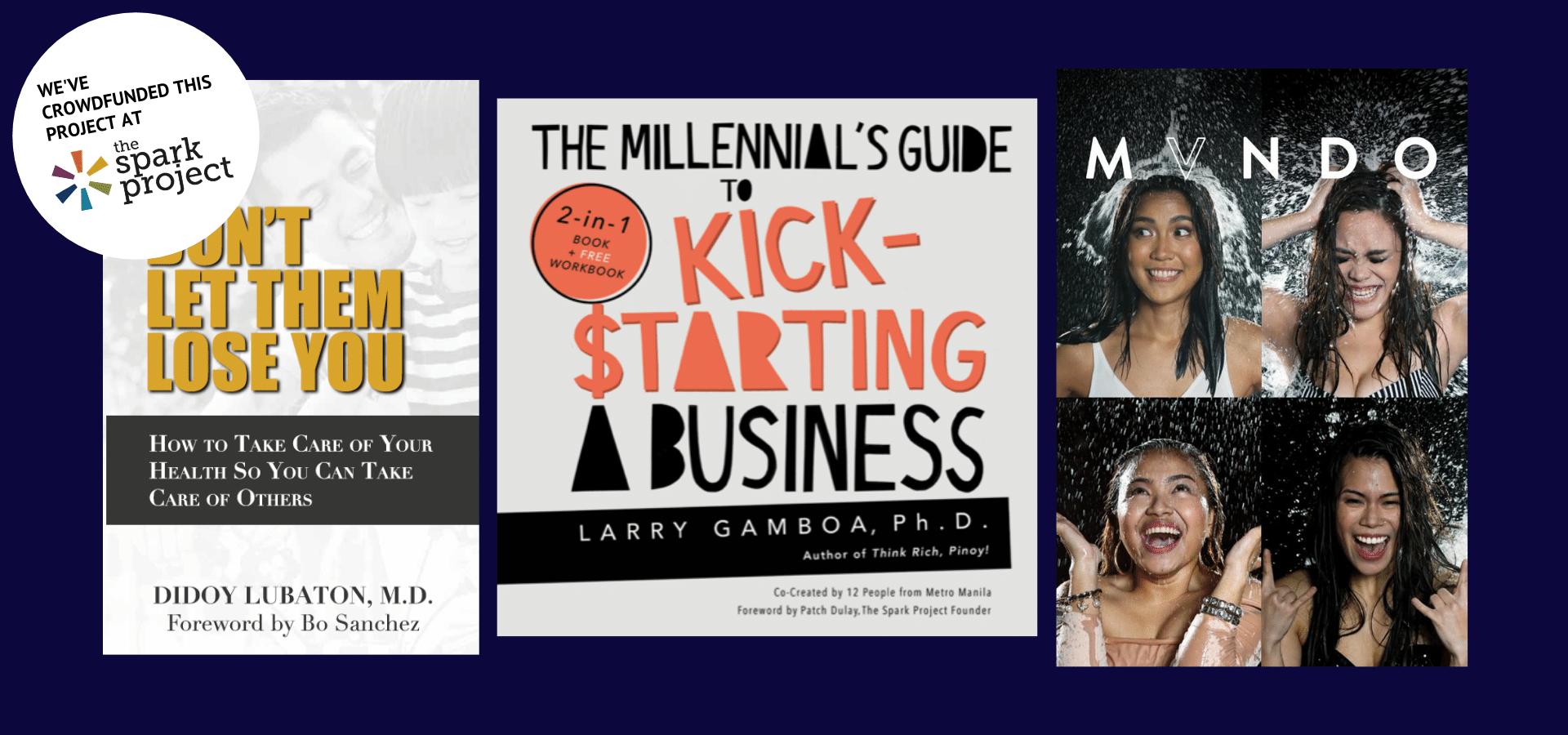 To help me understand better what an independent writer experiences, I want to go through the process of creating my own book and crowdfunding it to life. This experience will help me create a tailored program for aspiring authors and even other content creators down the road.
I want this book to be brought to life in a way that is consistent to what The Spark Project always believes in —the power of CROWD. In 2017, we crowfunded our very first conference Spark Fest through the crowd. Now, I want to do the same for Spark Books.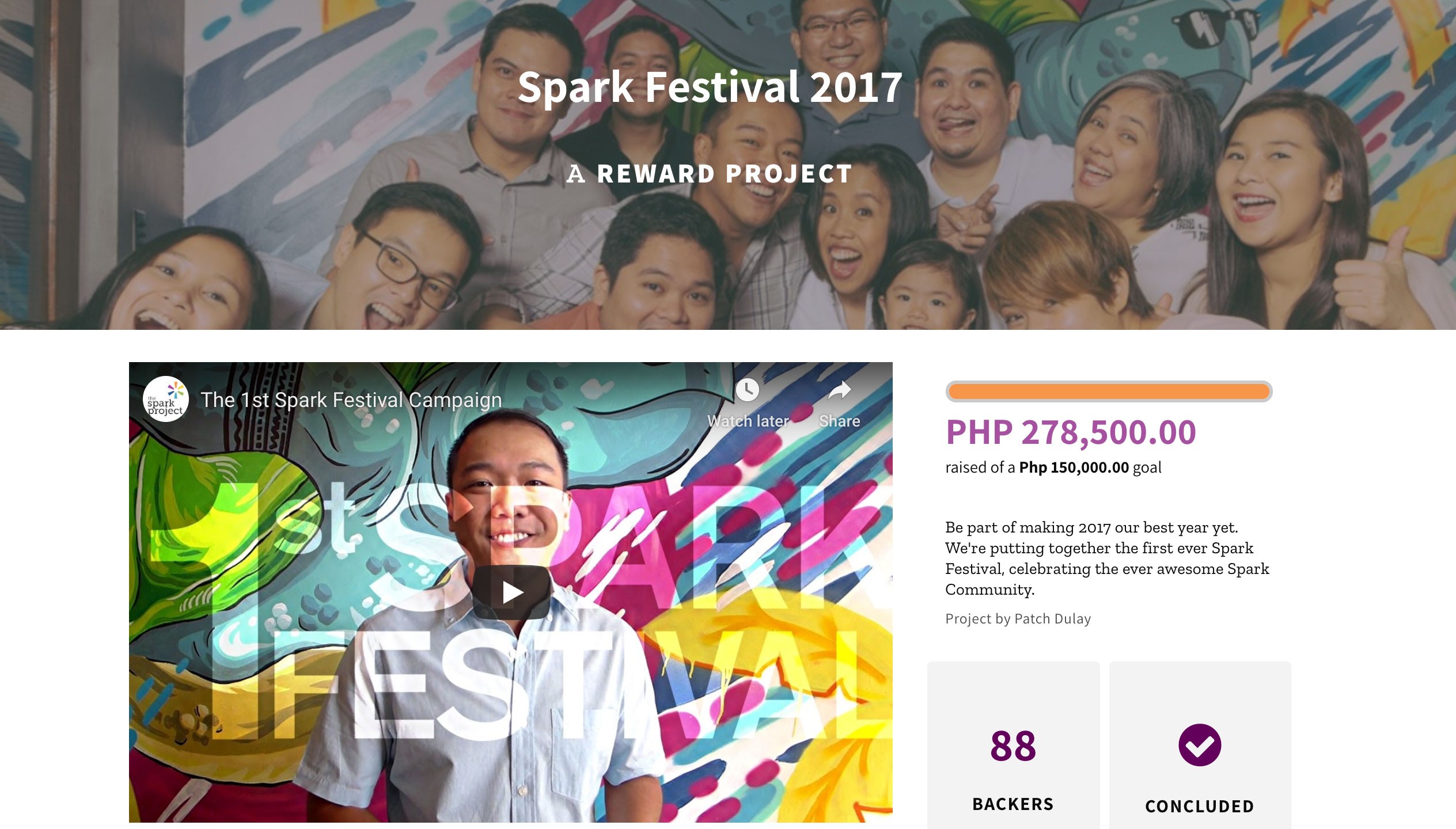 Remeber this crowdfunding campaign we did in 2017? The first ever Spark Fest happened because of you!
Putting this book together and crowdfunding it is an entirely new kind of experience for me. I hope that it could serve as a template for other creators who want to independently publish a book successfully in this new era.
Will you help me spark Spark Books, too?

To those of you who have followed The Spark Project for a while know that we love collaborating with our friends.
Aside from the Respark Book available first exclusively via crowdfunding, I've asked my friends from Gouache Waxed Canvas Bags to create a special reward that can help spark creativity as we work from home.
Spark x Gouach Creative Kit (Sample). Stuff inside may vary in number and kind.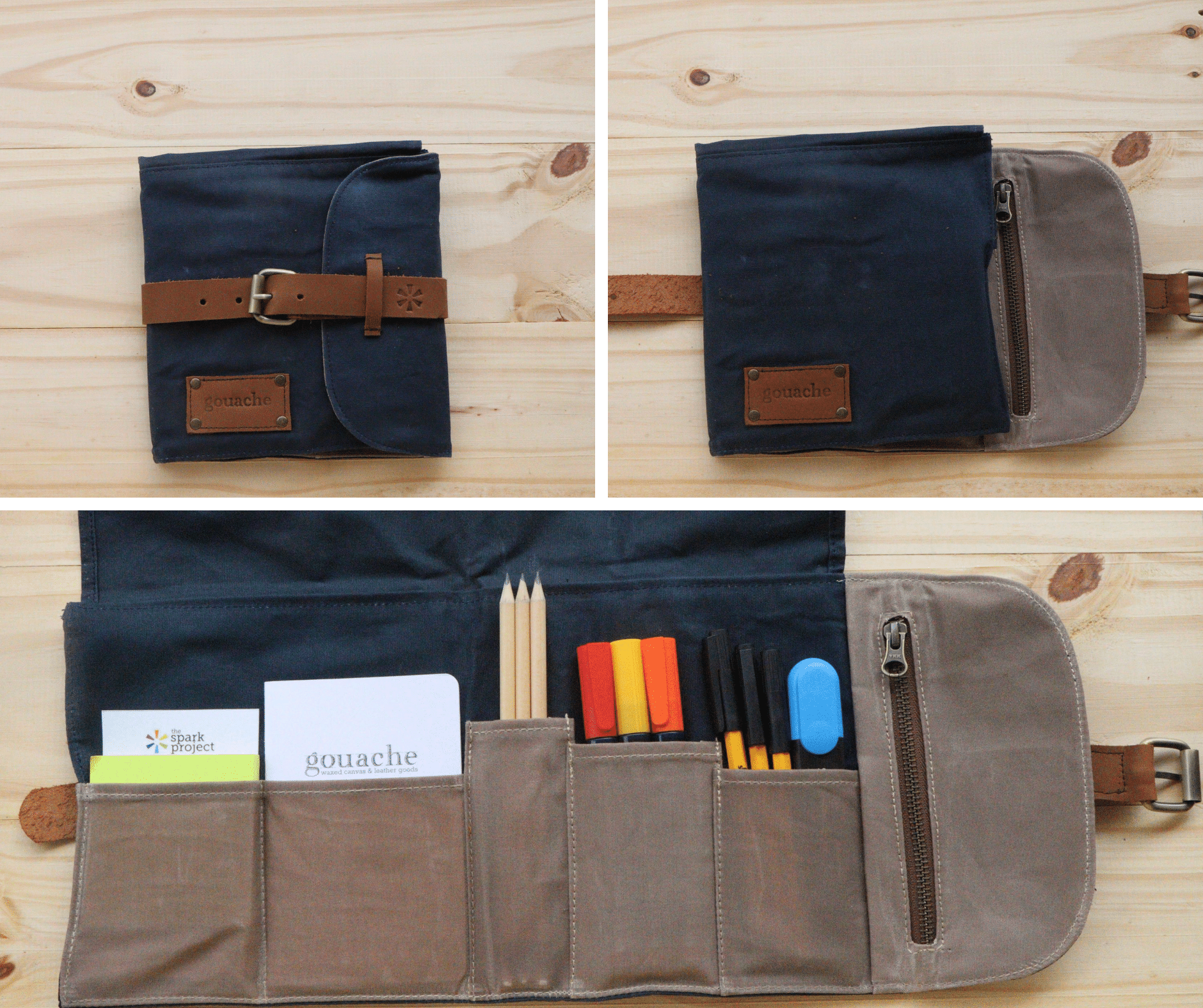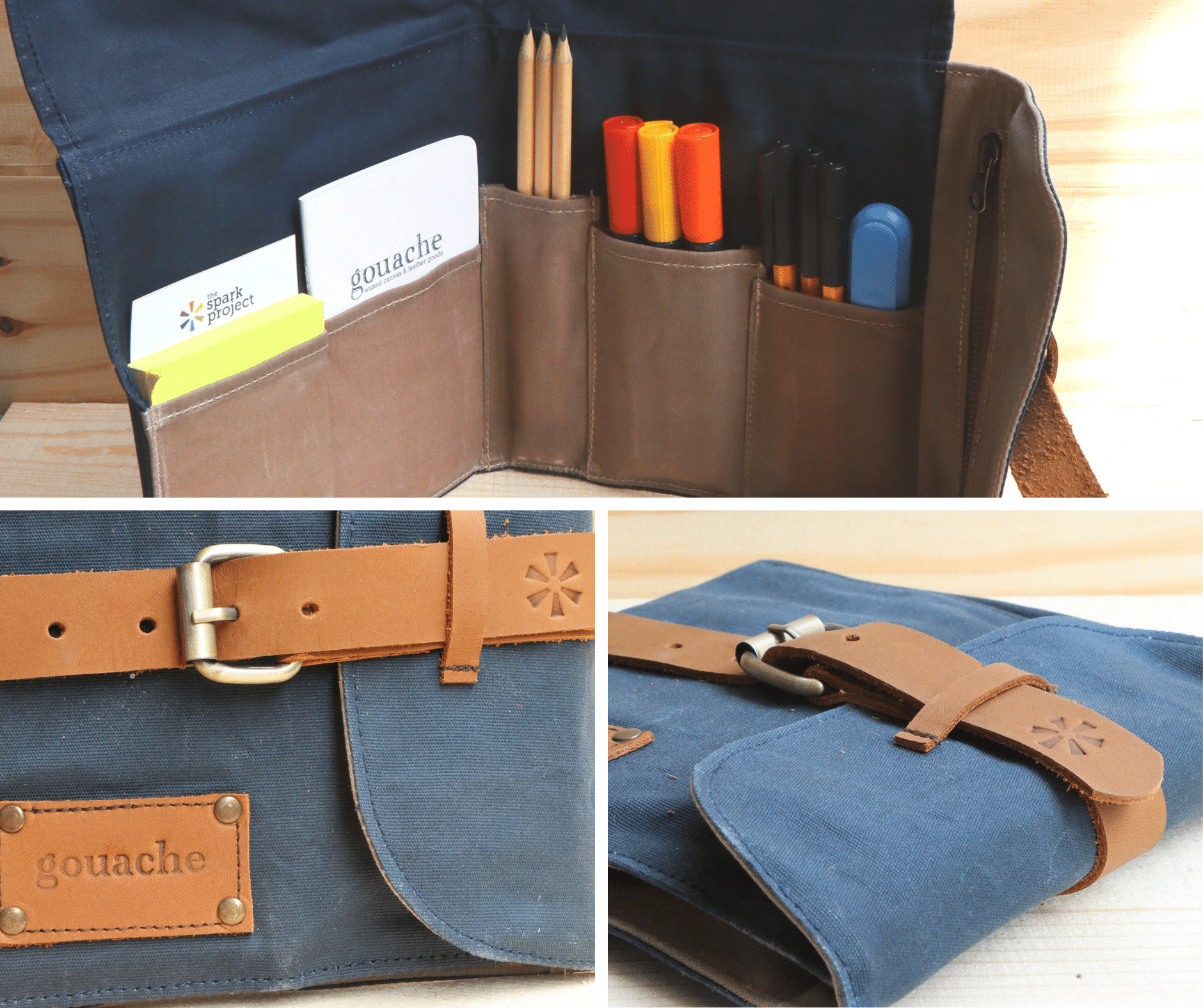 I'm also including useful resources on crowdfunding as rewards.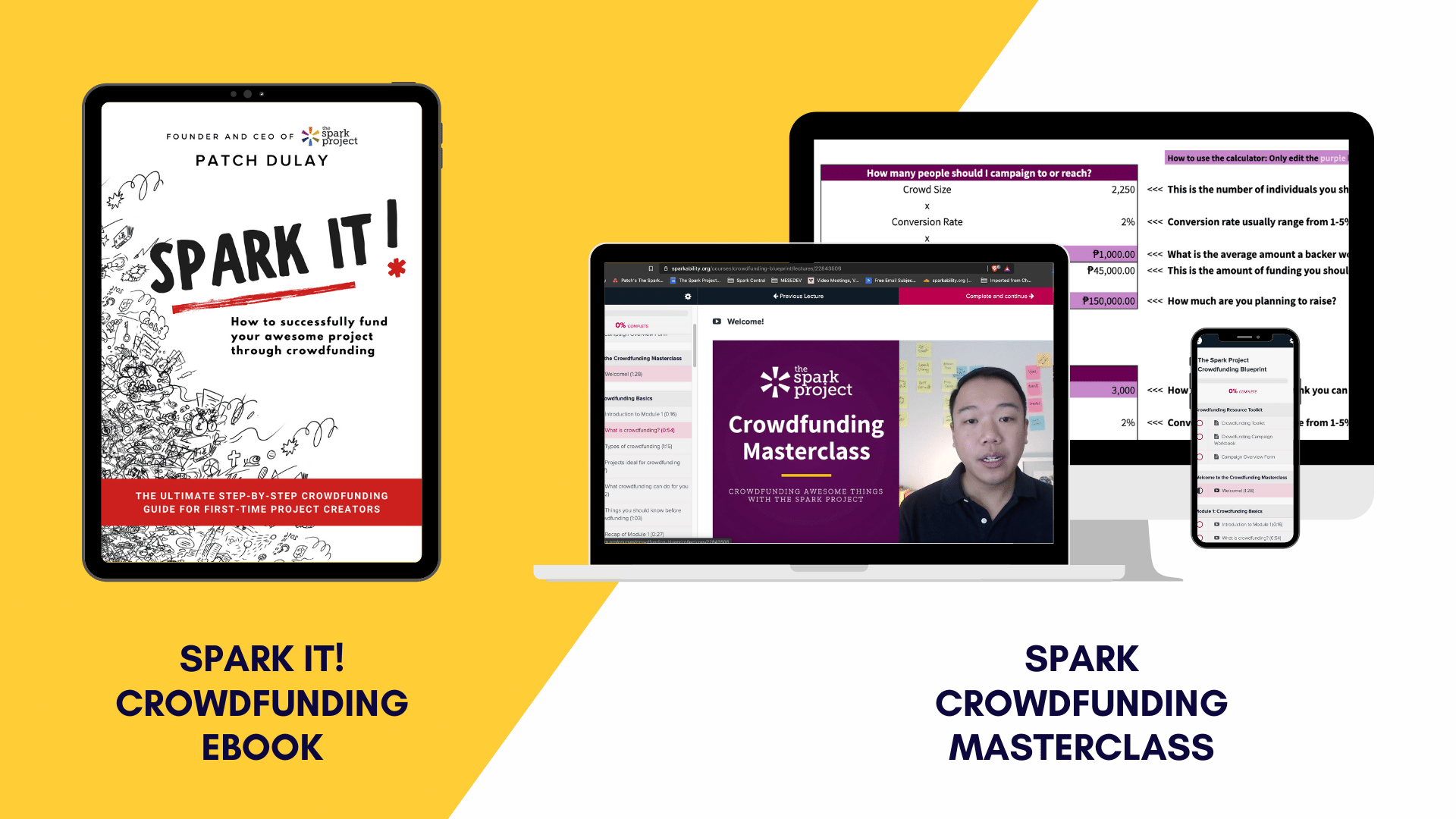 First is the Spark It! Ebook. This our "how-to" guide to crowdfunding. It's made for any aspiring crowdfunding who wants to spark their project. Second is our Crowdfudning Masterclass. You'll have everything you need to spark you project!
We created several backer reward levels for you to choose from.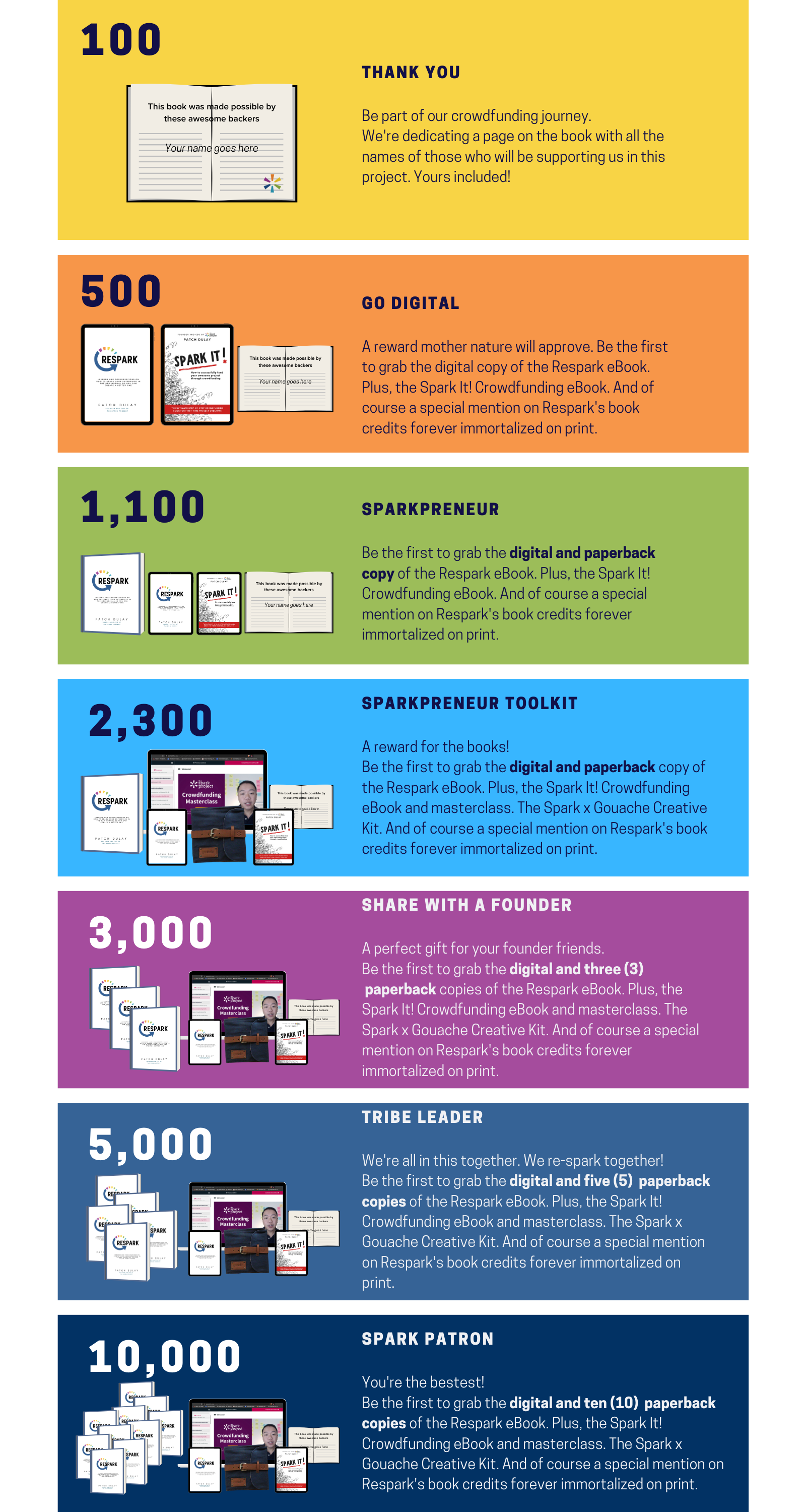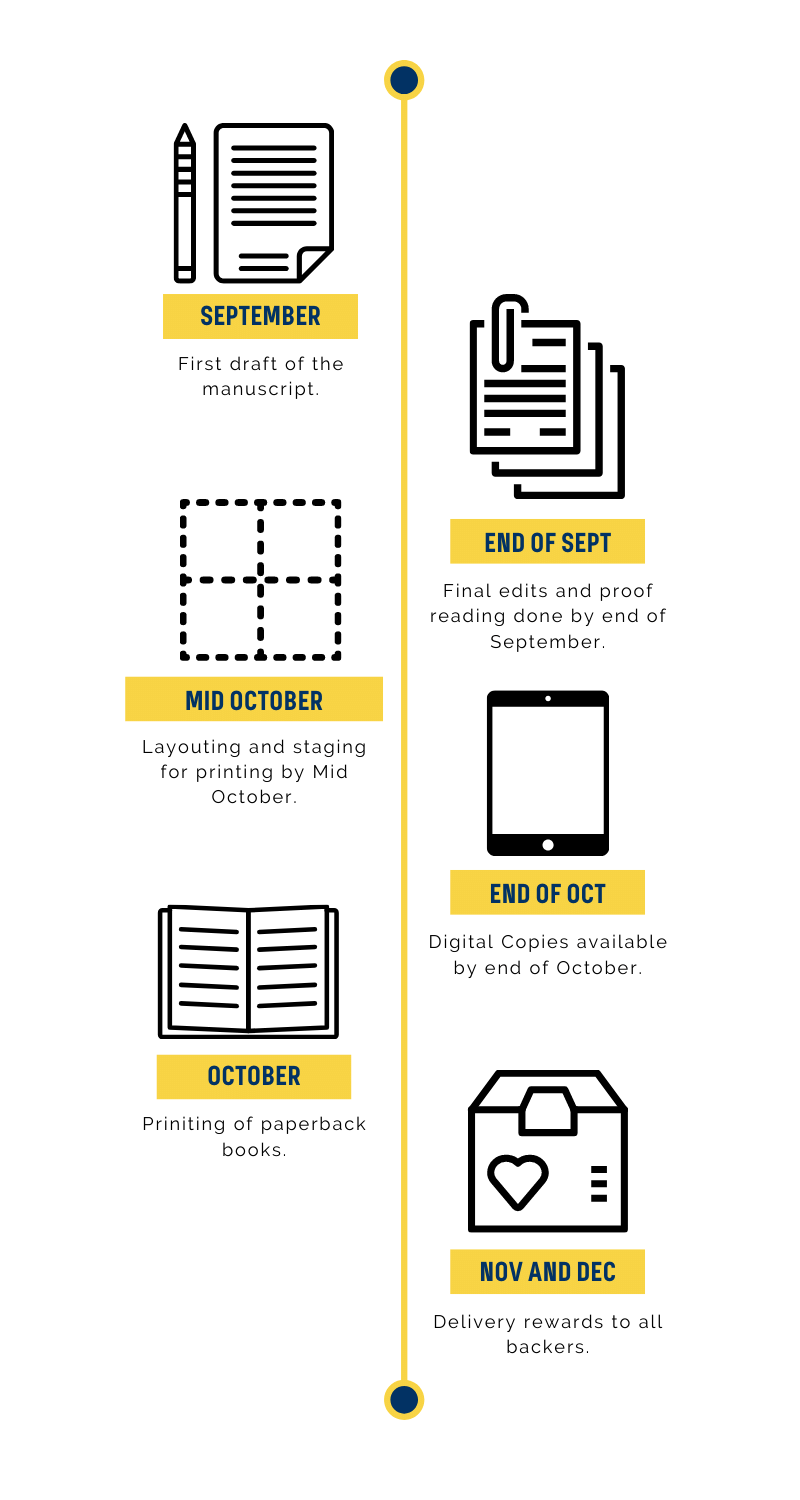 The money we will raise will go to the production and printing of the book, as well as manufacturing the Spark x Gouache Creative Kit. Project expenses includes paying the layout artist, designer, writer and editor who will help me complete the book.
I hope you can help me print and distribute the first copies of this book and place it in the hands of entrepreneurs and changemakers everywhere.
Spark it now,
Patch

The risks of this project are low. The manuscript of the book is already done. It is just going through the final stages of editing and proof reading. Then off to the printers! We have sourced a printer as well. But just like any crowdfunding project, we leave room for possible hiccups in production and printing.
While this is the first book Spark I've ever done, I've managed to crowdfund 3 projects successfully, this being the fourth one.
I promise to make sure that I'll be as transparent as possible when it comes to this campaign. I love The Spark Project community and I'll do everything possible to make sure that you're kept in the loop about the progression of the project.
| Name | Date |
| --- | --- |
| Banana Chief's Giant Banana Chips | 4 September, 2020 |
| Kirstin Lopez | 4 September, 2020 |
| Raymond Vergara | 4 September, 2020 |
| Caela Tanjangco | 4 September, 2020 |
| MaryGrace | 4 September, 2020 |
| Gladys Lazibal | 4 September, 2020 |
| Sheila Fuentes | 4 September, 2020 |
| Rodmark | 4 September, 2020 |
| Anya | 4 September, 2020 |
| Fatima | 4 September, 2020 |
| Kristine Millete | 4 September, 2020 |
| Tal DG | 4 September, 2020 |
| Weng | 5 September, 2020 |
| Dom De Leon | 5 September, 2020 |
| Denise Subido | 6 September, 2020 |
| Jen Horn | 7 September, 2020 |
| Helen Gemma Vallejos | 7 September, 2020 |
| Anonymous | 9 September, 2020 |
| Meggie Valdes | 9 September, 2020 |
| Marie of CalaBoo | 11 September, 2020 |
| Cris Roxas | 15 September, 2020 |
| Fetch Naturals | 15 September, 2020 |
| Marie Alexis Baldia | 16 September, 2020 |
| Grace | 16 September, 2020 |
| Jessica Corado | 16 September, 2020 |
| Rita | 16 September, 2020 |
| JC LIBIRAN | 16 September, 2020 |
| Karylle Garcia | 17 September, 2020 |
| tish hautea | 17 September, 2020 |
| Joy Celine Martinez | 18 September, 2020 |
| OHT | 18 September, 2020 |
| Elmerei Cuevas | 18 September, 2020 |
| Dr. Harvy Joy Liwanag | 18 September, 2020 |
| Anonymous | 18 September, 2020 |
| Carmel Valencia | 20 September, 2020 |
| Allen Love Liwanag Faro | 21 September, 2020 |
| Carlo Delantar | 21 September, 2020 |
| Epi Ludvik | 21 September, 2020 |
| Nin Chiong | 21 September, 2020 |
| Lani Mapalad-Manio | 21 September, 2020 |
| Aaron Palileo | 21 September, 2020 |
| Monna Amis | 21 September, 2020 |
| Ana Betita Isla | 22 September, 2020 |
| Rinelle Ramirez | 22 September, 2020 |
| Chanell Sison | 22 September, 2020 |
| Stephen Co | 22 September, 2020 |
| Bettina Melchor | 22 September, 2020 |
| Kevin Martin Dela Cruz | 23 September, 2020 |
| Birdie | 24 September, 2020 |
| Priya Thachadi | 29 September, 2020 |
| Francelle Alcancia | 1 October, 2020 |
| Philippine Food Bank Foundation Inc | 1 October, 2020 |
| Vance CC | 1 October, 2020 |
| Joreen | 1 October, 2020 |
| Didoy and Mayi | 7 October, 2020 |
| Paul Anthony Empenado | 7 October, 2020 |
| Cherrie Atilano | 8 October, 2020 |
| Hilary Hao | 8 October, 2020 |
| Ann Enriquez | 8 October, 2020 |
| Erika Pineda | 9 October, 2020 |
| Mary Adelyn Gronda Tecson | 10 October, 2020 |
| Patricia | 12 October, 2020 |
| Audrey Palomar | 12 October, 2020 |
| Shumate | 12 October, 2020 |
| Sarreals | 12 October, 2020 |
| Paola | 12 October, 2020 |
| Anonymous | 12 October, 2020 |
| Gadwin Santos | 12 October, 2020 |
| KWAGO Collective and Publishing Laboratory | 15 October, 2020 |
| Maan M. | 15 October, 2020 |
| Christine | 15 October, 2020 |
| Ria Villanueva | 16 October, 2020 |
| Goldy Yancha | 16 October, 2020 |
| Kristine Anne Taton | 16 October, 2020 |
| Christopher Eugenio | 16 October, 2020 |
| Anonymous | 16 October, 2020 |
| ryan david aguas | 16 October, 2020 |
| Bai | 16 October, 2020 |
| Tess A | 16 October, 2020 |
| Lumer Jude Doce | 16 October, 2020 |
| Dave Albao | 16 October, 2020 |
| Helen Vallejos | 20 October, 2020 |
| Acky&Kitty | 20 October, 2020 |
| Adrian Immanuel Bonifacio | 20 October, 2020 |
| Shelly | 20 October, 2020 |
| Lala Dela Cruz | 20 October, 2020 |
| Rachelle Grace San Pedro | 20 October, 2020 |
| Alahna Sy | 20 October, 2020 |
| Judith Claridades | 22 October, 2020 |
| Roxanne Navarro | 22 October, 2020 |
| Pocholo Felix | 23 October, 2020 |
| Verne Alexander Ahyong | 23 October, 2020 |
| paolo agloro | 23 October, 2020 |
| Mark Roeland De Castro | 23 October, 2020 |
| Ryan C. Guinaran | 23 October, 2020 |
| Rhiza Nery | 23 October, 2020 |
Frequently Asked Questions