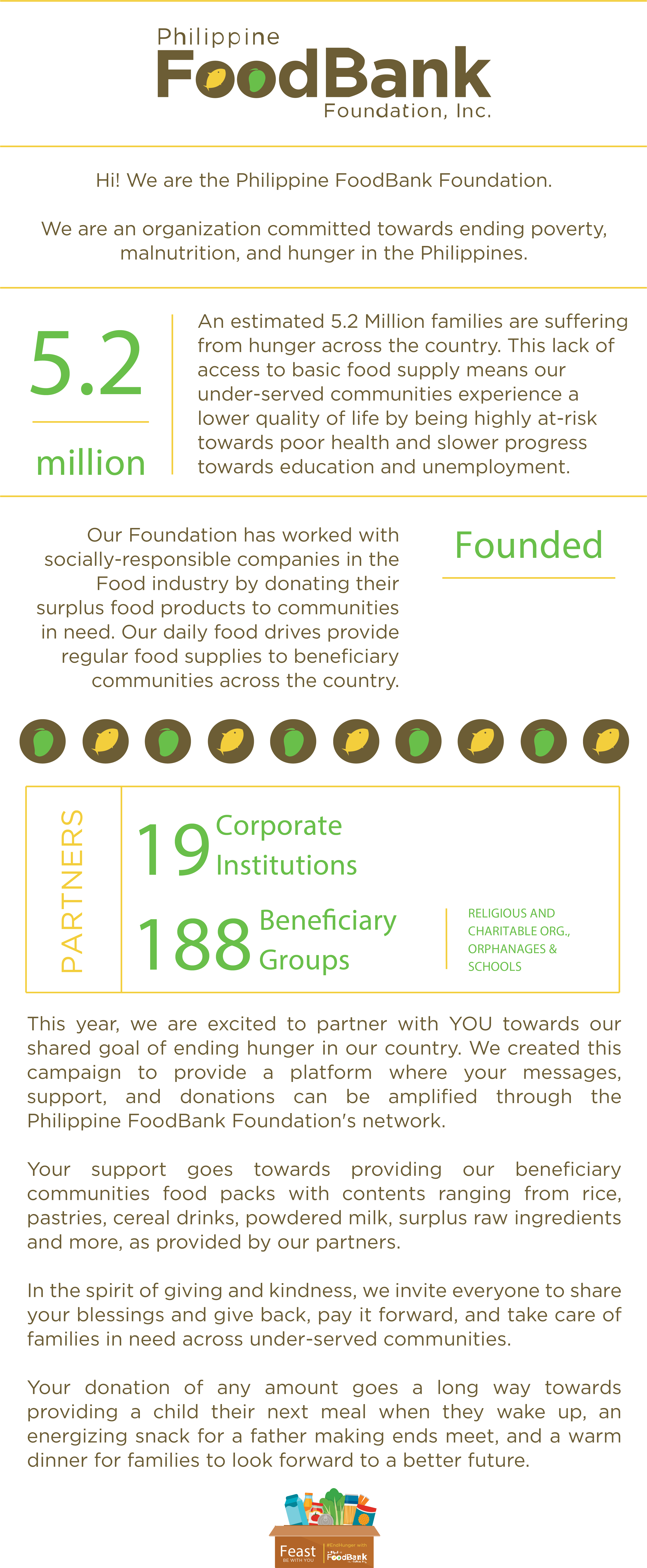 | Name | Date |
| --- | --- |
| Anonymous | 9 December, 2020 |
| Anonymous | 9 December, 2020 |
| Anonymous | 9 December, 2020 |
| Anonymous | 9 December, 2020 |
| Anonymous | 9 December, 2020 |
| Anonymous | 9 December, 2020 |
| Anonymous | 9 December, 2020 |
| Anonymous | 9 December, 2020 |
| Anonymous #9 | 9 December, 2020 |
| Anonymous | 9 December, 2020 |
| Anonymous | 9 December, 2020 |
| Anonymous | 9 December, 2020 |
| Anonymous | 9 December, 2020 |
| Anonymous | 9 December, 2020 |
| Anonymous | 9 December, 2020 |
| Anonymous | 9 December, 2020 |
| Anonymous | 9 December, 2020 |
| Anonymous | 9 December, 2020 |
| Anonymous | 9 December, 2020 |
| Anonymous | 9 December, 2020 |
| Kristin Pecson | 24 December, 2020 |
| Hebron family | 25 December, 2020 |
| Patch Dulay | 26 December, 2020 |
| Anonymous | 26 December, 2020 |
| Olivia and Luccia Torres | 27 December, 2020 |
| Chris and Nanette Po | 7 January, 2021 |
| Johnny and Charlene Escaler | 7 January, 2021 |
| Larry and Roselen Ocampo | 7 January, 2021 |
| Raffy and Trisha Ocampo | 7 January, 2021 |
| Fred and Kerry Uytengsu | 7 January, 2021 |
| Jay and Bambee Tambunting | 7 January, 2021 |
| Binky and Tracie Dizon | 7 January, 2021 |
| Bubu and Trisha Santos | 7 January, 2021 |
| Jim and Mavis Fuentebella | 7 January, 2021 |
| Noey and Krie Lopez | 7 January, 2021 |
| Peter and Debbie Yabut | 7 January, 2021 |
| Mikko Sison | 7 January, 2021 |
| Dicky Alikpala | 7 January, 2021 |
| Jay and Bambi Sy | 7 January, 2021 |
| Ernie and Michelle Lopez | 7 January, 2021 |
| Albert Altura | 7 January, 2021 |
| Andy and Stella Aguila | 7 January, 2021 |
| Rune and Leah Stroem | 7 January, 2021 |
| Tj and Liza Parpan | 7 January, 2021 |
| Nick and Gem Thomas | 7 January, 2021 |
| Marco and Giselle Eduque | 7 January, 2021 |
| Patrick and Cheska Dionisio | 7 January, 2021 |
| Lani Velasco | 7 January, 2021 |
| Lara Parpan | 7 January, 2021 |
| Dodie and Mara Poblete | 7 January, 2021 |
| Carey de Venecia and Melissa Jison | 7 January, 2021 |
| Seevee and Mhia Lopez | 7 January, 2021 |
| Richie Grau | 7 January, 2021 |
| Jake and Gina Poblete | 7 January, 2021 |
| Marty and Udsie Villarica | 7 January, 2021 |
| Chris and Alicia Sy | 7 January, 2021 |
| Timmy and Barbee Chuidian | 7 January, 2021 |
| Felix and Reggie Barrientos | 7 January, 2021 |
| Rico Escaler and Martie Plaza | 7 January, 2021 |
| Lia Bernardo | 7 January, 2021 |
| Mike and Manda Bond | 7 January, 2021 |
| Alex Tiu | 7 January, 2021 |
| Nico and Hannah Luccini | 7 January, 2021 |
| Guy and Trisha Concepcion | 7 January, 2021 |
| Simon and Brenda Hoe | 7 January, 2021 |
| Raj and Kai Moreno | 7 January, 2021 |
| Noel and Ginggay de la Merced | 7 January, 2021 |
| Jayjay and Ana de Ocampo | 7 January, 2021 |
| Culbert and Ge Santiago | 7 January, 2021 |
| David Charlton | 7 January, 2021 |
| Charlie and Leana Carmona | 7 January, 2021 |
| Kirk and Evie Arambulo | 7 January, 2021 |
| Leon and Cara de Ocampo | 7 January, 2021 |
| Jose and Tin Moreno | 7 January, 2021 |
| Joel and Tina Santos | 7 January, 2021 |
| Ed Francisco | 7 January, 2021 |
| Maxie and Maricel Abad | 7 January, 2021 |
| Joel Ferrer and Bina Reyes | 7 January, 2021 |
| Leni Luya | 7 January, 2021 |
| Monica Altura | 7 January, 2021 |
| Leah Tolentino | 7 January, 2021 |
| Batch Marave | 7 January, 2021 |
| Paolo Villar | 7 January, 2021 |
| Salie Coloma | 7 January, 2021 |
| Jing Serrano | 7 January, 2021 |
| Sandy Caagbay-Oabel | 7 January, 2021 |
| Lemuel Branal | 7 January, 2021 |
| Jesse Divinagracia | 7 January, 2021 |
| Rose Estampador | 7 January, 2021 |
| John Lagdameo | 7 January, 2021 |
| Margo Flores | 7 January, 2021 |
| Leigh Carcel | 7 January, 2021 |
| Toto Hilado | 7 January, 2021 |
| Cliff and Jo Ann Eala | 7 January, 2021 |
| Beaver Lopez | 7 January, 2021 |
| Paolo and Malou Pineda | 7 January, 2021 |
| Nori and Nikki Poblador | 7 January, 2021 |
| Susan Quiros | 7 January, 2021 |
| Chiqui Lara | 7 January, 2021 |
| Mitos Borromeo | 7 January, 2021 |
| Nandy Olfato | 7 January, 2021 |
| Eric Qiuazon | 7 January, 2021 |
| Joy Herrera | 7 January, 2021 |
| Marj Kasiban | 7 January, 2021 |
| Kim Ladao | 7 January, 2021 |
| Alex and Mayet | 7 January, 2021 |
| Veejay and Vicky Esguerra | 7 January, 2021 |
| Alan and Mailet Ancheta | 7 January, 2021 |
| Omar and Emma Caringal | 7 January, 2021 |
| Rommel and RoseAnn Bautista | 7 January, 2021 |
| Pete and Jeanette Reyes | 7 January, 2021 |
| Dindo and Leah Magallanes | 7 January, 2021 |
| Yvette Fernandez | 7 January, 2021 |
| Jimmy and Karen Kang | 7 January, 2021 |
| Jigs and Oona Carlos | 7 January, 2021 |
| Marty d e Castro | 7 January, 2021 |
| Joe and Ianna Yap | 7 January, 2021 |
| Ralby and Marissa Tambunting | 7 January, 2021 |
| Rissa Oreta | 7 January, 2021 |
| Dindi Gallardo | 7 January, 2021 |
| Malou Araneta | 7 January, 2021 |
| Noel and Elaine Borlongan | 7 January, 2021 |
| Dave Fuentebella and Titit Cornelio | 7 January, 2021 |
| Robert and Rica Trota | 7 January, 2021 |
| Ruben and Mandy Torres | 7 January, 2021 |
| Bung and Rachel Torres | 7 January, 2021 |
| Rico and Rona Tan | 7 January, 2021 |
| Togie and Gina Evangelista | 7 January, 2021 |
| Eric and Rose Javier | 7 January, 2021 |
| Joel and Racky Manalastas | 7 January, 2021 |
| Michael and Rica Paull | 7 January, 2021 |
| Itong and Richie Torres | 7 January, 2021 |
| Anna Beatriz Dizon | 18 January, 2021 |
Frequently Asked Questions
Our beneficiary organizations are composed of religious organizations, orphanages,schools, and charitable institutions.
Yes! There is an option to donate any amount for our campaign. Please find it at the right-hand side of the page.
Yes! Drop by at http://www.foodbank.org.ph
We're partnered with corporations across the food industry. The contents of the food packs will be sourced from our partners and these will typically include staples such as rice, powdered milk, and cereal drinks, as well as bread, pastries, and raw ingredients which can be used to cook meals.
Back this Project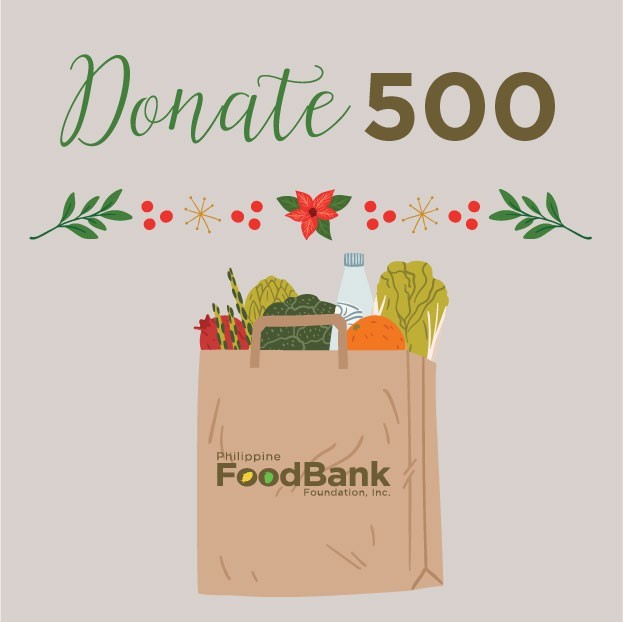 1 out of 100 claimed
Donate PHP 1000 - ₱1,000.00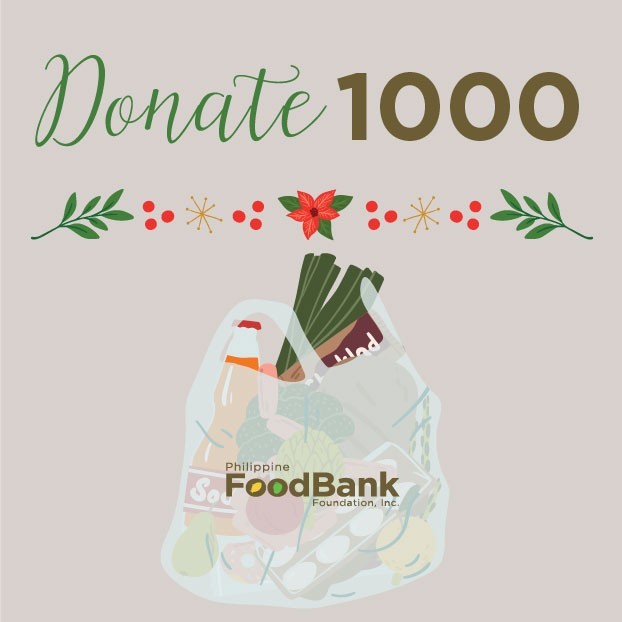 2 out of 50 claimed
Donate PHP 3000 - ₱3,000.00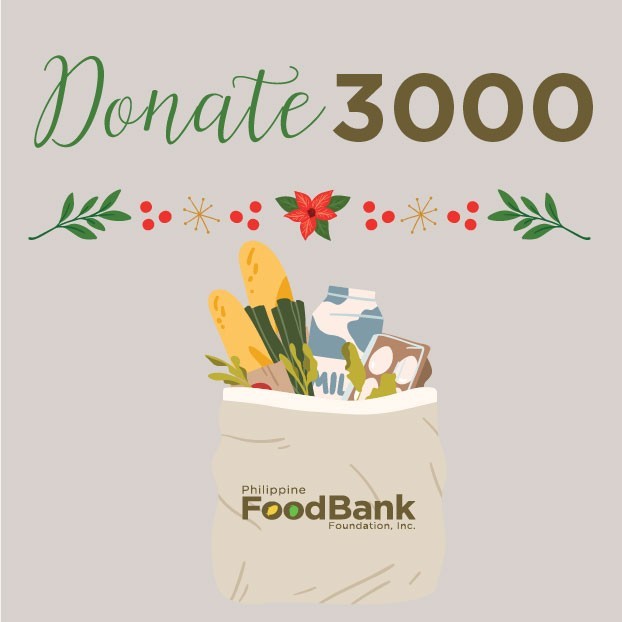 0 out of 50 claimed
Donate PHP 5000 - ₱5,000.00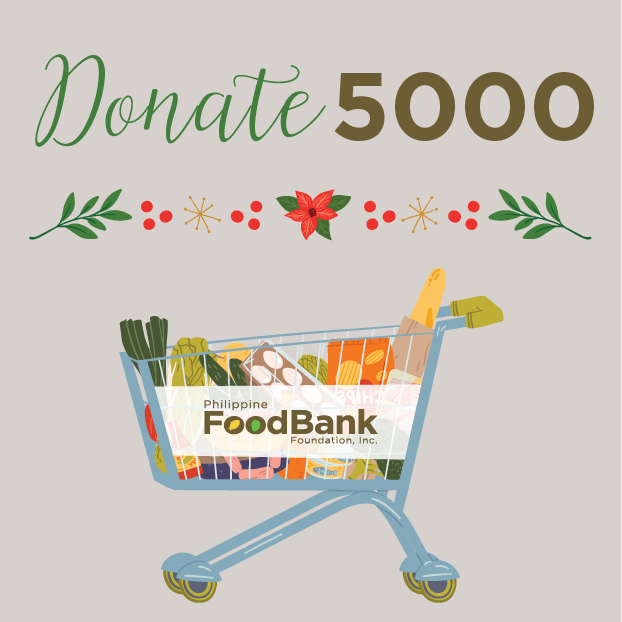 22 out of 50 claimed