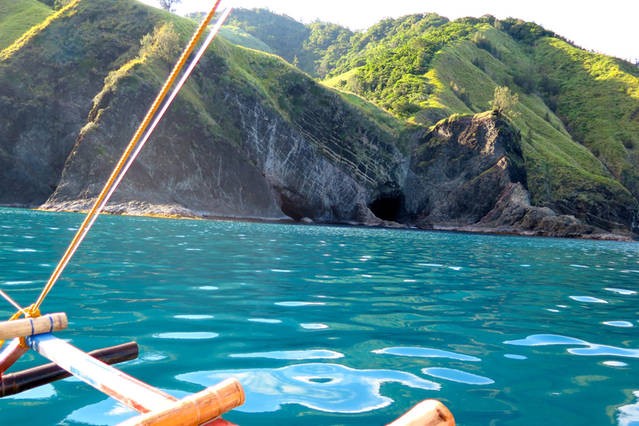 Gaia Retreats is an honest-to-goodness ecotourism destination in the picturesque seaside town of Dingalan, Aurora, 4-hrs from Metro Manila. The retreat site will consist of shared and simple accommodations, a yoga and wellness platform, and a communal kitchen and dining area. We will host wellness experiences for guests wanting to connect with nature and themselves.
Support this eco-friendly retreat by buying in advance with introductory rates. We are booking select weekends Dec 2017-March 2018! Simply click "Weekend" or "Long Weekend Gaia Retreat" in the rewards section on this page, make a payment, and we will send you a voucher to redeem your preferred dates.
All contributions are welcome! To back our project, simply click the amount you'd like to give or the reward (yoga pass, rice, art) you'd like to receive and follow through to the payment gateway for bank details or Paypal.
OUR STORY
Melissa and Gwyneth (with support from their loving and talented husbands) first started to hatch this partnership in 2015. They met through the Good Food Community and realized they had a lot in common as transnational Filipinas who have actively sought to make a social and environmental impact in the Philippines. Both were directing the operations of small non-profit organizations: Gwyneth's TCIP with projects in Nueva Ecija and Metro Manila and Melissa's TIGRA with projects in Bantayan Island and Boracay. They thought, why not combine our efforts and create a social business that can help sustain our shared advocacies?
In 2017, Gwyneth's mum, Mama J, herself a development worker and environmentalist, agreed to lease their beachfront property for use as an eco-tourism sanctuary. Currently, the 4-hectare property is used occasionally as a family getaway for beach bumming and stand-up paddle board. There is a wood cabin, outside kitchen and basic bathroom. The site is blessed with free-flowing freshwater all-year round.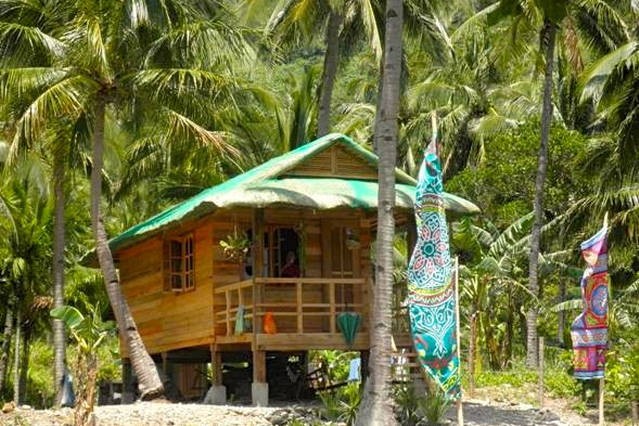 THE PITCH
We have pooled our money to build a yoga platform so that the space will have a dedicated workshop space that can host affordable yoga retreats with camping-style accommodations. But we need YOUR help to make the site comfortable for overnight guests.
Dingalan Bay is off-grid and needs solar power!
This crowd-funding campaign will raise money for the solar power set up, specifically for lighting, electric fans, phone charging and an upgraded showering facility. If we raise more than our initial goal of 150,000 we will continue our dream by making glamping-style accommodations (ooh glamorous!)
Our goal is to improve the retreat facilities through green architecture, making it comfortable for guests without sacrificing the pristine natural medicine Dingalan offers already. We believe the space can begin to pay for its own upgrades if it is camping-comfortable with group amenities.
Here are Pancho's sketches and renderings for Gaia Retreats: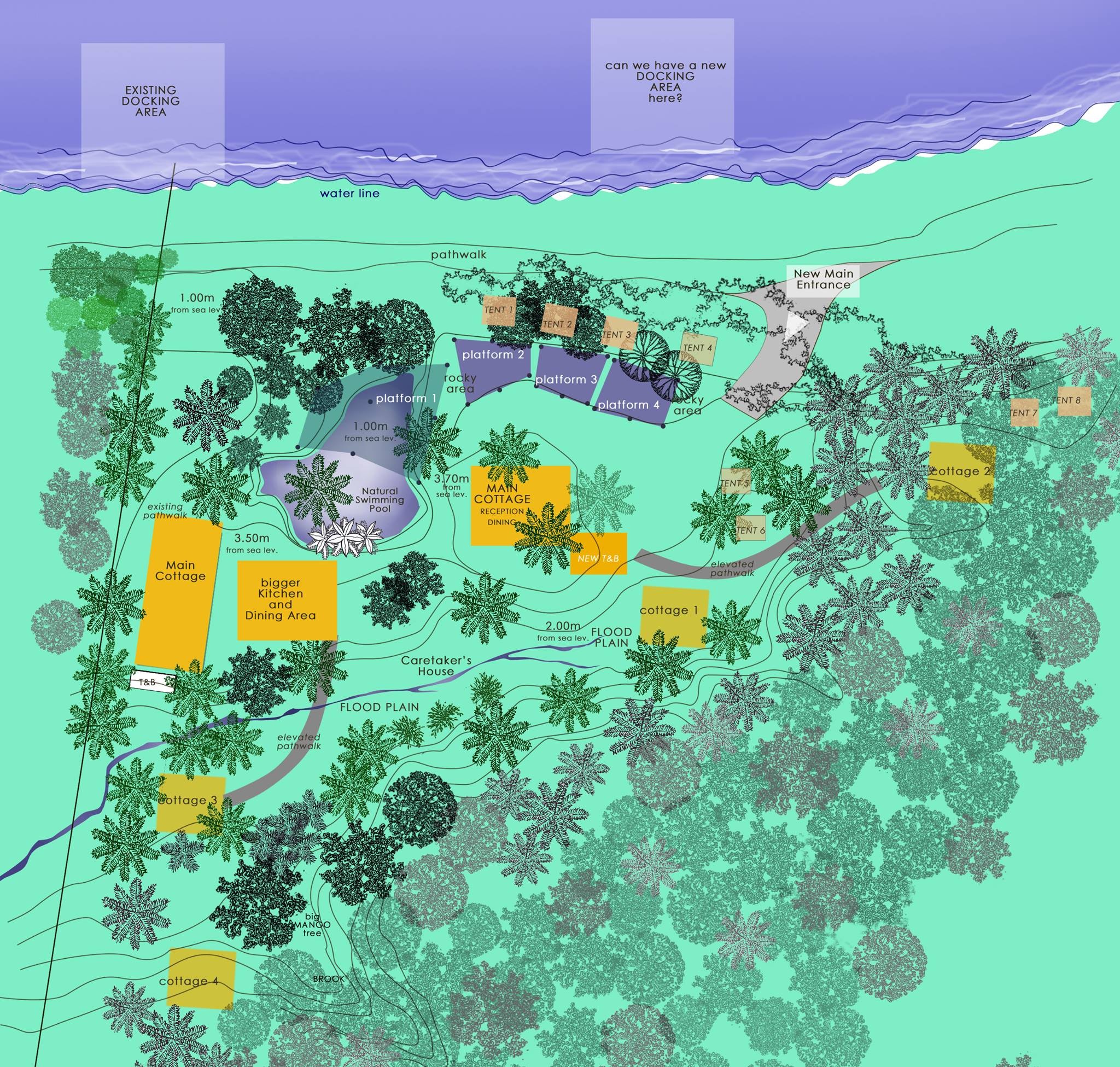 ABOUT THE EXPERIENCE

Dingalan's relative proximity to Metro Manila makes it a good contender for weekend warriors looking to retreat from it all. Local tourism consists of trips to Lamao Caves and Tanawan Falls. White Beach is just a short walk from Gaia Retreats. Already, our site is a popular destination on Airbnb. Guests enjoy swimming, snorkeling 20 m from the shore, and eating fresh seafood.
Food at Gaia Retreats will be sourced locally, direct from fishers and organic farms in the area, when possible. Our partner TCIP champions organic farming in Nueva Ecija and offers fresh vegetables, organic meats and rice through www.gaiagardensph.com. Melissa is also a fermenter and culturer (kefir, sauerkraut, cortido etc.) and is excited to share this ancient practice and its modern day science with Gaia guests.

We are passionate about the environment! Your contributions will enable us to build a solar power set-up that will help us maintain the pristine environment of Dingalan, Aurora. Your support means that Gaia Retreats can get up and running!
Gaia Retreats is a social enterprise that commits to giving at least 10% profit to a community fund managed by TCIP and designated for community-based resource management in Dingalan proper.
REWARDS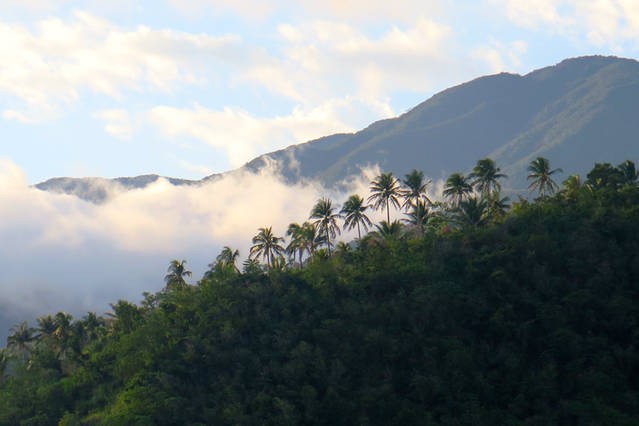 All contributions will receive our BIG THANKS and a YOGA PLAYLIST
Carefully curated by Melissa, these songs have been put together to accompany your morning yoga routine! Move to new and classic feel-good tunes. Also good for your morning commute to keep you groovin' and centered at the same time!
For more detailed descriptions of the rewards, please see the FAQs (just below the video).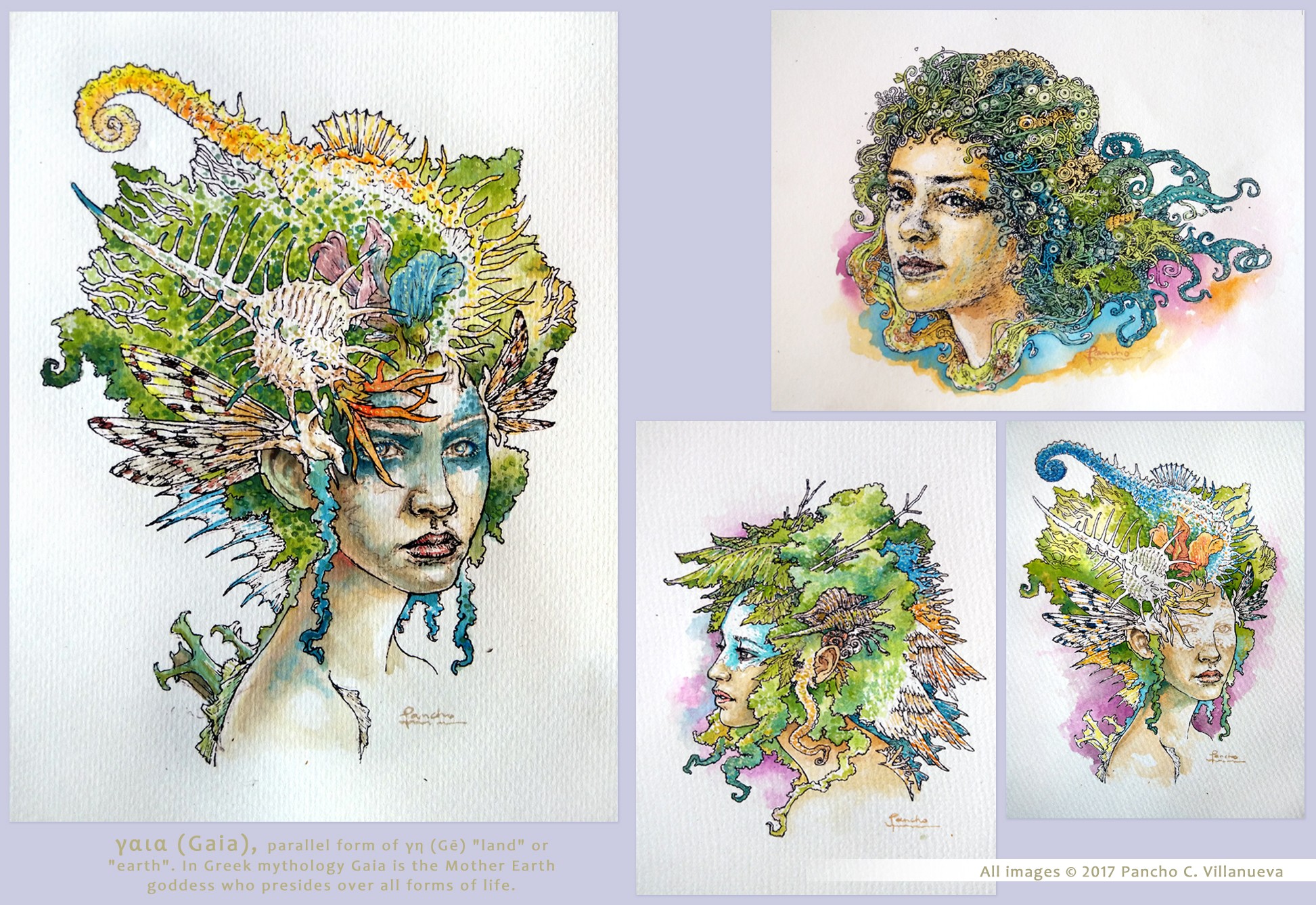 Limited edition prints - individually watercoloured art works. Collect them all! Contributions of Php1500 will receive a 5" X 7" work, contributions of Php 3000 will receive a 8" X 10.5" work. See the FAQ for more details. If you're interested in commissioning a bigger work, even a portrait with Gaia-themes, please contact us! See more here
OUR TEAM

BE PART OF THE STORY
Follow us on Instagram and use the hashtag #sparkgaia. We will select 1 winner to join our end-of-campaign yoga + brunch in Quezon City to celebrate our growing community for renewable retreats!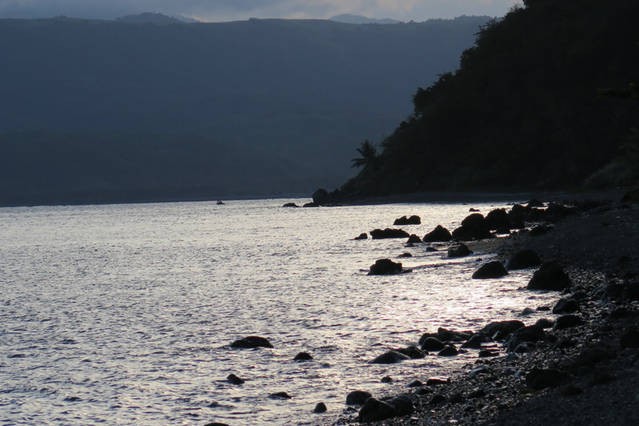 Risks and challenges
Philippine summer is wrapping up; it is already starting to rain on a daily basis. We are anticipating the building period right after the crowd-funding campaign ends, before the typhoon season really gets going. Dingalan is affected by a typhoons coming in from the eastern seaboard usually between September-December. The property also sits in a partial cove and is therefore sheltered to a certain extent from the brunt of wind coming off the ocean.
We have taken care to design the major structures such that roofs can come down before major typhoons, or structures are equipped with minimal roof overhang so as not to lose our investments! Gwyneth and family have taken care to maintain a 'green' wall of trees to protect the property from wind. There are many large trees near to the shore and more have been planted.
The other weather related challenge is flooding and landslides which may affect tourists coming in and out of the area. Last year, there were major flash floods due to Typhoon Karen, effectively blocking the road into Dingalan. Unfortunately, this kind of disaster has deep historical and socio-political causes, particularly unsustainable and unregulated logging which has damaged the watershed. The short term solution, currently in progress, is a new road with a solid dike in the event of new floodways rushing down from the mountain. The long term solution involves working with the community and the local government to protect the forest and the coastal habitats such that ecological resilience can take root. Gaia Retreats and TCIP intent to contribute to greater resilience and community empowerment so that Dingalan will not be as affected by typhoon season.
One of the big challenges for any tourism business is guest satisfaction. Particularly in our eco-tourism venture wherein energy comes from renewable sources, we anticipate some hesitation on the part of guests. We understand that ours is a niche tourism market. Part of our desire to do this crowd-funding campaign is to give us a chance to work within a community to pilot our retreats and refine the energy requirements needed, particularly for the food & beverage part of the business. We hope that you, as a backer, will help us meet the challenge of a renewable retreat with your honest feedback and suggestions!
| Name | Date |
| --- | --- |
| dhanuka buddhakorala | 19 June, 2017 |
| Dominic Gregorio | 22 June, 2017 |
| Kurt Gibson | 23 June, 2017 |
| dhanuka buddhakorala | 27 June, 2017 |
| Nancy Bayani Gibson | 27 June, 2017 |
| Cedric | 29 June, 2017 |
| Bryan | 30 June, 2017 |
| Ed H | 2 July, 2017 |
| Paola Betita | 4 July, 2017 |
| peregrinoloco | 6 July, 2017 |
| Kiteen | 6 July, 2017 |
| Drea | 7 July, 2017 |
| Yeen | 8 July, 2017 |
| Charlene Tan | 10 July, 2017 |
| Drei Castilo | 10 July, 2017 |
| Patrizcia Mae dela Cruz | 12 July, 2017 |
| Triza Andrade | 12 July, 2017 |
| Mai | 12 July, 2017 |
| Christine Novera | 13 July, 2017 |
| leah | 13 July, 2017 |
| Hayme | 16 July, 2017 |
| Mariles Grageda | 17 July, 2017 |
| Peewee | 17 July, 2017 |
| Mariles | 18 July, 2017 |
| Mar | 18 July, 2017 |
| Cecilia L | 18 July, 2017 |
| Christina Thuermer | 18 July, 2017 |
| Christina Thuermer | 18 July, 2017 |
| Nayna | 18 July, 2017 |
| Celina Su | 18 July, 2017 |
| Kaycee | 19 July, 2017 |
| Bianca Gutierrez | 19 July, 2017 |
| Daryll Delgado | 19 July, 2017 |
| William Ragamat | 19 July, 2017 |
| Karen Hanna | 19 July, 2017 |
| Amy Sit | 19 July, 2017 |
| Nicolo Del Castillo | 20 July, 2017 |
| Agnes Pinzon | 20 July, 2017 |
| John Wall | 20 July, 2017 |
| Elaine Tacubanza | 20 July, 2017 |
| Ace Espiritu | 20 July, 2017 |
| Daniela Calumba | 21 July, 2017 |
| Ruby Magturo | 21 July, 2017 |
| Imee Manal | 21 July, 2017 |
| rovaira | 21 July, 2017 |
| marina | 21 July, 2017 |
| Cas | 21 July, 2017 |
| Shanti Abedin | 21 July, 2017 |
| Febe Grace Bulan | 21 July, 2017 |
| Jostine | 21 July, 2017 |
| Mark Sanchez | 22 July, 2017 |
| NL D | 22 July, 2017 |
| Jaisa Sulit | 22 July, 2017 |
Frequently Asked Questions
For Weekend Retreat:  10-min boat ride from/to the Port, shared accommodations (in tent or single bed) , 4 yoga and meditation classes, 4 meals. For Long Weekend Retreat:  10-min boat ride from/to the Port, shared accommodations (in tent or single bed) , 6 yoga and meditation classes, 7 meals, and either a trip to Lamao Caves or to Tanawan Falls
We will inquire about your transportation needs upon booking. We will arrange transportation from/to Cabanatuan when there are more than 6 pax who will commute. The cost will range from Php 300-500/per person depending on number of commuters. It is a 4-5 hour drive to Gaia Retreats with option for secure outdoor parking at the Feeder Port for a minimal fee. Commuting is by bus to Cabanatuan, van to Dingalan and trike to the port. Please see this blog for more details: http://www.wewander.ph/dingalan-aurora-a-newfound-paradise/
When you back Gaia Retreats through our Spark Project, you will receive a Voucher which is convertible to a Booking. This Voucher is valid for 3 months from when we launch. Our estimated launch date is Dec 15 2017.  If we launch before schedule, the voucher is still valid until March 15 2018.  You can book a Long Weekend Retreat (Friday-Sunday) available weekends in the Voucher validity period.  You can book a Weekend Retreat (Saturday-Sunday) available weekends within the voucher validity period. 15 days advanced booking is required. Gaia Retreats will add additional weekends in the validity period as necessary to accommodate Spark Project guests. Please contact us to see if there is availability for your preferred date.
The project will still push through! It just might take us more time to raise the money and build. The launch date may be pushed back but rest assured you will have, at minimum, a camping-comfortable experience.
We will celebrate by building better amenities for our guests! Php150,000 is a modest goal that allows us to invest in a solar power set-up for basic lighting, electric fans for common areas, and cell phone charging.  It also will enable us to improve the bathroom and shower facility. If we raise over 250,000, we will build two additional multi-use platforms for group accommodations. If we raise over 400,000, we will build an all-purpose hall for use as a reception and dining facility. We will also add an additional 200W panel to our solar set-up. If we raise over 500,000 we will build 2 saunas for detox. With a million pesos, we could create a natural soaking pool and improve all accommodations!
Beginners to yoga and meditation are more than welcome at Gaia Retreats! A Retreat can be a great opportunity to learn something new. However, participation in yoga and meditation classes is optional.
Our menu includes fresh seafood and organic and pasture-raised meat and eggs. We will do our best to accommodate vegetarians and those with allergies and other dietary concerns like gluten/dairy-free. Please contact us well in advance so we can make arrangements for your needs.
Yes! Kids are welcome at Gaia Retreats. 12 years old and below pay 1000 per night, using the existing tent accommodations. 13 years old and above pay 1500 per night, using the existing tent accommodations. Babies 2 years and below are free. Unfortunately pets are not allowed.
Yes! We allow guests to stay a maximum of 6 nights at a time with 15 days advanced booking. Rates are as follows: Weekday 2500/tent up to 3 guests, each meal 250/per person, each yoga class 500/per person
Gaia-themed art works are limited edition print and watercolour works. Pancho first draws with ball-point pen and then transfers this image onto acid-free, watercolour paper. This allows him to make multiple, different-sized work with the same image. He then paints each one! Gaia-themed art work and works-in-progress can be seen on Pancho's art album at http://bit.ly/2rQWgrB
Please see our sample weekend itineraries at: https://www.facebook.com/notes/gaia-retreats/sample-itinerary-for-gaia-retreats/806747672829437/
Please contact us directly through our personal emails: Melissa: info@melissainmanila.com and Pancho: pancho.c.villanueva@gmail.com
July 21, 2017

WE MADE OUR GOAL OF 150K ! We are thrilled! But we won't stop there :) All contributions past our initial goal will be channeled into better amenities for guests! Glamourous camping here we come!

July 16, 2017

New artworks now available. Buy yours today! https://www.facebook.com/pg/GaiaRetreatsPH/photos/?tab=album&album_id=819481524889385see more

July 10, 2017

We are feeling grateful! So we have decided to launch a little promo- and apply it retroactively to all those who have backed Gaia Retreats at the Php 3500 level and beyond: You will receive one ANY class pass to White Space Wellness in QC. Yay! Tell your friends and buy before Friday July 14th!

July 10, 2017

Thanks to all our backers so far! We are 32% to our goal and 2 weeks left! We've been getting a lot of questions about transportation so we've decided to offer van transpo from Cubao for an extra Php 1000 per person. No hassles. Just meet up in the early AM and wake up at the port in Dingalan! The options for weekenders who prefer to drive are still available. Choose your adventure <3