EDAYA Education
Fund-raising for the local Cordilleran youth, to change lives and communities, one youth at a time.
Changing Live and Communities - One Youth at a Time.
EDAYA Education is a social innovation, creative education and design program that engages, empowers and mobilizes the young people from the different provinces of the Cordillera, to impart effective change to their own communities through the establishment of social enterprises.
Through this program, we bring in different youth leaders from the Cordillera, teach them social entrepreneurship skills, technical competencies and the likes and help them push forward some solutions to their community problems.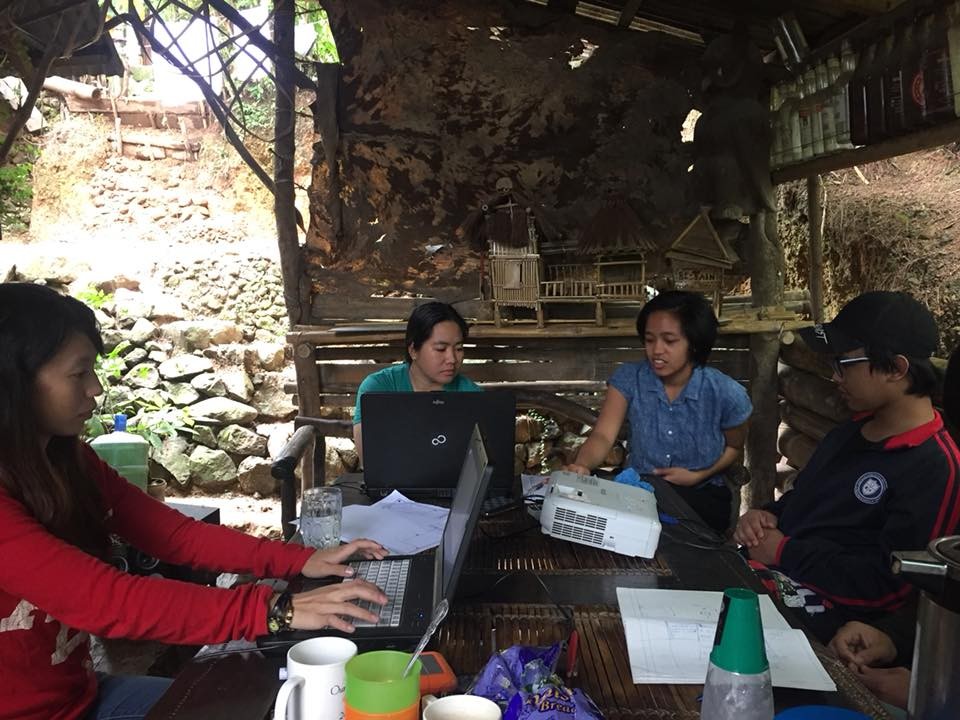 Because we want to engage youth leaders from all walks of life, we're putting together this crowdfunding to help defray the cost of the program such that our young social innovators (especially those coming from financially challenged families) do not have to pay for the program cost. We are investing about 20,000 peso/student/month to support our current batch of social innovators and we are in need of assistance so we can give them the chance to learn as much as they can and be exposed to as many opportunities as possible (learn more in the FAQs).
By supporting this campaign, you will not only make it possible for other young people to find access to opportunities, but will also allow them to change their communities.
Where will your support go?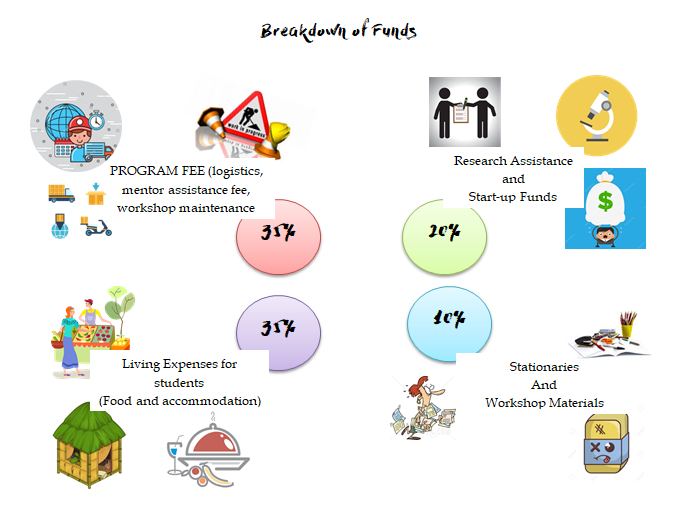 Also, by supporting this campaign, you will be receiving limited hand-crafted bamboo tokens especially crafted for this crowdfunding. These tokens will be produced by EDAYA, an award-winning brand who received the Social Products Award (2016) in Japan for our bamboo handicrafts.
Below is the project timeline for EDAYA Education: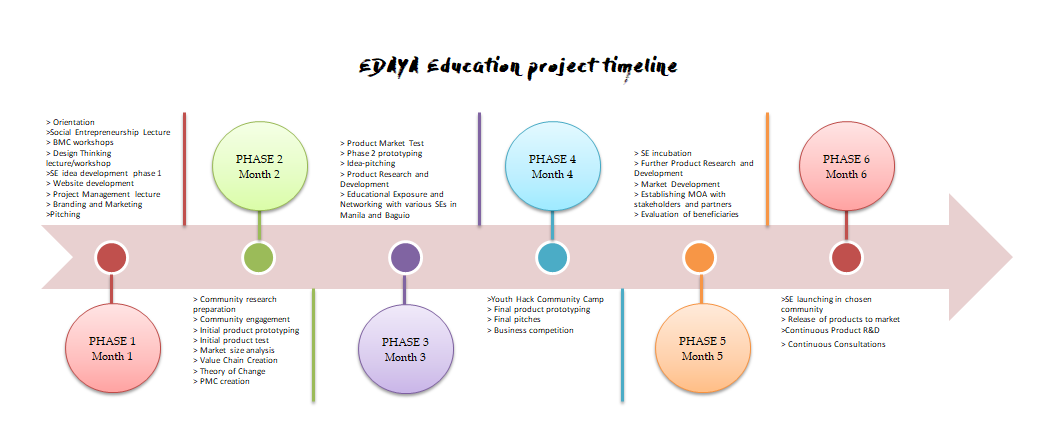 PHOTOS BELOW SHOW SOME OF THE POSSIBILITIES YOU CAN CONTRIBUTE TO WHEN YOU SUPPORT THIS PROJECT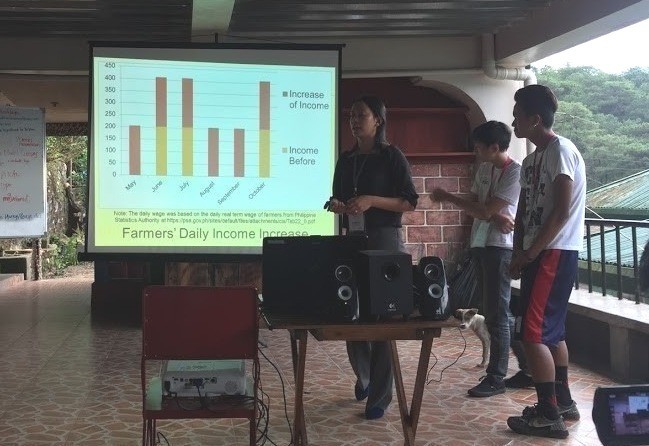 Photo above shown is one of our young social innovator from ous previous batch presenting the financial impact of her project to the farmers in her community. As shown in the image, a 100% increase in the daily income of the farmers will be achieved through her project.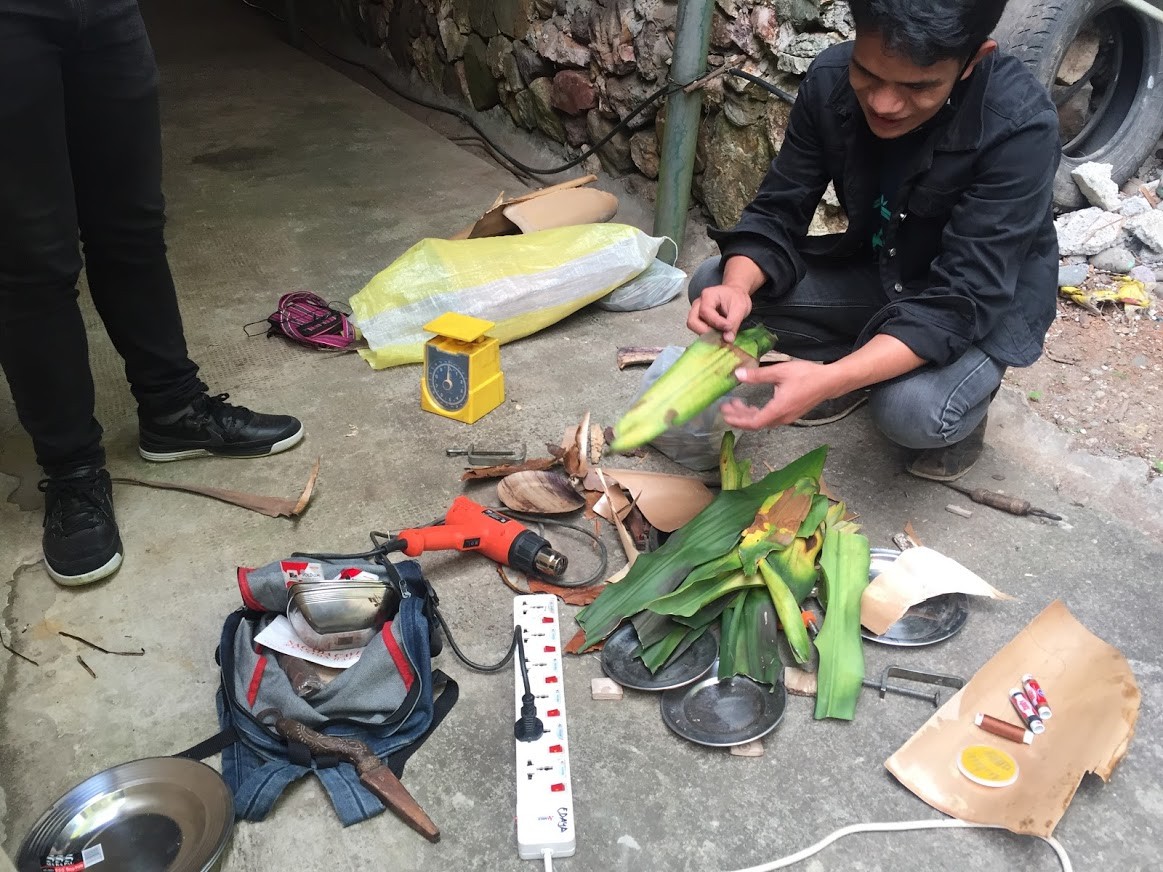 In photo: One of our social innovators prototyping a product that could revolutionize dining practices and the amount of waste from plastic dining utensils by producing usable dining wares from fallen tree leaves.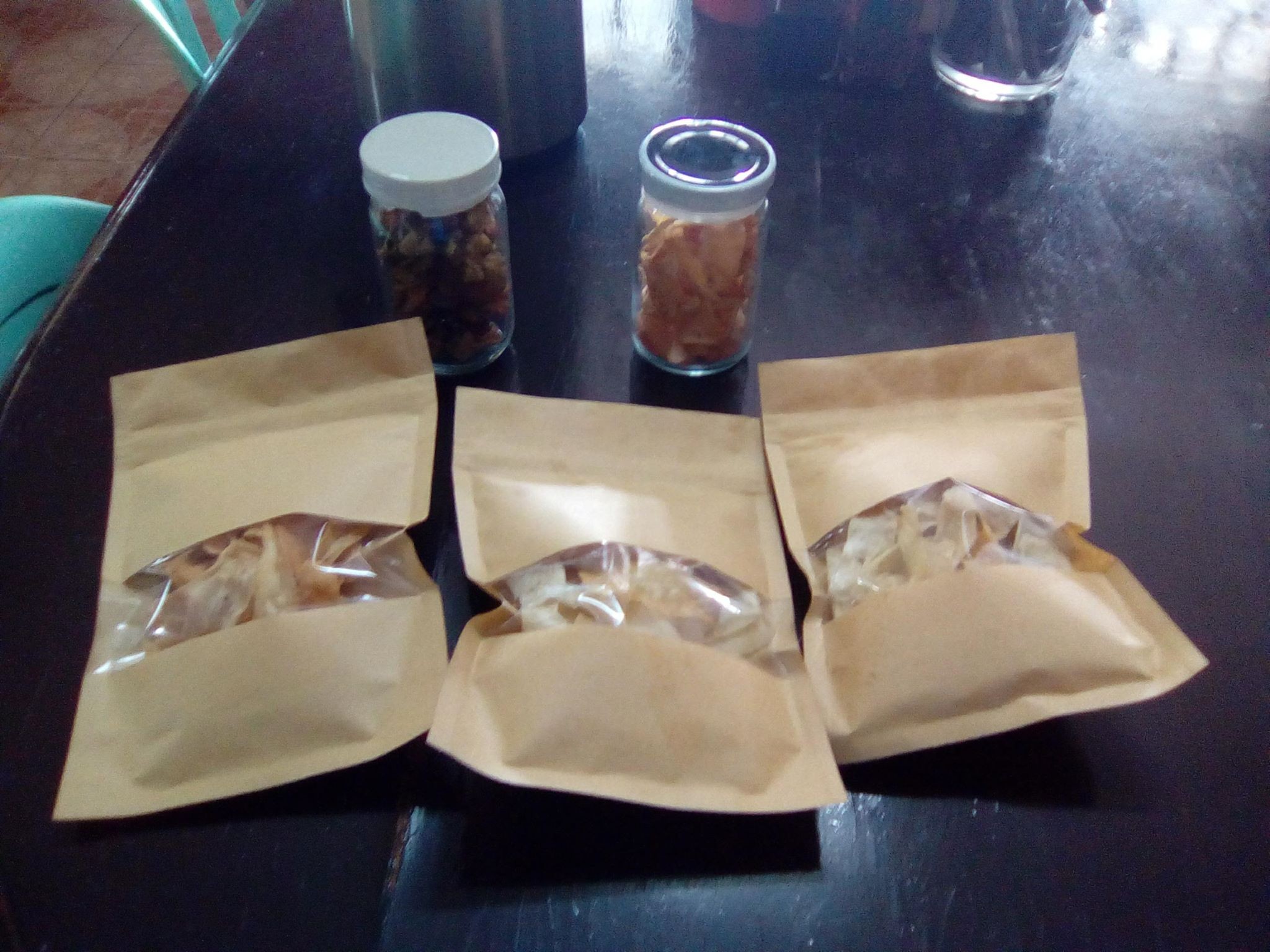 Photo above is the prototype of the winning idea from our last batch, a fruit chip manufacturing team with the goal of providing empolyment to unemployment young and single mothers in Apayao, a province in the Cordillera. Currently, the chips are in production.
HELP US MAKE THESE POSSIBILITIES HAPPEN.
To know your possible impact, and to get to know our previous activity, click below to watch ABS-CBN Northern Luzon's coverage of our last batch's culmination camp.
*Video was taken during the Youth Hack Community Camp, an intensive one-week camp bringing together different young people from Baguio to work with our social innovator trainees in finalizing their projects. A pitching competition took place during the camp which determined the winner for the start-up fund.
_______________________________________________________________
THE STORY
Poverty, lack of access to quality education, healthcare services and development opportunities, inadequate economic and employment options are just some of the problems confronting the Cordillera communities, especially those found in the rural areas. These problems more often than not result to the inability to improve social, cultural and economic conditions of the community.
Adhering to the belief that the young people possess the necessary capabilities to turn their communities around, EDAYA offers a creative design and education program for the local youth that introduces platforms and methodologies that they can adopt to impart effective change to their own communities.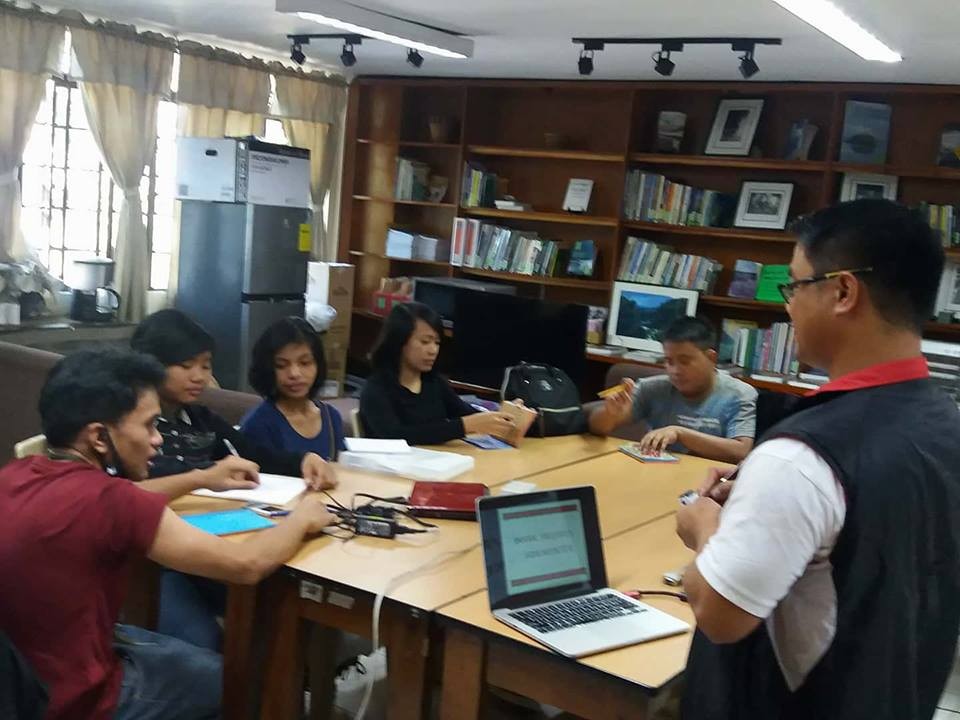 Photo above shows our young social innovators receiving training from a university professor to learn more and acquire basic skills for effective project management in rural communities.
The program helps them enhance, strengthen and develop their skills to challenge the present and future, such that combined with the knowledge and skills they possess, they can at the end be able to spark up an action or a movement that can potentially change not only their communities, but the world.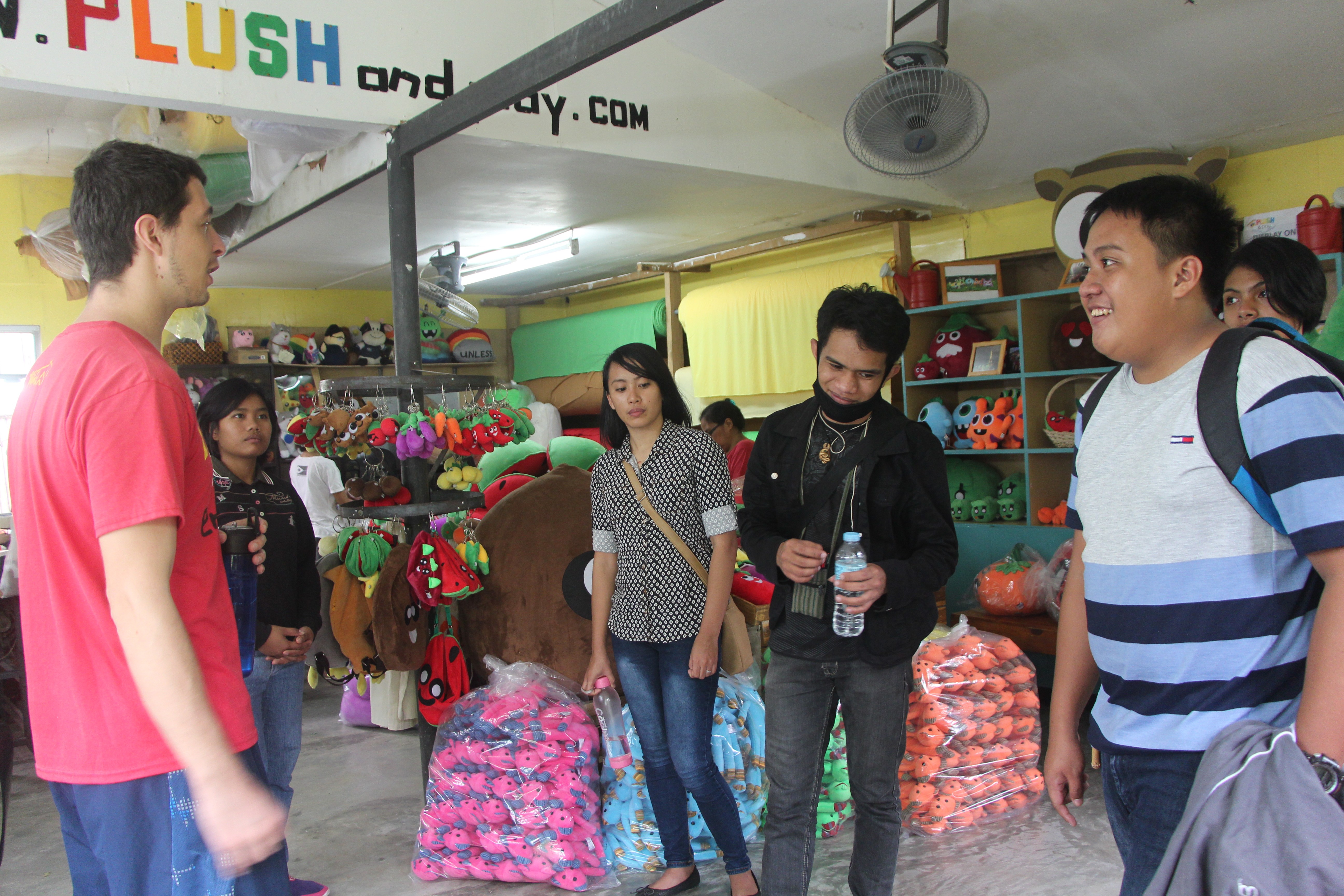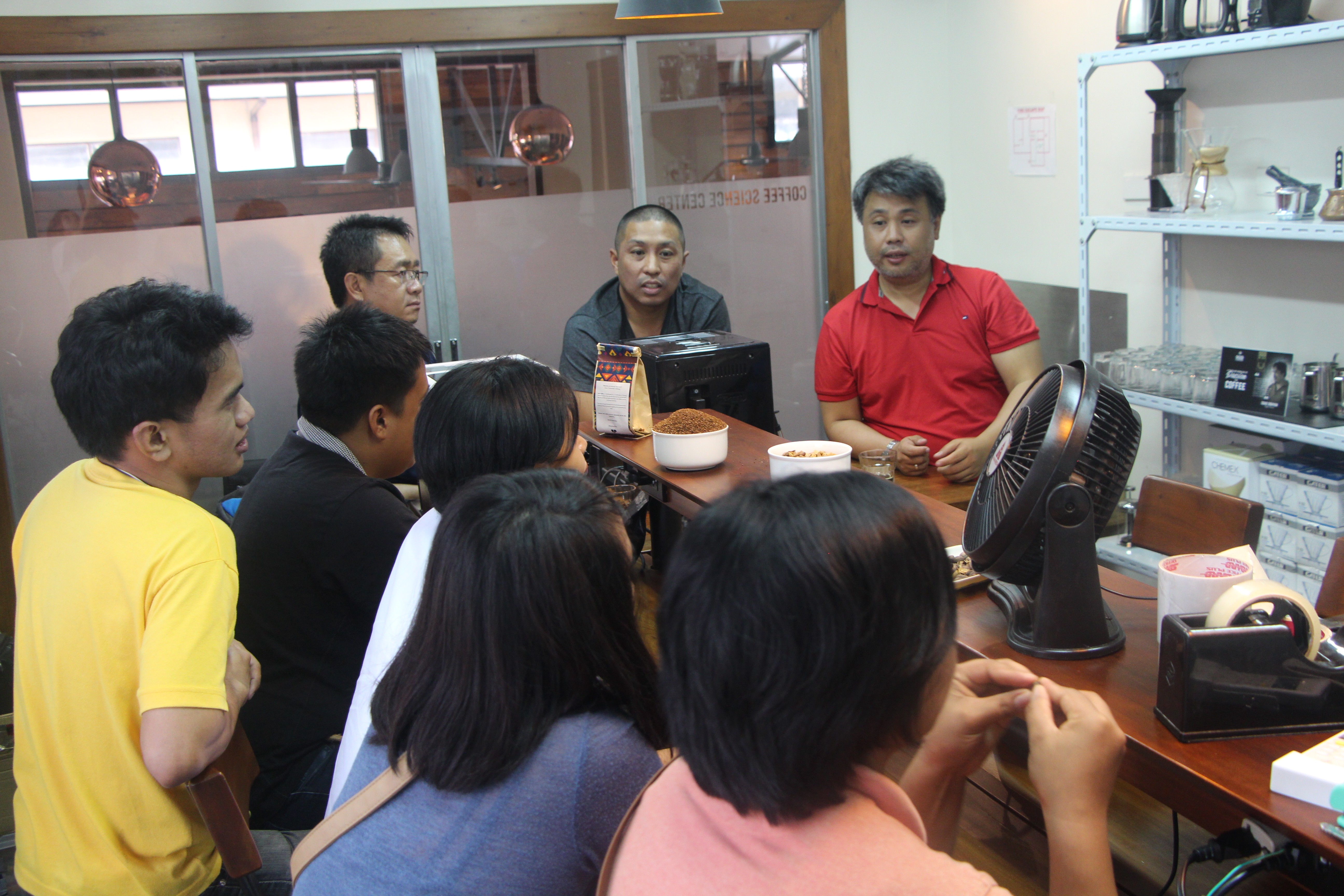 Photos above show the students, during their SE educational exposure trip in Manila, talking to the founder of Plush and Play (in Gawad Kalinga) and the founders of SGD Coffee (in Manila).
This program does not only aim to make the youth more competitive, but also mold them to become leaders of their own communities. The EDAYA Education aims to help the youth "find their calling, shape their future, and address social issues in their communities". We deal with young people regardless of their educational background and status as long they are willing to make a change.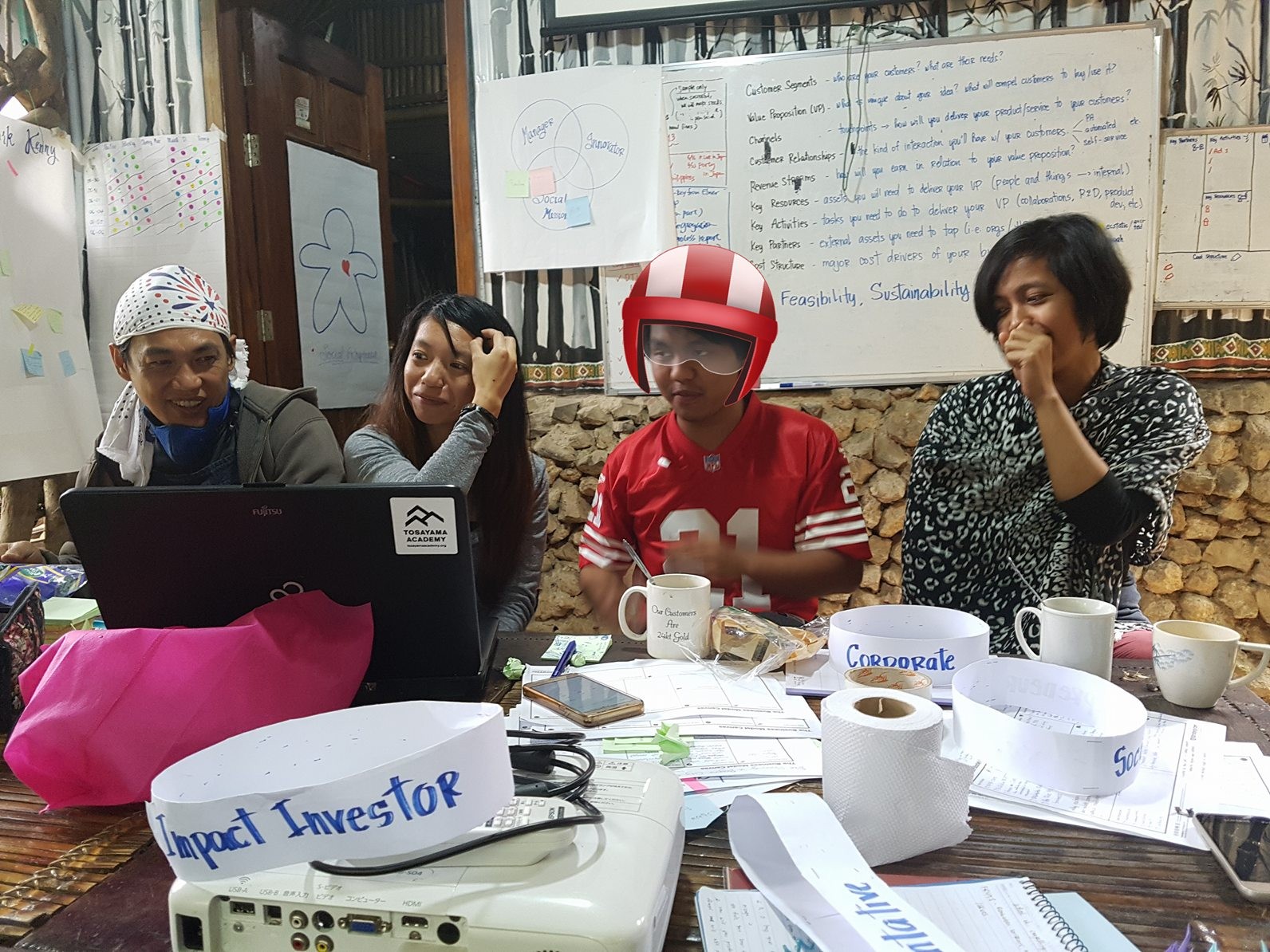 Table talks and taking on different roles to be able to look at situations from different perspectives and challenge each other's mindset.
Trainings include leadership and skills development, social entrepreneurship, design thinking, innovation, creativity and the likes. EDAYA Education is a social innovation and development project that challenges young people to craft solutions to some of the problems in their community through the establishment of social entrepreneurship ideas. At the end of the program, trainees are expected to have produced prototypes of their social enterprise ideas, may they be product base or service base.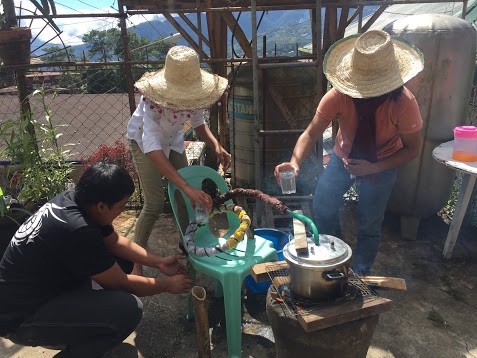 Manual prototyping of a product to produce a physical outcome outcome for testing. Students are trained to innovate using available resources to produce the needed outputs.
Below are some of the prototypes produced by our previous students.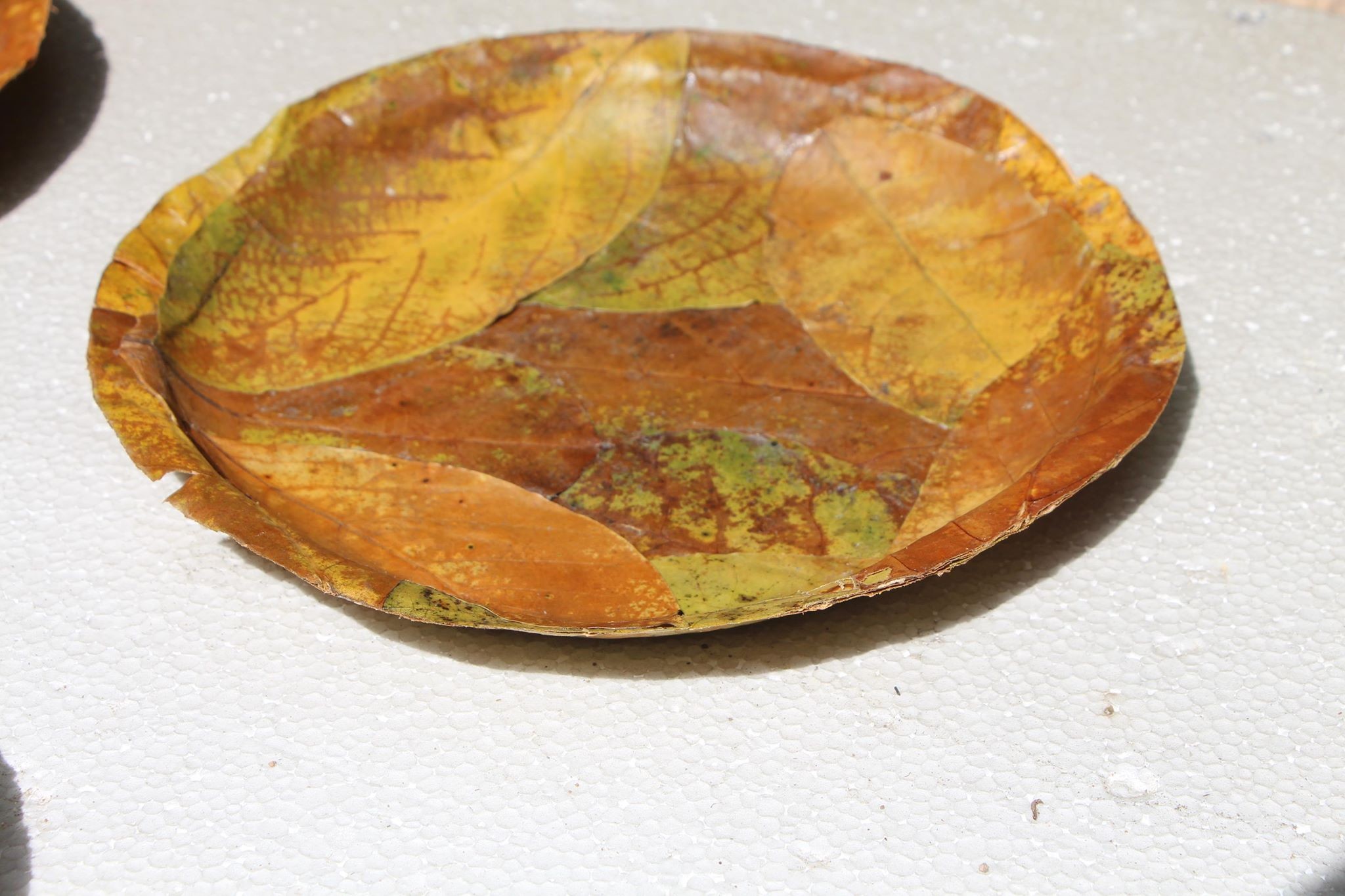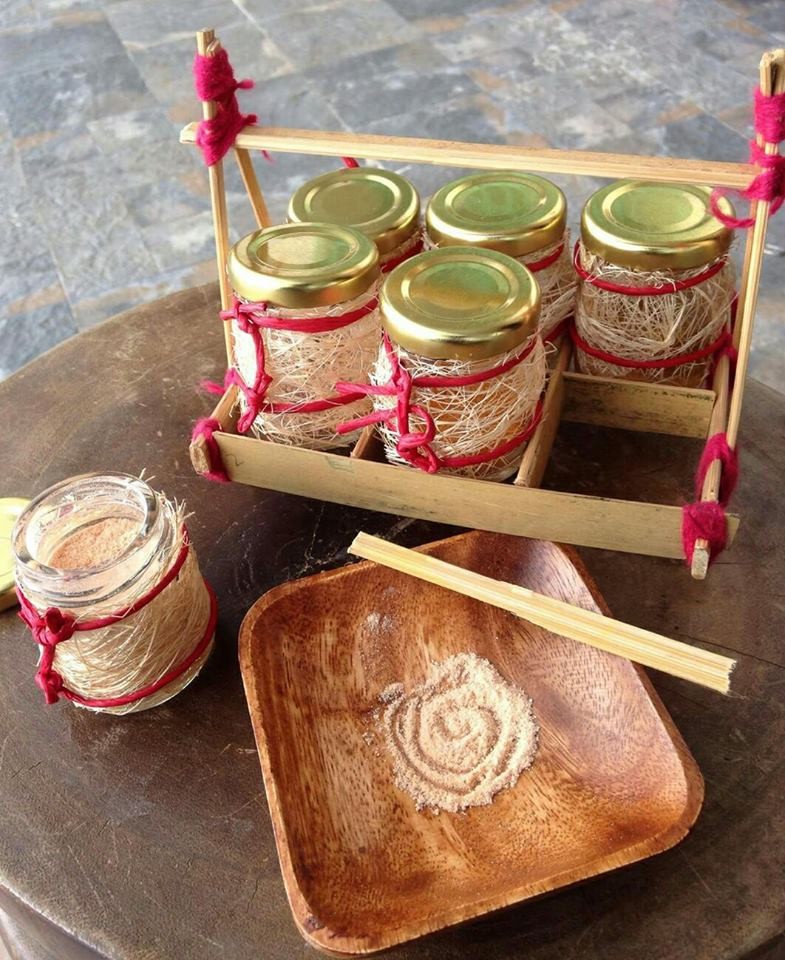 Photos above show some of the prototypes produced by the students during the prototyping stage. Upper photo is a usable plate made from fallen leaves of trees, manually pressed and molded to achieve desired shape. Photo below is a sample of an organic skin care product produced from sweet potato.
EDAYA emphasizes our commitment to our local youth leaders which means that after training, EDAYA will continue to mentor the youth leaders and provide them with the necessary support they need.
With the desire to scale-up the project, we're aiming to raise 70,000 pesos to assist the training of more students from the local communities. We are now sponsoring 4 more trainees who are already developing their social enterprise ideas. By the end of August this year, we would have already trained 12 youth leaders as our core group, who will implement practical and community tested ideas to change their communities. These youth leaders will also be able to influence the lives of their fellow youth - only if they're given the chance.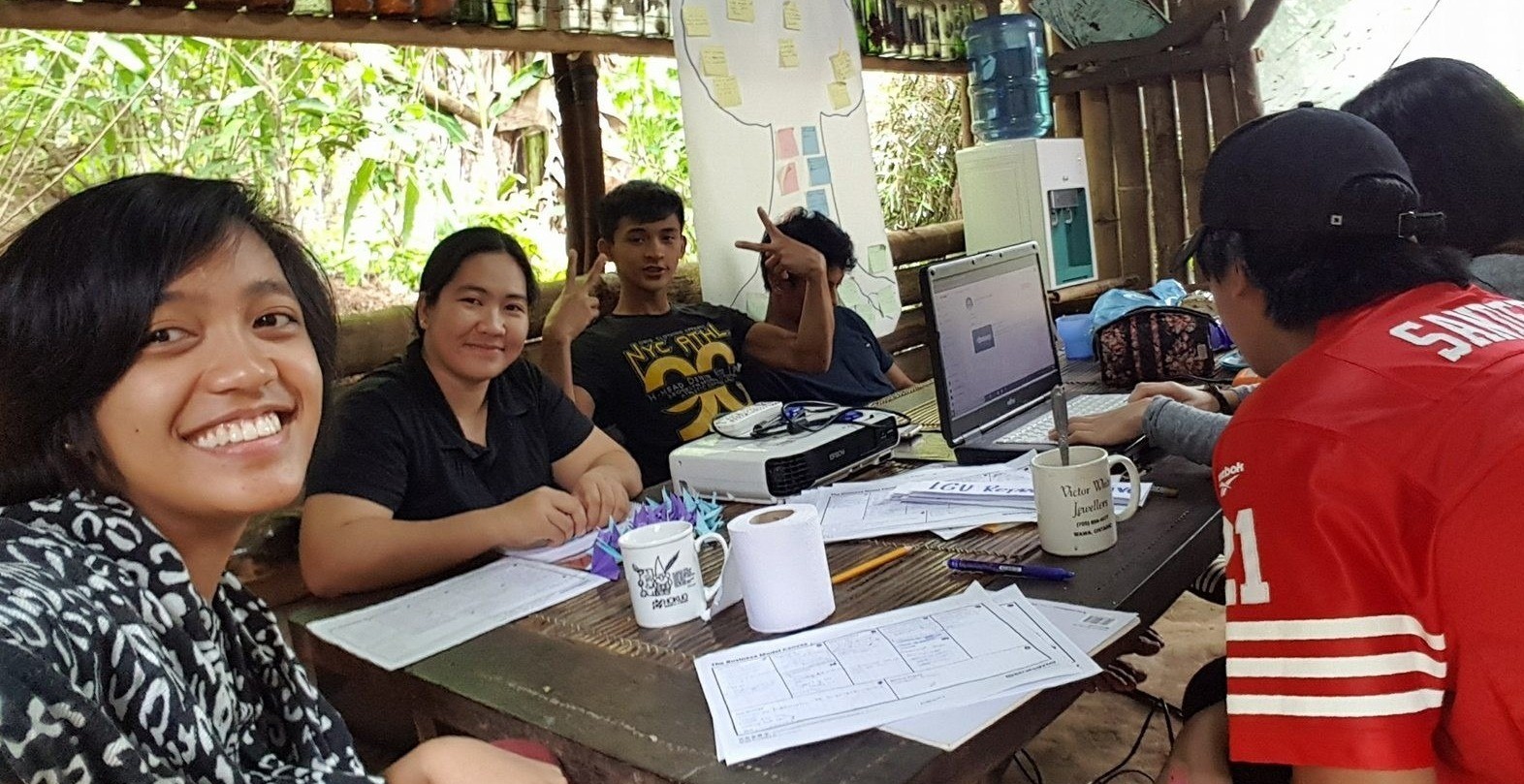 Photo above shows some of the students currently taking the social innovation training and are on their way to producing social entrepreneurship idea.
EDAYA in a nutshell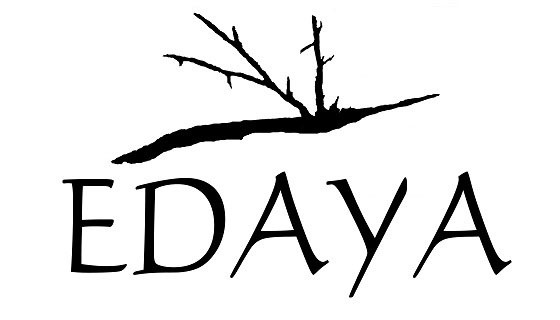 EDAYA is a duly recognized social enterprise and non-profit organization who are committed to discovering and enhancing talents and human resources; and designing products, services, projects and etc. Our projects are grounded and geared towards our three primary core: community reactivation, cultural revitalization and youth development and empowerment. EDAYA then is also a creative design and education project the encourages local and international youth to find their core, explore innovative channels and take action, combining the Indigenous wisdoms from the Cordillera with leadership, creativity, innovation and design thinking.
| Name | Date |
| --- | --- |
| Jennifer Piacos | 21 July, 2018 |
| YT | 23 July, 2018 |
| Aneihra Pineda-Quiazon | 23 July, 2018 |
| Mel Remollena | 28 July, 2018 |
| A.Y | 6 August, 2018 |
| Noriko Hirukawa | 6 August, 2018 |
| mk | 8 August, 2018 |
| Myriam Coleman | 9 August, 2018 |
| Shun | 10 August, 2018 |
Frequently Asked Questions
For those who are coming from Baguio City and Benguet, we can schedule a meet-up to claim your reward. For those coming outside Baguio and Benguet, we will be shipping your reward for you to pick-up. *Note, because of our limitations for the funds, maximum shipping fee that we can handle is 150 pesos per item. Should the shipping fee of your item exceeds this, we shall kindly ask your assistance or we will all be shipping the items to a point person for meet-ups.
Since rewards will be customized according to size of cellphone, etc, we hope to start shipping the rewards by October.
Cordillera is a landlocked region (Cordillera Administrative Region - CAR) in the Northern part of the Philippines, and is the home to various ethno-linguistic groups occupying the six provinces in the region.
We already initial fund for this project. But we needed more so we can be able to deliver more. The funds from this crowdfunding will be allotted to the following: -Travel and food assistance to our mentors who are providing their services for free so our students can refine their ideas more. -Funds will also be used to provide an assistance start-up fund for the projects so they can jump-start.
Yes, rewards can be delivered outside the country. However, we will kindly arrange with you about the details of delivery.
The organization, together with our partners are investing a total of 20,000 pesos/person/month to cover the program fee (including food, accommodation, workshop maintenance, materials, etc). We were supported by JICA (with 1 million yen) and KDDI Foundation with 500,000 yen for our previous batch and currently, we are again supporting a new batch of 4 students.