Creative Projects
|
Creative Projects
CASCADE - Creative Arts School for Children and Adults Deserving Excellence
Philippines
We give free art lessons to special children & adults (i.e. PWDs) who can't pay for it.
CASCADE stands for Creative Art School for Children and Adults Deserving Excellence. My artist friends and I have been giving art tutorials to disadvantaged children and youths since 2015. What do I mean by disadvantaged children and youths? They are children who cannot afford to pay for their schooling, or who have incapacities that limit them to be fully functional in our society.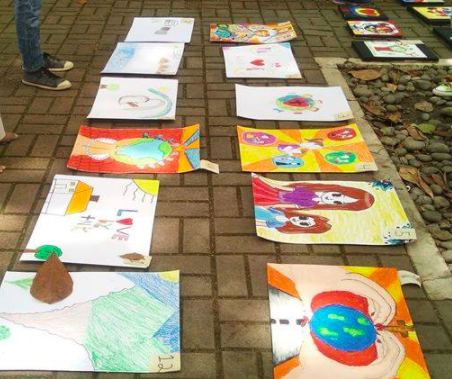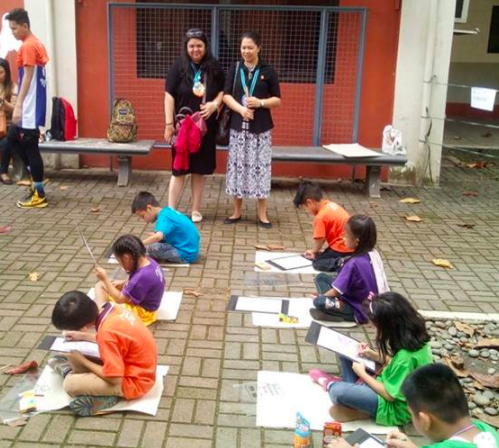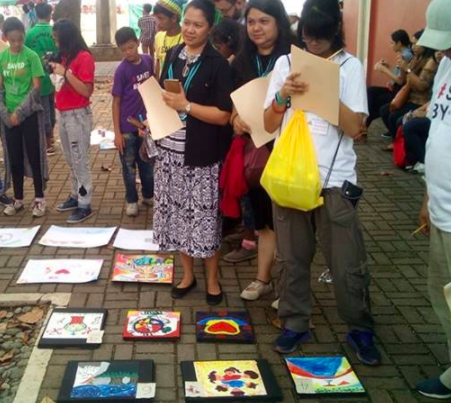 With Tulay Ng Kabataan (TNK workshop)
We believe that ART can help many people rise above their physical, emotional and mental difficulties. Each one of us needs help and a way to express our inner turmoils so that we can cope with pain and difficulties posed by our current environment and society. With ART, we hope we can save lives and help people maintain balance in their life. However, arts and art therapy can be expensive for some.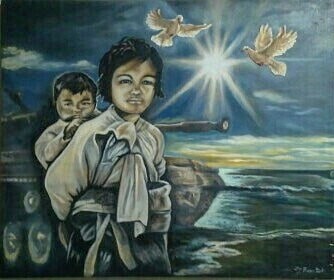 Children of War, 22 X 36, Oil painting by Rose Gob
With my passion in Arts, my background as a Psychologist, and my passion for education, I thought of combining these to create a "Free" school for children and adults who are lacking in capacity to pay for it. Thus, I've thought of forming CASCADE.
Who is Rose Gob?
I am a full-time employee in a Cooperative Federation called NATCCO network. I am the head of its Knowledge Resource Center (Cooperative academy). I finished Industrial Psychology and I am an SDA Level 1 analyst (Psychometrician). At the same time, I have passion for arts and teaching. I am an active member of ARTipolo Group and a writer (with 1 HR book published). Currently, I am taking a masters degree in social enterprise development at Ateneo Graduate School of Business. My other social activities includes KAPI, a church-based organization. We visit prisoners, informal settlers, boys town and orphanages to do outreach programs. But this time, I dream of regularizing the help we give to disadvantage children and adults.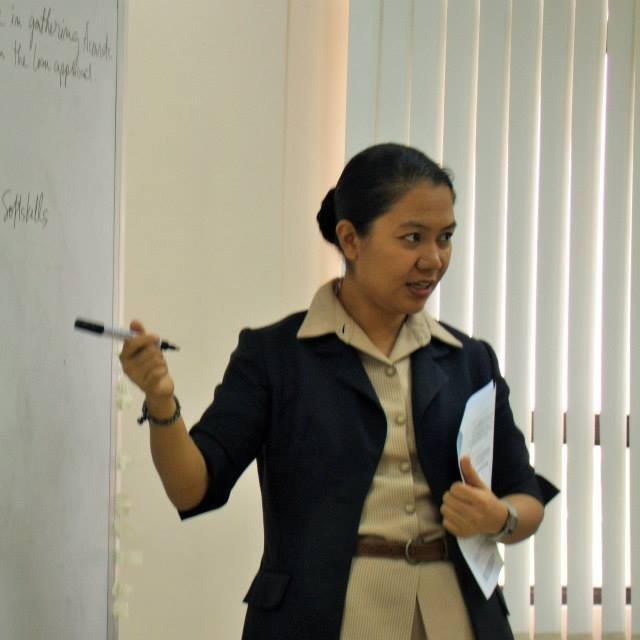 Our Project Partners - ARTipolo
I am part of a group called ARTipolo Group. We give free art workshops to children of Tulay ng Kabataan, and even to elementary children. ARTipolo Group (a 5-yr. old organization duly registered with SEC) is led by Mr. Pol Mesina, Jr. and I, being a member of ARTipolo Group, was able to get their cooperation to help start with this program. Some of the senior members agreed to teach.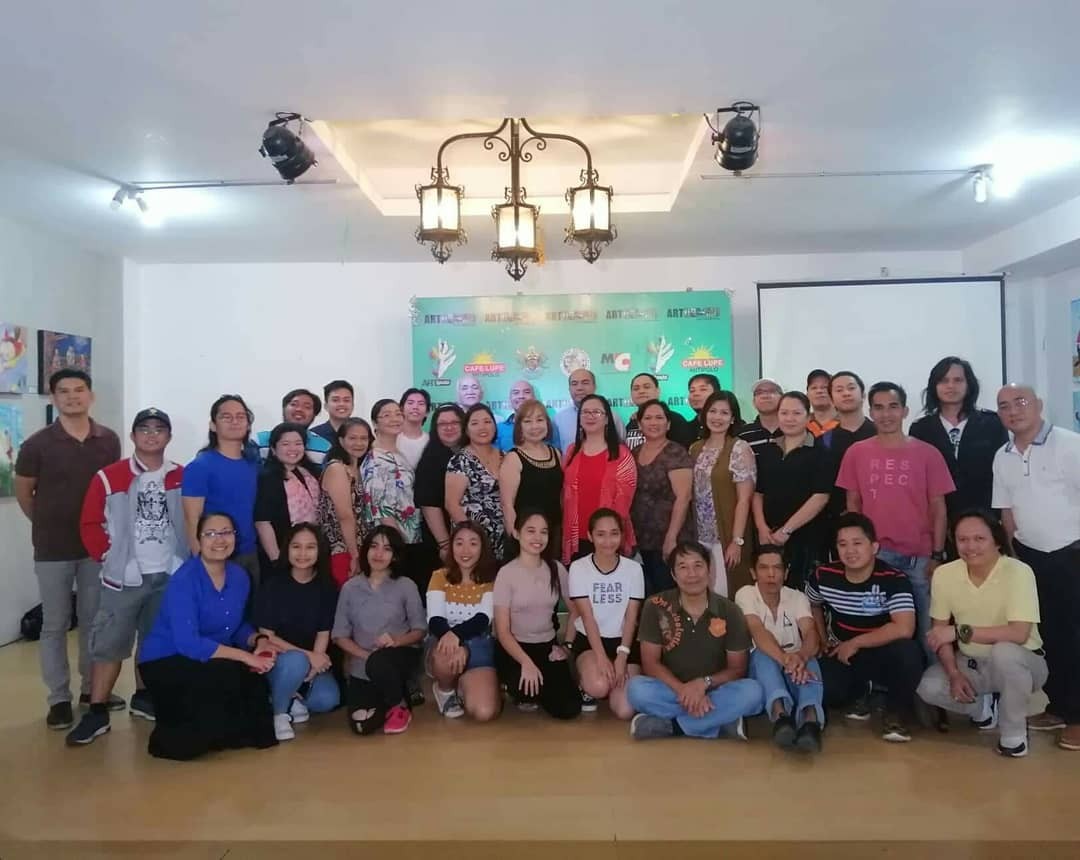 ARTipolo Group during an Art Exhibit in Cafe Lupe
I too, find every means to share my skills in painting. One time, when my officemates and I climbed Mt. Pulag, we visited the Mt. Pulag Elementary school to give art materials and teached them how to use it.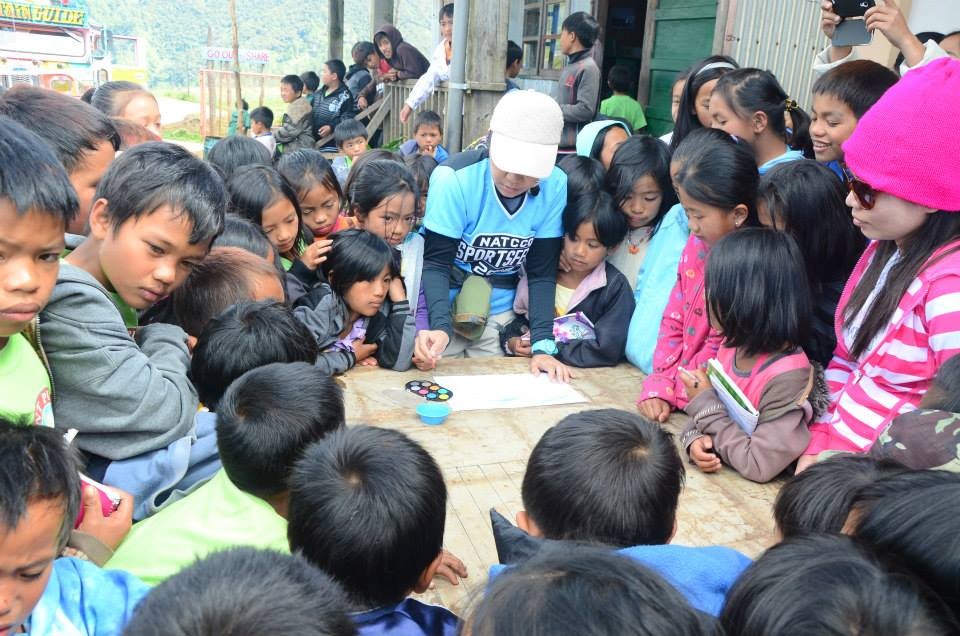 My friend Carol Alay-Ay, after hearing my objective to do more for the children, helped me get connected with public schools with SPED. I told her that I want to teach special children arts, to help them find ways to divert their energy and be more functional in the society. You see, I have a niece who's special but shows interest in arts. I want her to live a good life and I see her excelling in this area.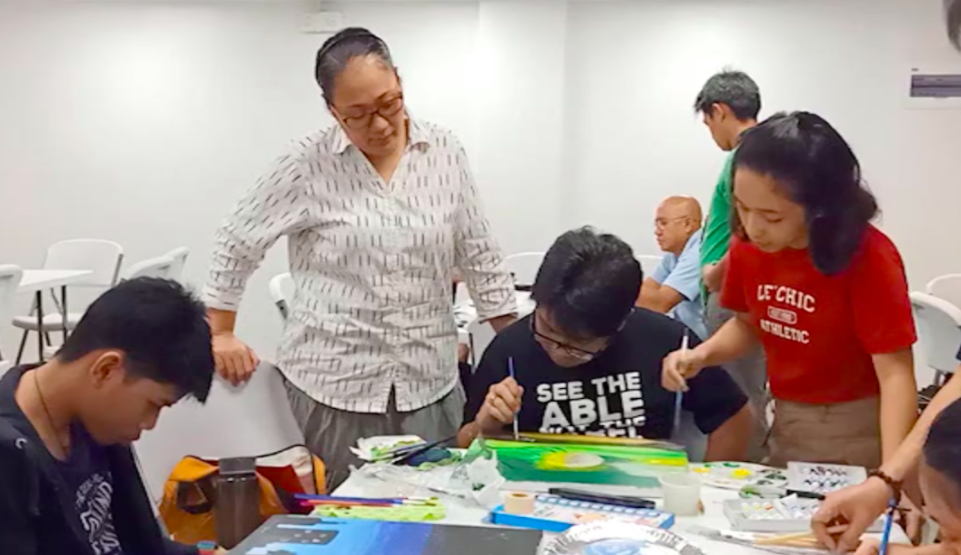 Carol Alay-Ay teaching art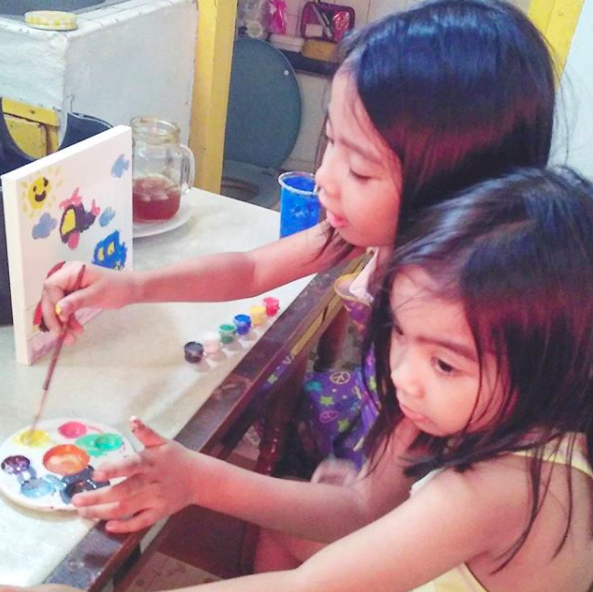 My nieces
ART CAN ALSO SAVE LIVES
I am bothered as well with the increasing number of suicides among youths and young adults. Art Therapy can be the answer to the increasing number of depressed people. We have to channel their despair to art as a way of expressing their thoughts and longing. Thus, I thought of combining self mastery with art. We are now developing programs that suits the children, and another program that suits young adults to overcome stress.
We intend to give free art tutorials to SPED and PWDs. We hope that this can be an option for them to find means of livelihood. Now, despite the free training, without a venue to market the finished works, I will not be able to help them fully. With these comes the thought of having a gallery for their works.
WHERE WILL WE USE THE FUNDING?
We have an existing program given to SPED of public schools. By March 2020, the program will end and we will exhibit the works of the students, together with our partner ARTipolo Group at R-Gallery in V. Luna. We need funds to purchase art materials, pay for transportation and meals, and other needed expenses in running the free workshops. In the future, if we would be able to gain support for this program, we also intend to run another for disadvantaged adults - those who are PWDs, prison, or for informal settlers.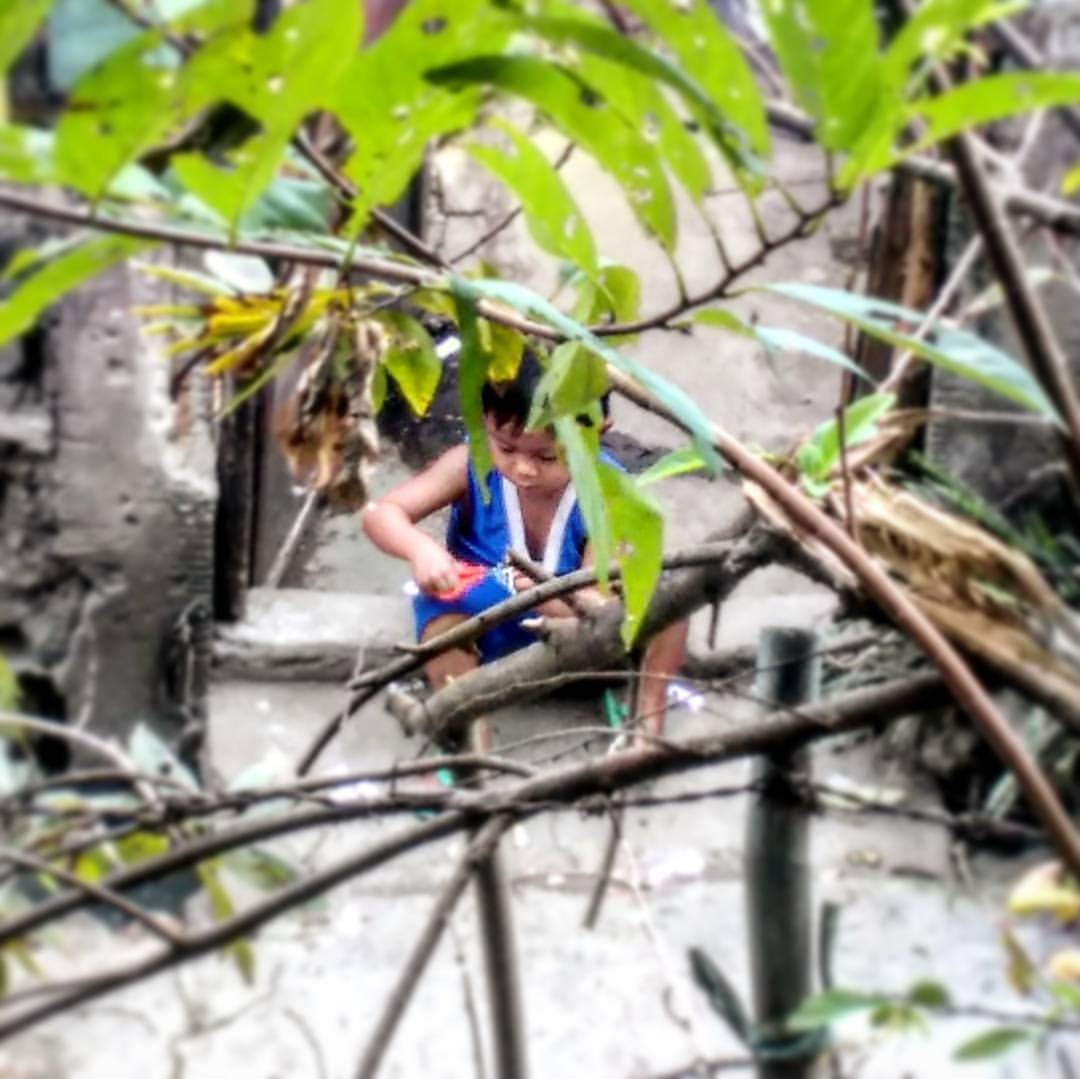 Photography by Rose Gob
To show the estimate for a 1-batch run of the program, here are the breakdown of expenses: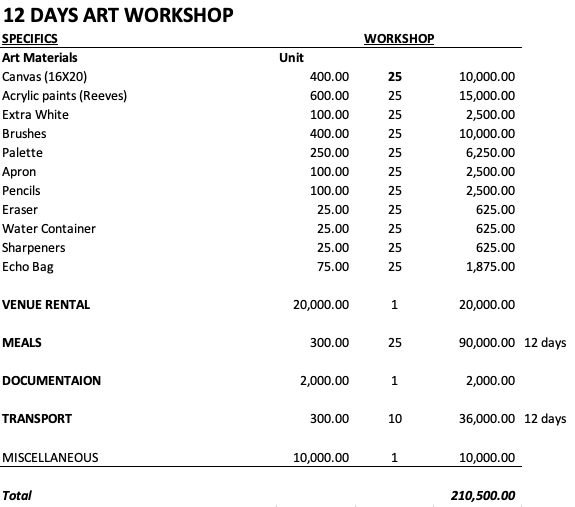 Our goal is to at least be able to fund one (1) batch. And then exhibit the works of children, together with ARTipolo's works on March 10, 2020 at R-Gallery. The proceeds will then be used to finance the succeeding program roll.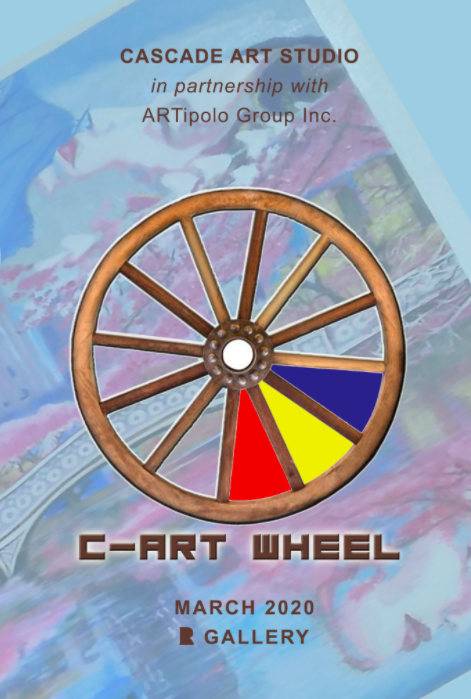 I hope many will join us in this endeavour. Everybody who have the same passion and interest may join us in our quest. This is our means of creating Art from the HeART.
Legal Status and Public Accountability
As of current, we have registered the CASCADE Art Studio with DTI as a business, to quickly acquire legal and legitimate status, as an operation fully accountable to the public, in accordance with law. SEC registration will commenced upon earning enough seed funding for this endeavor. Eventually, this entity registration will be changed into foundation as activities evolve into operations that characterize foundations.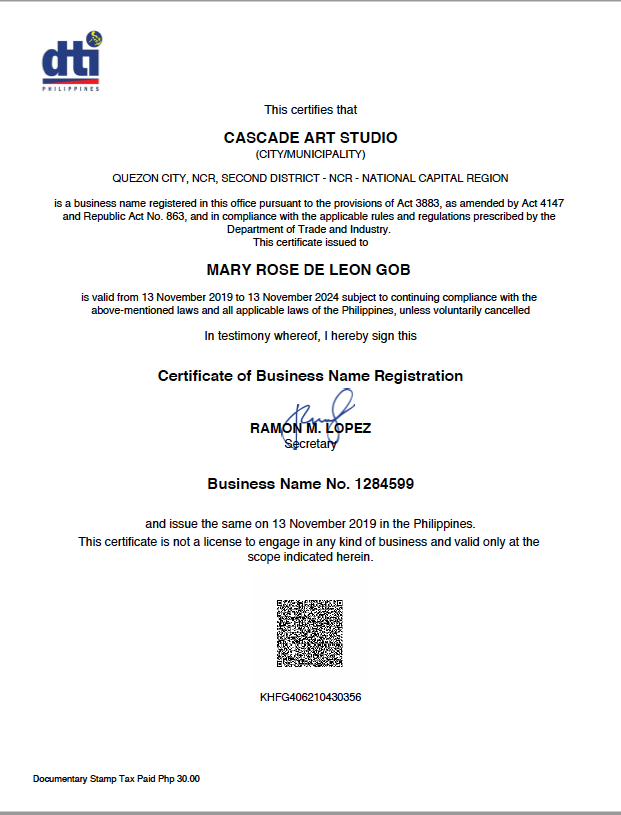 All amounts received from donors will be acknowledged in writing and rewards items due to donors will be sent to them duly documented.
Role of Donations and Income from Other Programs
Donations are contemplated to fund the art therapy workshop for the first batch of disadvantaged/ special children as recommended by our partner NGOs. I hope to raise funds not only from donations for the next batches but also from some income to be earned, as CASCADE implements art therapy sessions and human resources/team building/confidence building seminars for paying professionals.
If you wish to donate through PayPal, please click here, and if you wish to donate through BPI Online Transfer, you may use this QR Code, and email the screenshot of your bank transfer notice to mlgob1974@gmail.com or message me at @RosegobArtWorks (FB page).
Thank you in advance for supporting us.
| Name | Date |
| --- | --- |
| Tal DG | 17 January, 2020 |
| Donna Grace Maglanoc | 27 January, 2020 |
| Patch Dulay | 27 January, 2020 |
| Michelle Diwa | 3 February, 2020 |
| Jess Mencias | 7 February, 2020 |
| Norma Mencias | 7 February, 2020 |
| Patch Dulay | 15 February, 2020 |
| Maan Sicam | 16 February, 2020 |
Frequently Asked Questions
The project's culmination activity is a group exhibit by ARTipolo artists and CASCADE Art Studio's program beneficiaries. This will be held at R-Gallery on March 10, 2020. The exhibit's title is C-ARTwheel Exhibit. All donors are invited to the said exhibit opening. You may claim your rewards during the ribbon-cutting program. We will reward the paintings to you if you wishes to be part of the event. Should you please not to come, we can shift the rewards to the address that you'll give us. We will e-mail you to confirm if you will attend the exhibit opening or if you wishes to have your rewards delivered.
We have a blog where you can see the available rewards. We will send you the page link so you can choose among the remaining available rewards.
Yes. Just inform us with whom you'll give it to so that we are assured that you transferred the rights to attend the class.
It'll either be in Quezon City or Antipolo. We have no specific venue yet. But if you are near Quezon City, we can have sessions in my own studio.
Back this Campaign
Personalised Canvas Purse - ₱500.00
This is a machine printed coin purse with design of Rose Gob's painting. Your nickname will be printed on it. You can give other people's name if you don't want it for yourself.
1 claimed
Customized Mugs - ₱700.00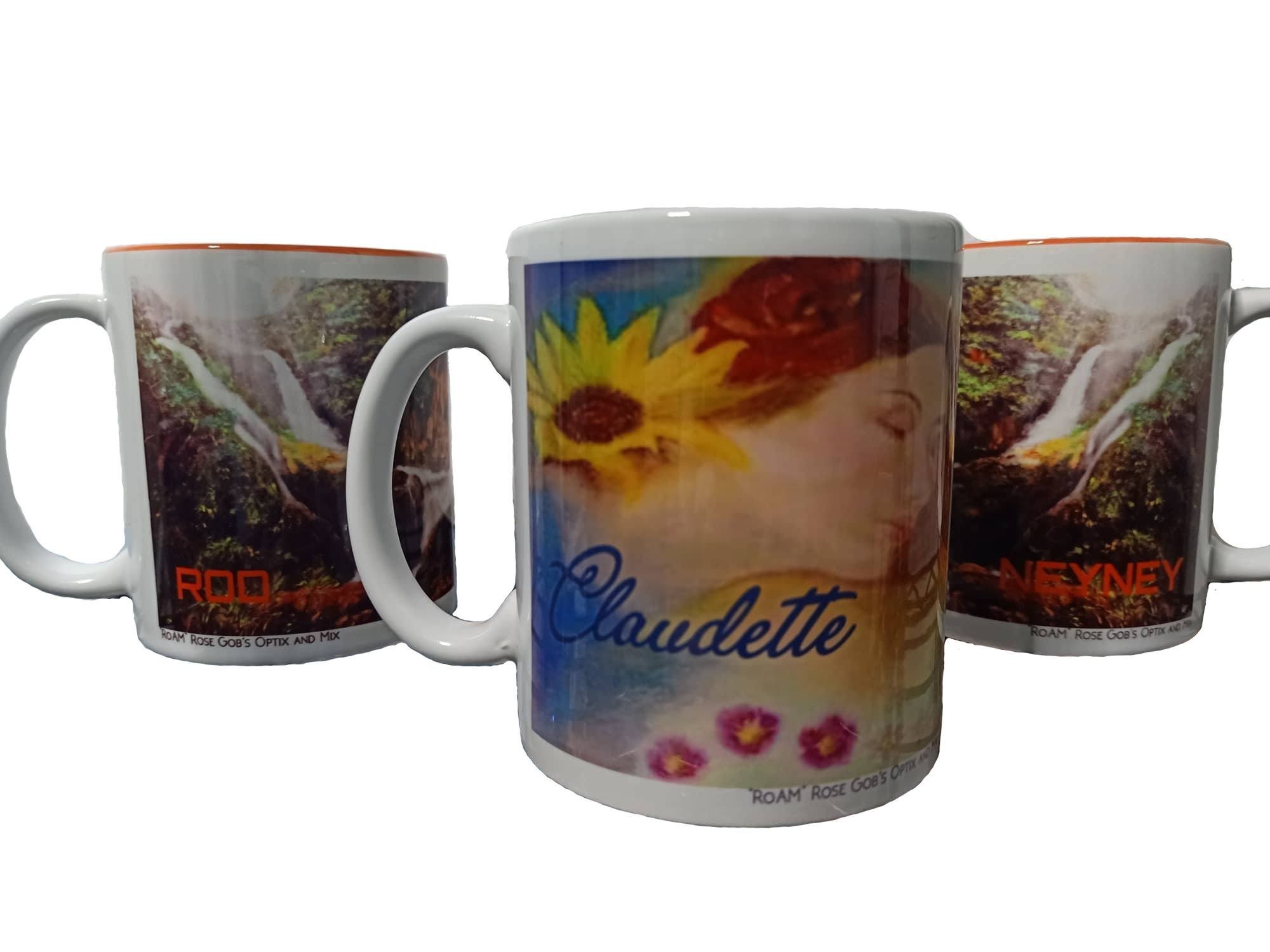 These limited edition of mugs are designed with artworks that will be exhited by 40 members ARTipolo Groups at R-Gallery. We will make it personal by printing your name or nickname on it.
0 claimed
Limited Hand-painted bags - ₱1,500.00
These bags are handpainted and designed by ARTipolo artists, Corazon Pescadorez, Carol Alay-Ay, and Rose Gob.
Each bag is uniquely designed and we assure that it's limited or it's the only copy.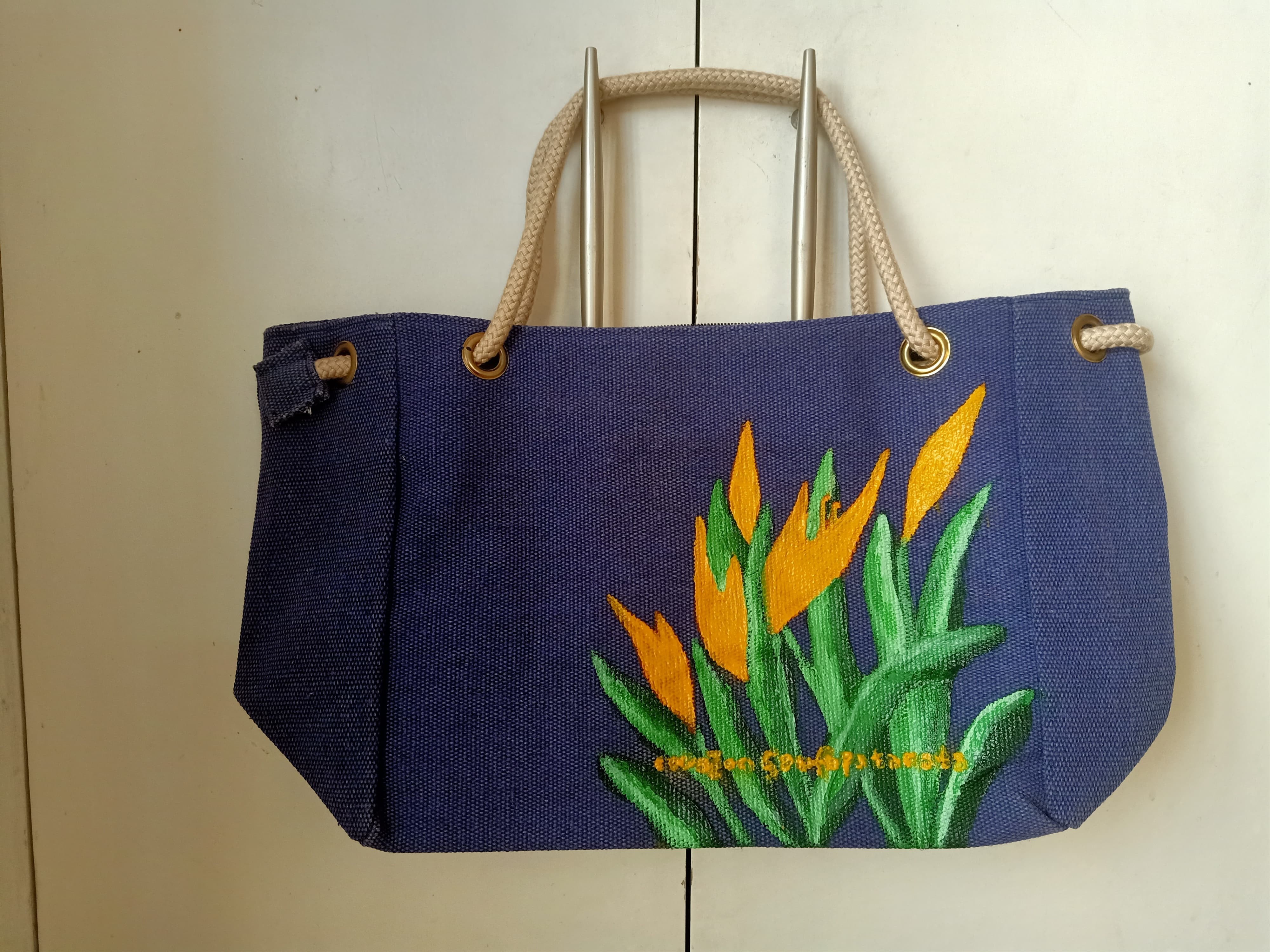 2 out of 10 claimed
12" X 12" Painting - ₱5,000.00
We asked ARTipolo artists to donate 1" X 1" paintings. These paintings are signed by the artists and shall be released on or after March 10, 2020 to donors. You may claim it during the opening of Art Exhibit at R-Gallery or we may ship it to your address.
For the complete list of rewards or to choose your prefered painting, please click on the photo.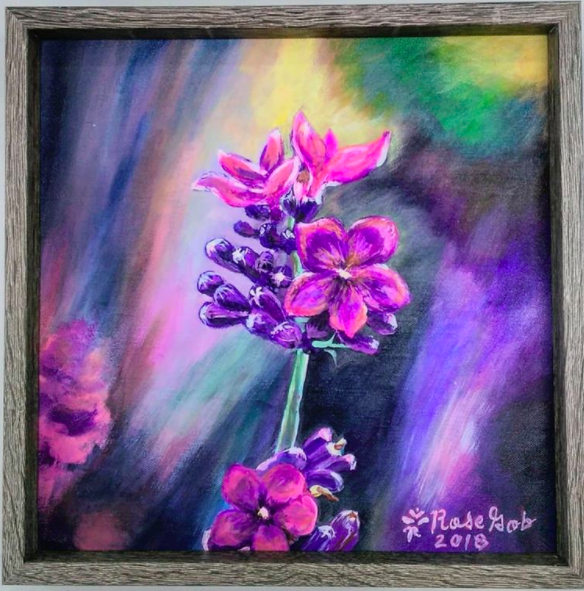 or Click here.
2 out of 5 claimed
Free 10-Days Art Workshop - ₱5,000.00
You may attend 10-day's sessions of Art Class that will be conducted by CASCADE Art Studio. The tutorial classes are still to be announced. The certificate may be used by you, or your friends or family members.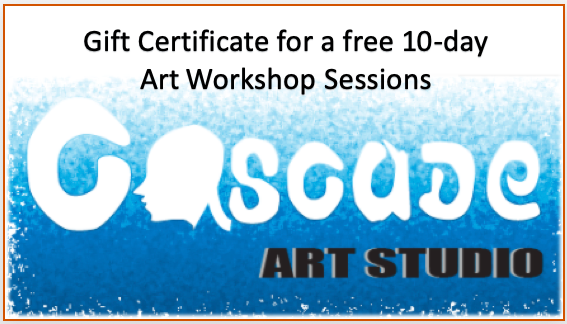 0 out of 9 claimed
ANIMA - Acrylic Painting - ₱7,000.00
I, Rose Gob, will reward my painting, ANIMA. This is a 24" X 18" sized painting. You will receive it on or after March 10, 2020. You may claim it during the opening of C-ARTwheel Art Exhibit at R-Gallery or we may ship it to your address.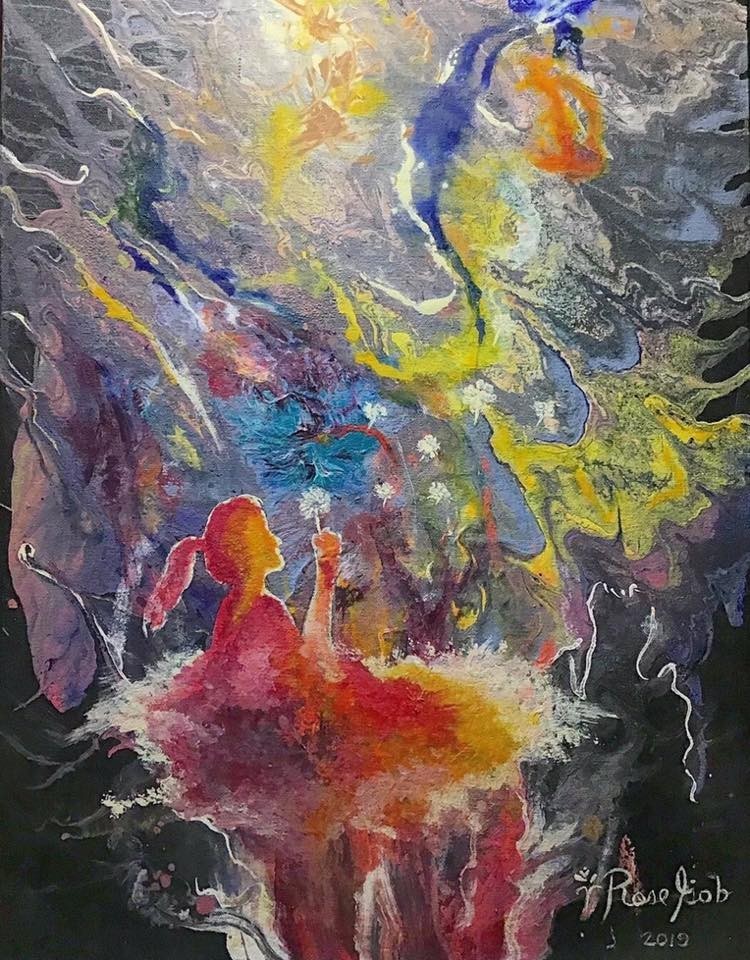 0 out of 1 claimed
Yellow Bricks & Gondolas - ₱7,000.00
I, Rose Gob, will reward this painting entitled "Yellow Bricks and Gondolas"
Details are as follows:
Medium: Watercolor on Canson Paper
Size: 20" X 17" framed
Date painted: 2017
Artist:. Rose Gob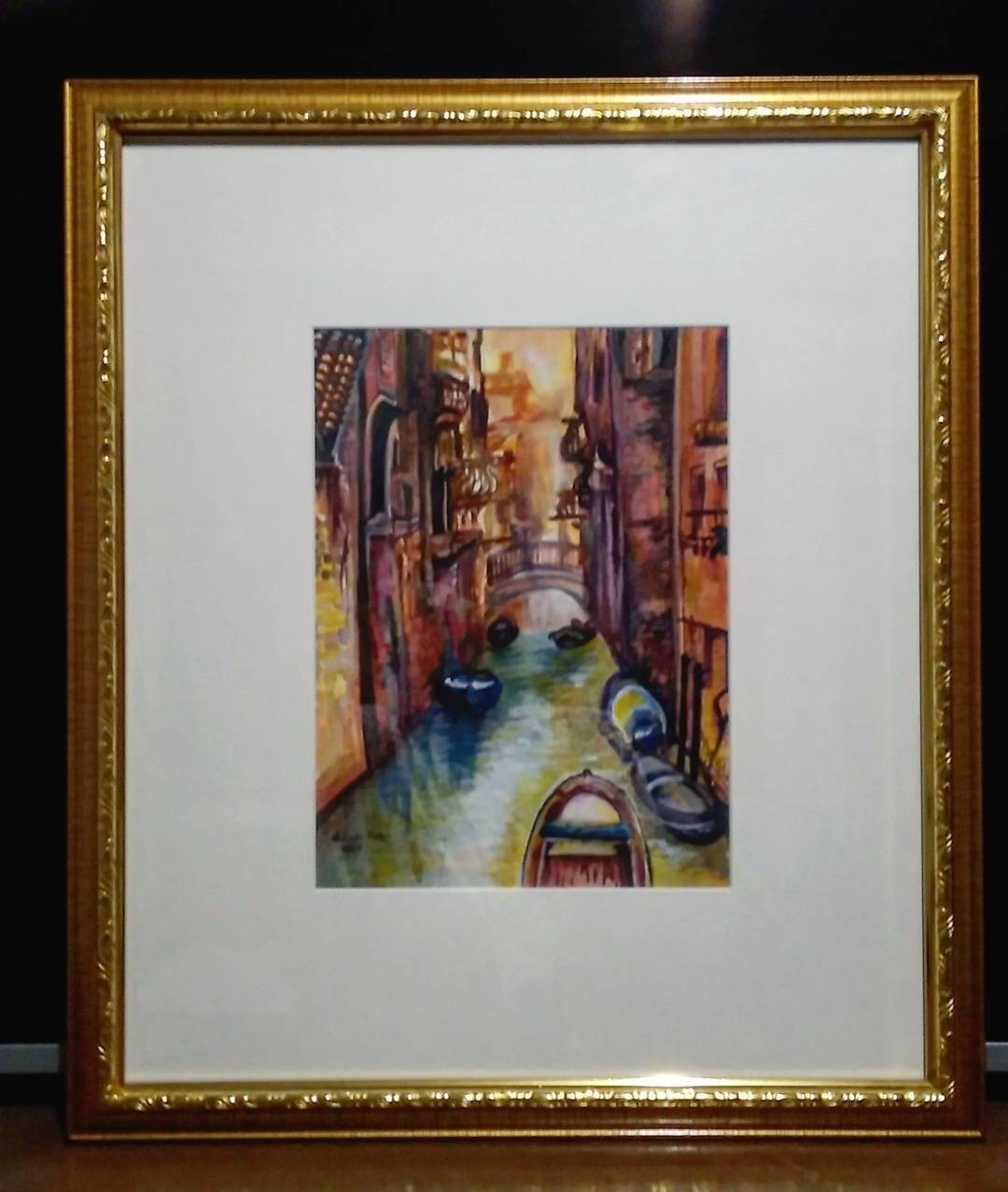 0 out of 1 claimed
Dream Blossoms - Watercolor - ₱7,000.00
I, Rose Gob, will reward this painting entitled "Dream Blossoms"
"Dream Blosoms"
Medium: Watercolor on Canson Paper
Size: 17" X 20" framed
Date:. 2017
Artist:. Rose Gob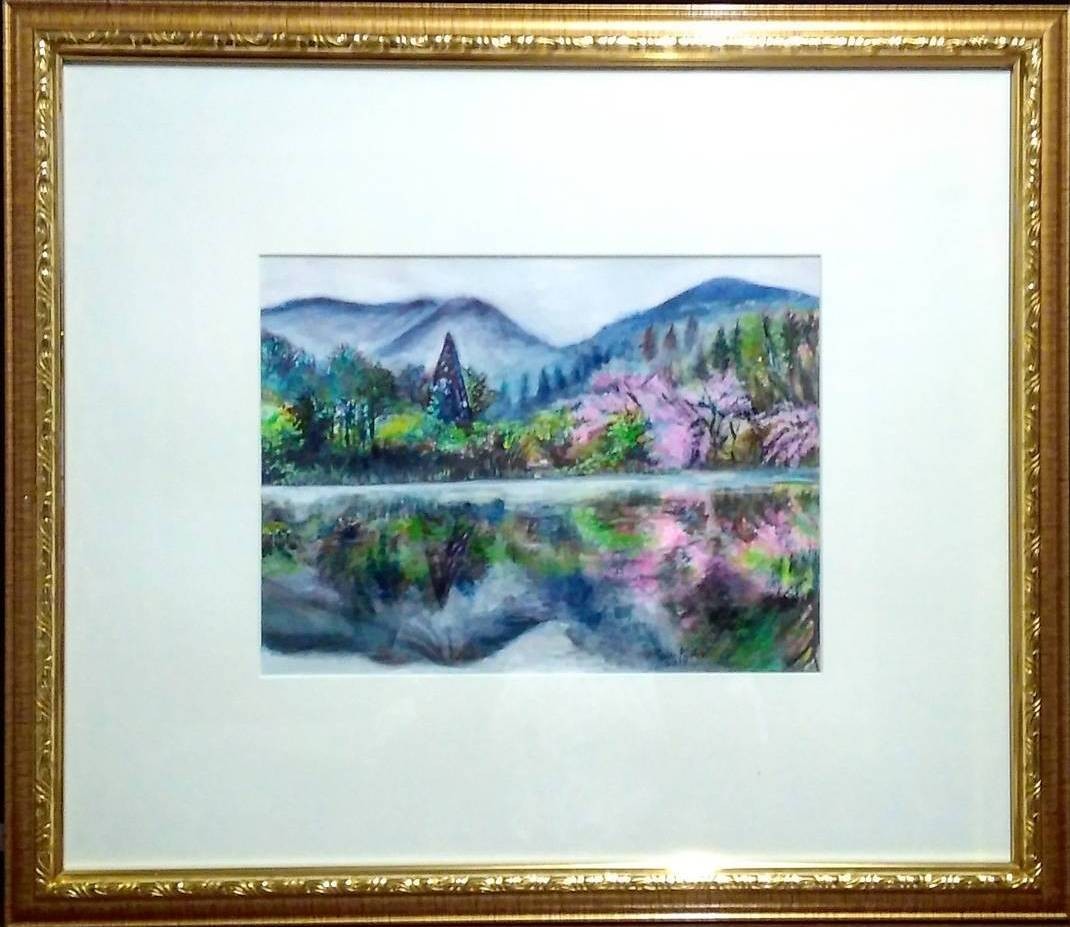 0 out of 1 claimed
Munting Pangarap - ₱7,000.00
I, Rose Gob, will reward this painting entitled "Munting Pangarap"
Medium: Acrylic on Cavas
Size: 24 X 18
Date Made: January 2019
Artist:. Rose Gob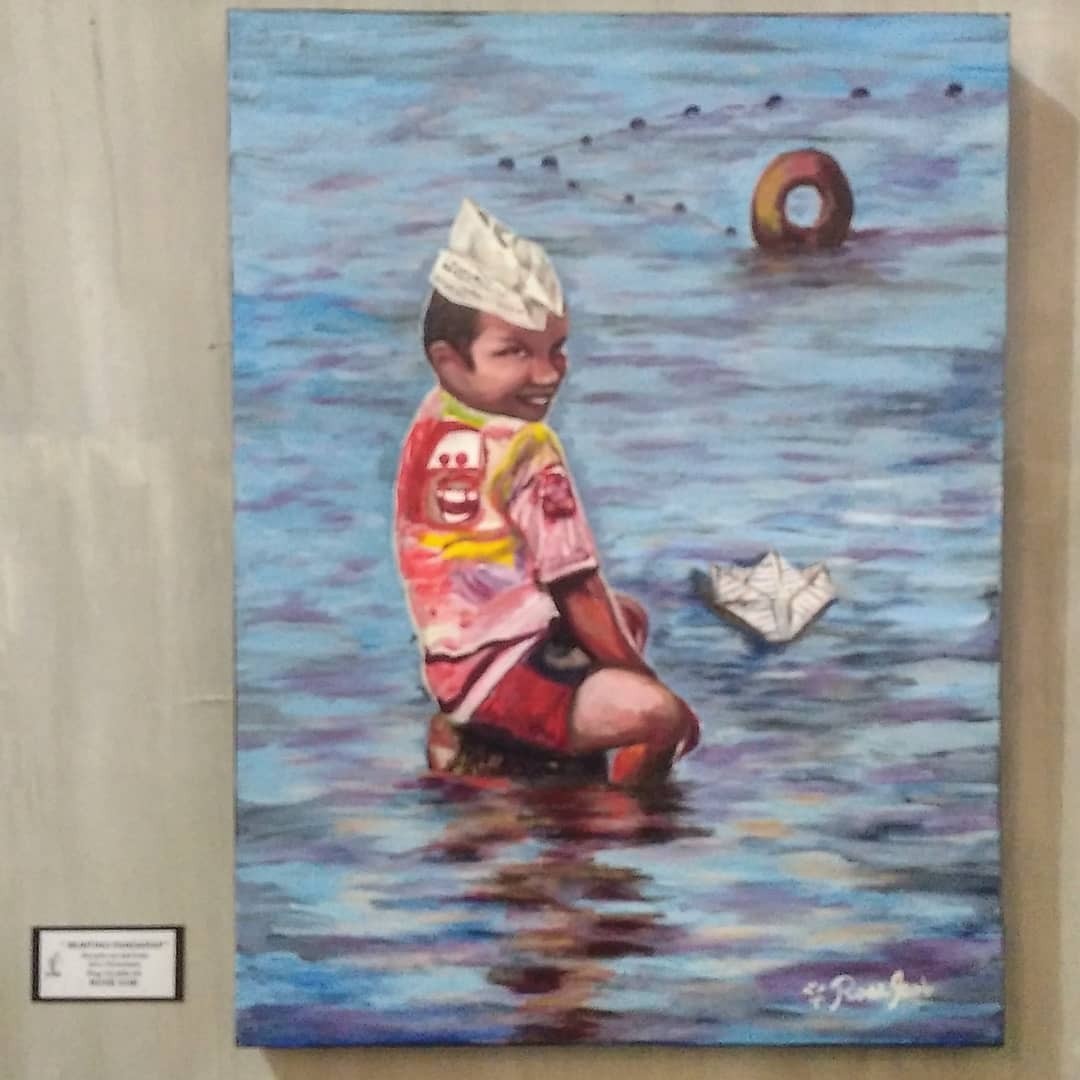 0 out of 1 claimed