Ateneo Magis 2020 Hopecoming and Ateneo's Office of the Vice President for Social Development have partnered with four successful Social Enterprises (S.E.s), all graduates of the Master in Entrepreneurship, Social Enterprise Development Track (MESEDEV) program of Ateneo Graduate School of Business.

The goal of Tulong Sulong is to transform marginalized communities, cooperatives and their members into social enterprises and entrepreneurs. The 4 S.E.s will train up to 500 members of Ateneo-sponsored communities and equip them with different knowledge and skills with the end goal of providing them employment, livelihood opportunities or their own micro enterprises.
Tulong Sulong target impact:
Year 1: approx. Php 24M to Php 44M in income for 500 beneficiaries
Year 5: approx. Php 30M to Php 62M in income for approx. 1000 beneficiaries
5-year total: approx. Php 130M to Php 263M in additional income
To learn more, click here: http://tiny.cc/tsprimer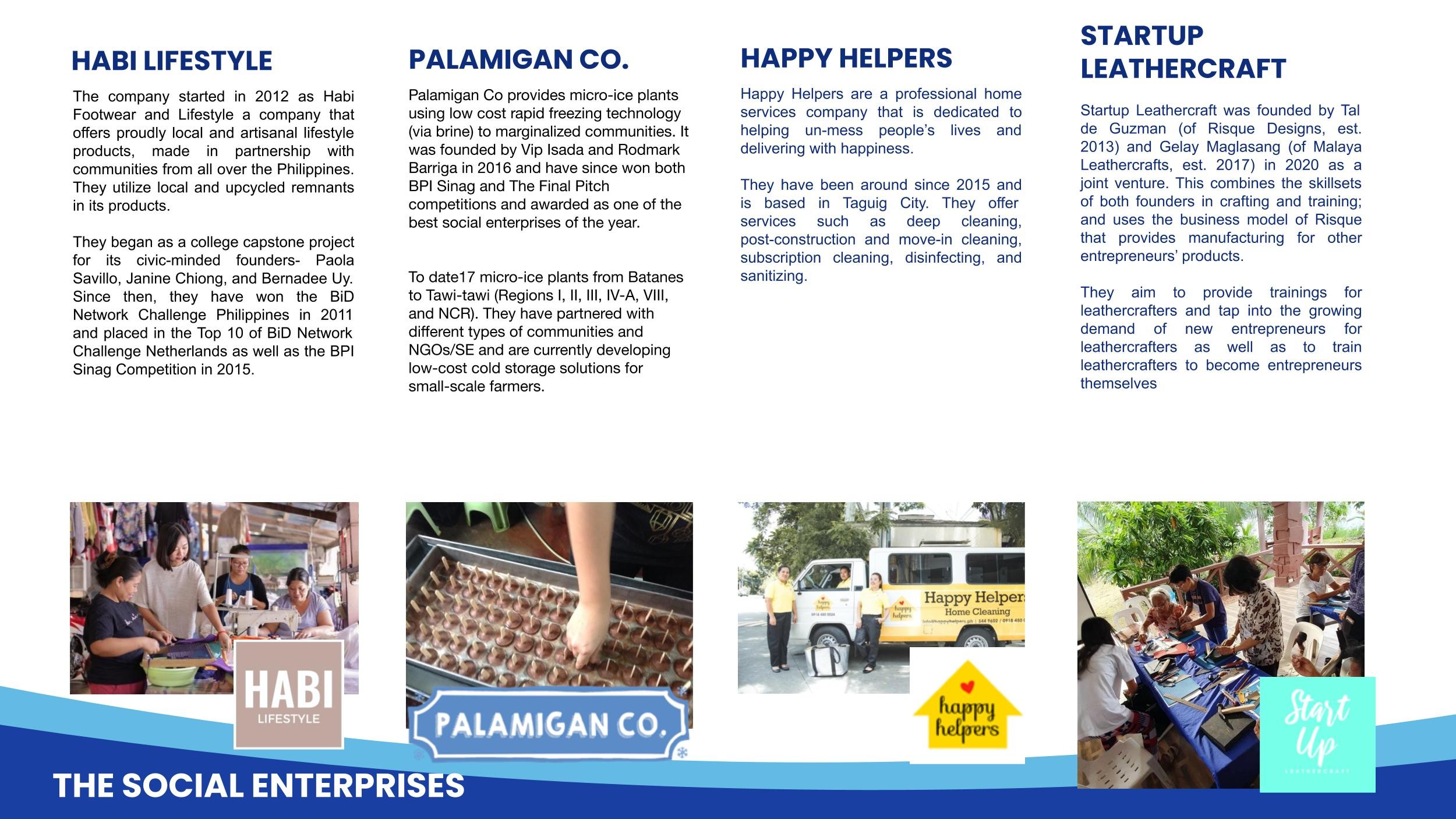 Go to the upper right side of this site to donate!

For a timely delivery, please wait for an email confirmation that will detail the next steps to get your merchandise.
The Magis Watch will be delivered 1st Quarter 2021
The Magis WIP caps will be delivered between mid December 2020 to January 2021
Merchandises are subject to availability and may be replaced with other merchandises without prior notice
Go to the upper right side of this site to donate!
*The nominated BPI Bank Account for this campaign is managed by Joseph "Jaba" Natividad, President, Ateneo Magis 2020 Alumni Hopecoming
*Contact us at ateneotulongsulong@gmail.com if you're interested to buy any of the merchandises individually
| Name | Date |
| --- | --- |
| Jaime Paolo Abella | 9 November, 2020 |
| Simon Augusto Villalon | 14 November, 2020 |
| Carmen Diaz | 15 November, 2020 |
| Marya Laviste | 15 November, 2020 |
| Rhichie Brown | 16 November, 2020 |
| Ryan Cruz | 16 November, 2020 |
| Gooby Yulo | 16 November, 2020 |
| Aaron Palileo | 16 November, 2020 |
| Jan Adam Mose | 16 November, 2020 |
| Geeve Katigbak | 16 November, 2020 |
| Allan Patrick Batac | 16 November, 2020 |
| Consul Lomboy | 16 November, 2020 |
| Nazi Narario | 16 November, 2020 |
| Aureo Castillo | 16 November, 2020 |
| Johann Tarayo | 16 November, 2020 |
| Randy Pasion | 16 November, 2020 |
| Brian Bitanga | 16 November, 2020 |
| Lambert Panlilio | 16 November, 2020 |
| Davidson Caro | 16 November, 2020 |
| Marvin Cruz | 16 November, 2020 |
| Moey Santos | 16 November, 2020 |
| Richard Chan | 16 November, 2020 |
| Arthur Morales | 16 November, 2020 |
| Roy Riofrio | 16 November, 2020 |
| Jong Virrey | 16 November, 2020 |
| Nards Lumanog | 16 November, 2020 |
| Johann Tarayo | 16 November, 2020 |
| Gerard Bondoc | 16 November, 2020 |
| Davidson Caro | 16 November, 2020 |
| Liza | 18 November, 2020 |
| Lynn Gaisano | 21 November, 2020 |
| Cor Cervera | 21 November, 2020 |
| Miriam Reyes | 23 November, 2020 |
| BETH BERMIO | 24 November, 2020 |
| JP Gregorio | 24 November, 2020 |
| Jay Amante | 25 November, 2020 |
| Melaine | 26 November, 2020 |
| Michael Angelo Chua | 27 November, 2020 |
| Benedict Alcoseba | 27 November, 2020 |
| AET | 27 November, 2020 |
| Rupert Henson | 28 November, 2020 |
| Azer Villola | 28 November, 2020 |
| Nicky Agcaoili | 28 November, 2020 |
| Anton Sanchez | 28 November, 2020 |
| Dunhill Reyes | 28 November, 2020 |
| Alan Ong | 28 November, 2020 |
| Jake Diaz | 28 November, 2020 |
| Jordan Javier | 28 November, 2020 |
| Andrei Coronel | 28 November, 2020 |
| Thirdy Simangan | 28 November, 2020 |
| Randle Amoranto | 28 November, 2020 |
| Eppie Titong | 28 November, 2020 |
| Rodney Domingo | 28 November, 2020 |
| Gani Cuyugan | 28 November, 2020 |
| Kenneth Chua | 28 November, 2020 |
| Patricia Chua | 28 November, 2020 |
| Raphael De Leon | 28 November, 2020 |
| Jason | 29 November, 2020 |
| Eloisa Palileo | 29 November, 2020 |
| Eloisa Palileo | 29 November, 2020 |
| Sharon Marasigan | 29 November, 2020 |
| Gilbert Bautista | 29 November, 2020 |
| Anonymous | 30 November, 2020 |
| Neema Ejercito | 30 November, 2020 |
| Jose Mari Daclan | 30 November, 2020 |
| Edward Inocentes | 1 December, 2020 |
| Ritzie Pablo | 1 December, 2020 |
| Susie Venegas | 1 December, 2020 |
| Anonymous | 1 December, 2020 |
| Maria Salome Desoloc | 2 December, 2020 |
| William Mateo | 2 December, 2020 |
| Mildred Umali | 2 December, 2020 |
| JMC | 3 December, 2020 |
| Jay Tiu | 3 December, 2020 |
| Paul Pery | 3 December, 2020 |
| Jonathan Chan | 3 December, 2020 |
| Rodora Teresa Ramoso | 3 December, 2020 |
| Ephraim Lumanlan | 3 December, 2020 |
| Janel | 3 December, 2020 |
| Abegaile Santiago | 4 December, 2020 |
| Abegaile Santiago | 4 December, 2020 |
| Freya Vargas | 4 December, 2020 |
| Paul Famador | 5 December, 2020 |
| Arnaldo Aquino | 5 December, 2020 |
| Anonymous | 5 December, 2020 |
| Katherine Michel Tecson | 5 December, 2020 |
| Michael Arthur Camina | 5 December, 2020 |
| Liza Castaneda | 5 December, 2020 |
| Joseph Manuel Cruz | 5 December, 2020 |
| Wilbert Sison | 5 December, 2020 |
| JFC168 | 5 December, 2020 |
| Anonymous | 5 December, 2020 |
| Bernard | 5 December, 2020 |
| Cesarine Janette Cordero | 5 December, 2020 |
| Marty Panganiban | 5 December, 2020 |
| Anonymous | 5 December, 2020 |
| Marty Panganiban | 5 December, 2020 |
| Jojo Vergara | 5 December, 2020 |
| Anonymous | 5 December, 2020 |
| ARVIN Lim | 5 December, 2020 |
| Antonio T Carpio | 5 December, 2020 |
| Aton Atilano HS'70 | 5 December, 2020 |
| Jose Mario Buñag | 5 December, 2020 |
| Enril Magdato | 5 December, 2020 |
| Jose Moises Salonga | 5 December, 2020 |
| Mike Garcia | 5 December, 2020 |
| Ernesto Camacho III | 5 December, 2020 |
| Denton Chua | 5 December, 2020 |
| Joe Villamiel | 5 December, 2020 |
| Class of 4J | 5 December, 2020 |
| Marvin Bailon | 5 December, 2020 |
| Jose Ricardo Diaz | 5 December, 2020 |
| Alemar Mosquito | 5 December, 2020 |
| Ronald de Vera | 5 December, 2020 |
| Carlo Cordoviz | 5 December, 2020 |
| Jason Unson | 5 December, 2020 |
| Victor Luis Padilla | 5 December, 2020 |
| Leon Lainez | 5 December, 2020 |
| Erson Perdiguerra | 5 December, 2020 |
| 4E-95 class donation | 5 December, 2020 |
| Jonji Castaneda | 5 December, 2020 |
| Marco Abesamis | 5 December, 2020 |
| Ige Lopez | 5 December, 2020 |
| James Garcia | 5 December, 2020 |
| Gelo Villanueva | 5 December, 2020 |
| Greg Tiongco | 5 December, 2020 |
| Joben Ramos | 5 December, 2020 |
| Jon Javier | 5 December, 2020 |
| Peejay Yambao | 5 December, 2020 |
| Kaycee Crisostomo | 5 December, 2020 |
| Rafael Jacob | 5 December, 2020 |
| Randall Elido | 5 December, 2020 |
| Andoni Albert | 5 December, 2020 |
| Jerry Coloma | 5 December, 2020 |
| Ryan Estrella | 5 December, 2020 |
| Alvin Valenca | 5 December, 2020 |
| Vince Tempogko | 5 December, 2020 |
| John Alvarez | 5 December, 2020 |
| Ronnie Policarpio | 5 December, 2020 |
| Brian Esguerra | 5 December, 2020 |
| Paolo Palma | 5 December, 2020 |
| Ian Cruz | 5 December, 2020 |
| Ace Prodigalidad | 5 December, 2020 |
| Erwin Sabio | 5 December, 2020 |
| Raffy Fajardo | 5 December, 2020 |
| Howie Hernandez | 5 December, 2020 |
| Roger Gandionco | 5 December, 2020 |
| Bombet Ignacio | 5 December, 2020 |
| Ditrie Villacorta | 5 December, 2020 |
| Christian Navarette | 5 December, 2020 |
| Rupert Paul Manhit | 5 December, 2020 |
| Anonymous c/o Aaron P. | 5 December, 2020 |
| Armando Fabia | 5 December, 2020 |
| RB Pineda | 5 December, 2020 |
| Cheryl Dugan | 5 December, 2020 |
| Jo Marie Nel Garcia | 5 December, 2020 |
| Jonathan Fandialan | 5 December, 2020 |
| Luis Gamboa | 5 December, 2020 |
| Jennifer Perez-Dombrovskis | 5 December, 2020 |
| ronnie salvador | 5 December, 2020 |
| Ma Elaine Salazar | 5 December, 2020 |
| Jona Jesica Garcia | 5 December, 2020 |
| Jay Cabanting | 5 December, 2020 |
| Jose Gil Pineda | 5 December, 2020 |
| Jennifer Perez-Dombrovskis | 5 December, 2020 |
| Jennifer Perez-Dombrovskis | 5 December, 2020 |
| Gregorio Galang | 5 December, 2020 |
| Norman Dennis Marquez | 5 December, 2020 |
| Anonymous | 5 December, 2020 |
| Miguel Gatmaytan | 5 December, 2020 |
| Leo Angelo Quimson | 5 December, 2020 |
| Martin Villalon | 5 December, 2020 |
| Tricia Tan | 6 December, 2020 |
| Enya Ereneta | 6 December, 2020 |
| Dr.Stanfred C. Ocoma | 6 December, 2020 |
| Anonymous | 6 December, 2020 |
| Inigo Natividad | 7 December, 2020 |
| Mateo Natividad | 7 December, 2020 |
| Paris Pascual | 7 December, 2020 |
| nonkingbeef | 7 December, 2020 |
| Ricardo Buenafe | 8 December, 2020 |
| Anonymous | 8 December, 2020 |
| Dottie Lomboy | 9 December, 2020 |
| ANGELICA DE JESUS DELOS SANTOS | 11 December, 2020 |
| Michael Macaraig | 11 December, 2020 |
| Ma. Leonila Urrea | 12 December, 2020 |
| Teresa Santos | 13 December, 2020 |
| Dionisio Grace | 16 December, 2020 |
| NONONG | 17 December, 2020 |
| Maan | 18 December, 2020 |
| Azer Villola | 18 December, 2020 |
| lloyddennis | 20 December, 2020 |
| Russell Tacorda | 20 December, 2020 |
| Greg | 20 December, 2020 |
| Jake Diaz | 21 December, 2020 |
| Jing Karaos | 22 December, 2020 |
| Marco and Joy Abesamis | 24 December, 2020 |
| RayEspi | 3 January, 2021 |
| espifox | 3 January, 2021 |
| Patch Dulay | 28 January, 2021 |
| Gregory Paul Daza | 29 January, 2021 |
| Catherine Tuazon | 31 January, 2021 |
Frequently Asked Questions
The BPI Account that will be receiving funds for this campaign is managed by Joseph "Jaba" Natividad, the President of Ateneo Magis 2020 Alumni Hopecoming