Social Enterprise
|
Community
Ate Jingle "The Craft Master" A Sari Sari Store Expansion
Philippines
Ate Jingle is a Bayani Artisan dreaming to expand her sari sari store to secure and save up for her family's future.
ABOUT BAYANIHAN

ANTHILL (Alternative Nest and Trading /Training Hub for Indigenous or Ingenious Little Livelihood seekers) is a social and cultural enterprise in Cebu, Philippines with a strong mission to preserve our craft traditions and provide sustainable livelihood to Filipino artisans. It is integral in our core of our values to seek innovative and inclusive solutions on how we can build entrepreneurial capacity and ensure that our artisans do not get left behind.
Bayanihan was born out of the presence of a growing global community showing up for us in the toughest times throughout the pandemic. We aim to activate this contagious spirit of bayanihan once again to connect our artisans directly to the market, expand their reach to a global market and support their desire to weave tradition and technology by learning digital skills in storytelling and marketing. The value and the spirit of Bayanihan is the common thread that lives among us in a way that honours this connection. It gives us the opportunity to grow a community and be of service to each other in a way that fosters resilience and lasting change.
In partnership with The Spark Project, an initial funding from the Australian Alumni Grant Scheme, and our Design Collaborators, we provide a platform for our entrepreneurial artisans to weave new dreams with you!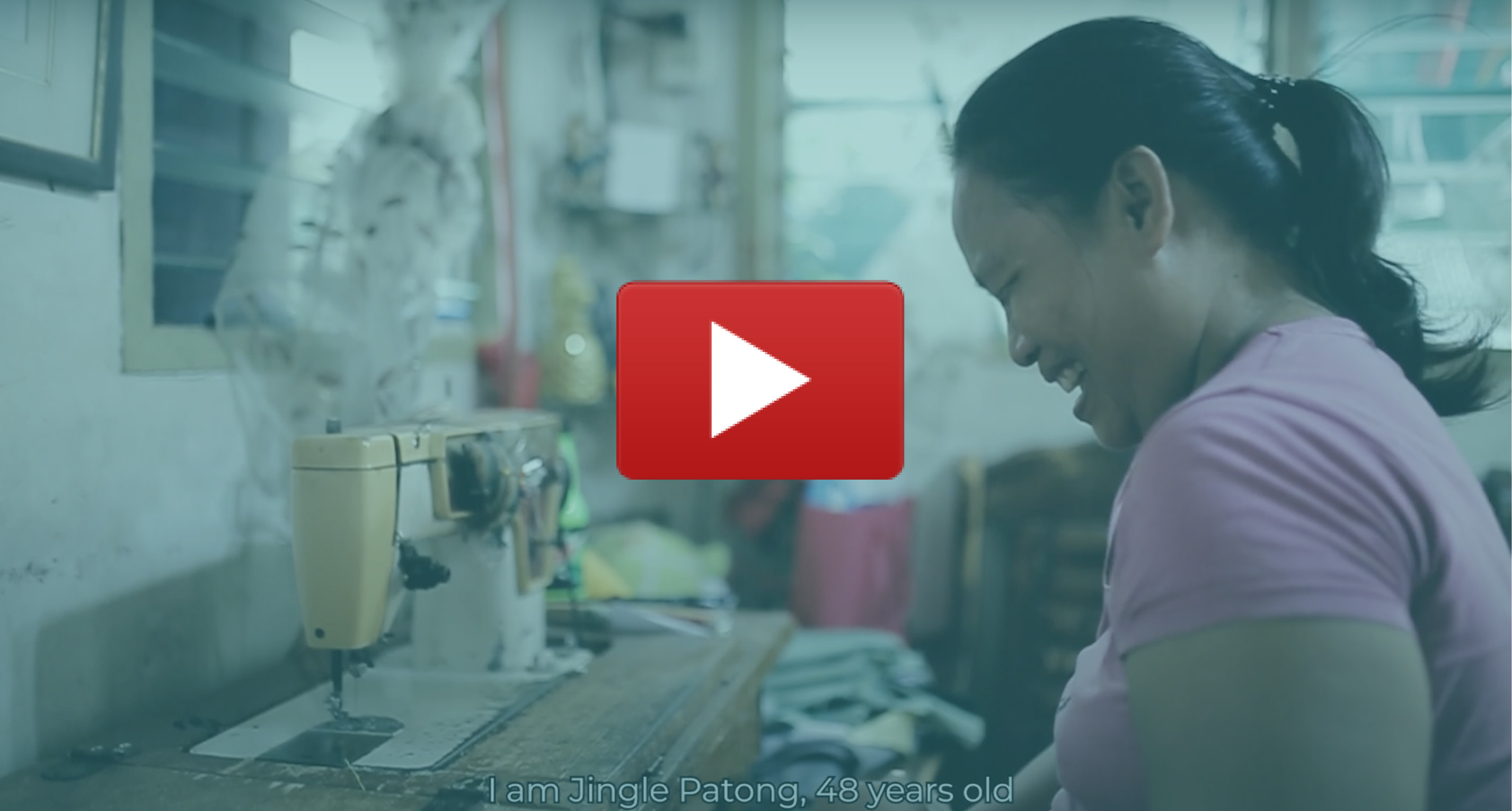 ATE JINGLE "The Craft Master" - A Sari Sari Store Expansion
Ate Jingle is the epitome of servant leadership. She has been the longest running Community Manager of ANTHILL's partner HOME Plush Toys for years. The HOME mothers work on handcrafting some of the beautiful Christmas ornaments, and baby mobiles available on ANTHILL markets. Her income as a master crafter has helped her send her children to school. Out of her three kids, only her youngest is still in school while her eldest is a seaman and the second is a recent college graduate.
Holding the fort for so long, she not only makes dolls but has also gained skills in cash flow management, supply chain management, materials sourcing, pricing and fulfillment among others. With all these skills up her sleeve, it was no surprise when she decided to open her own mini sari sari store in 2019 using her savings in ANTHILL as an alternative source of income to help provide for the needs and education of her children. Something we are truly proud of!
During the pandemic, her husband lost his job and she readily became the breadwinner of the family. The mini sari sari store became a saving grace yet, business was still slow. With a vision to grow and expand her business, Ate Jingle aims to buy a brand new refrigerator and an automatic water "tubig" machine to continue serving the needs of her community neighborhood. With these additional amenities, she is confident she can grow her income and have her husband support her in running the business. This Craft Master is truly unstoppable!

Tier 1: BAHAGHARI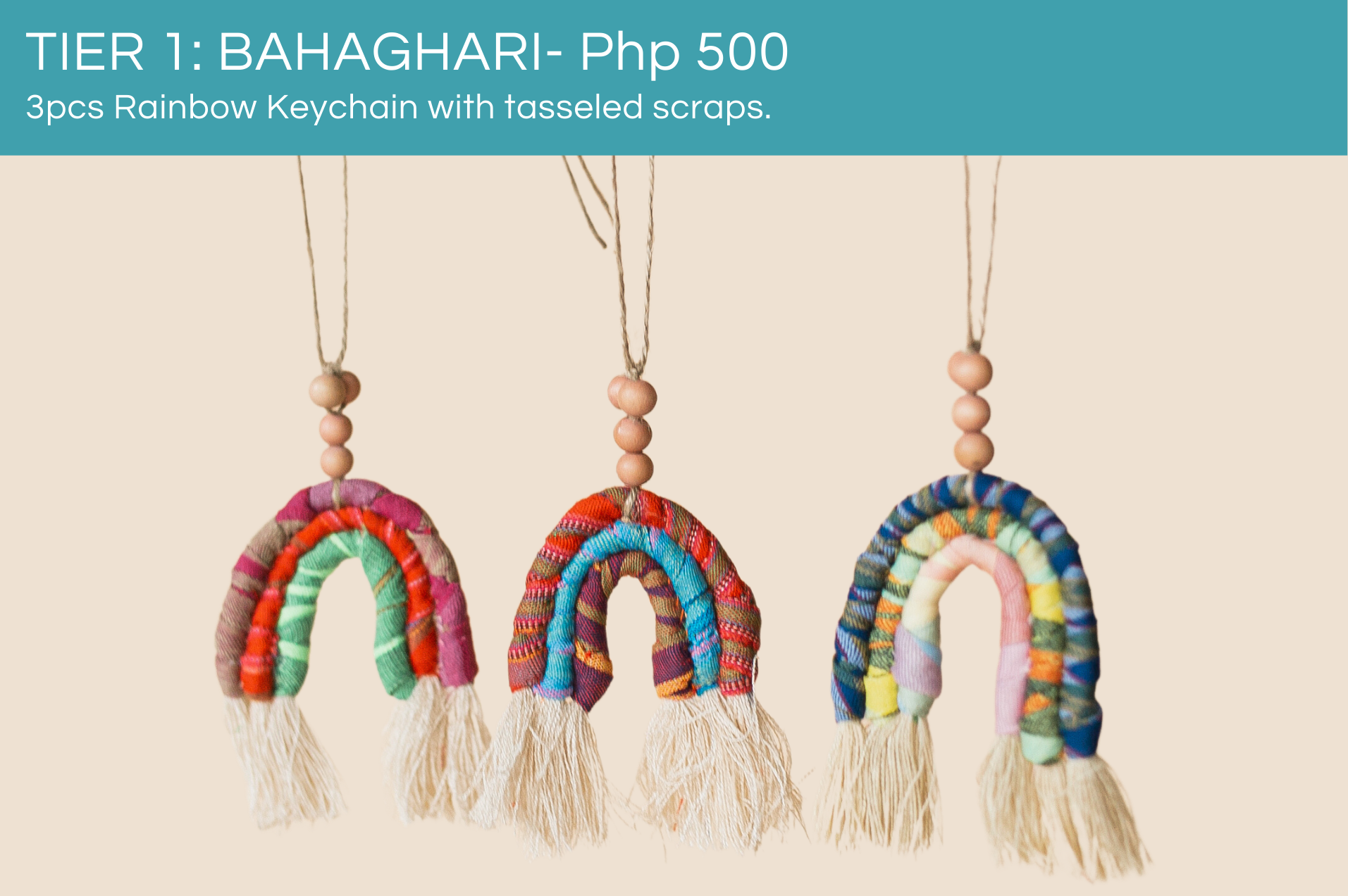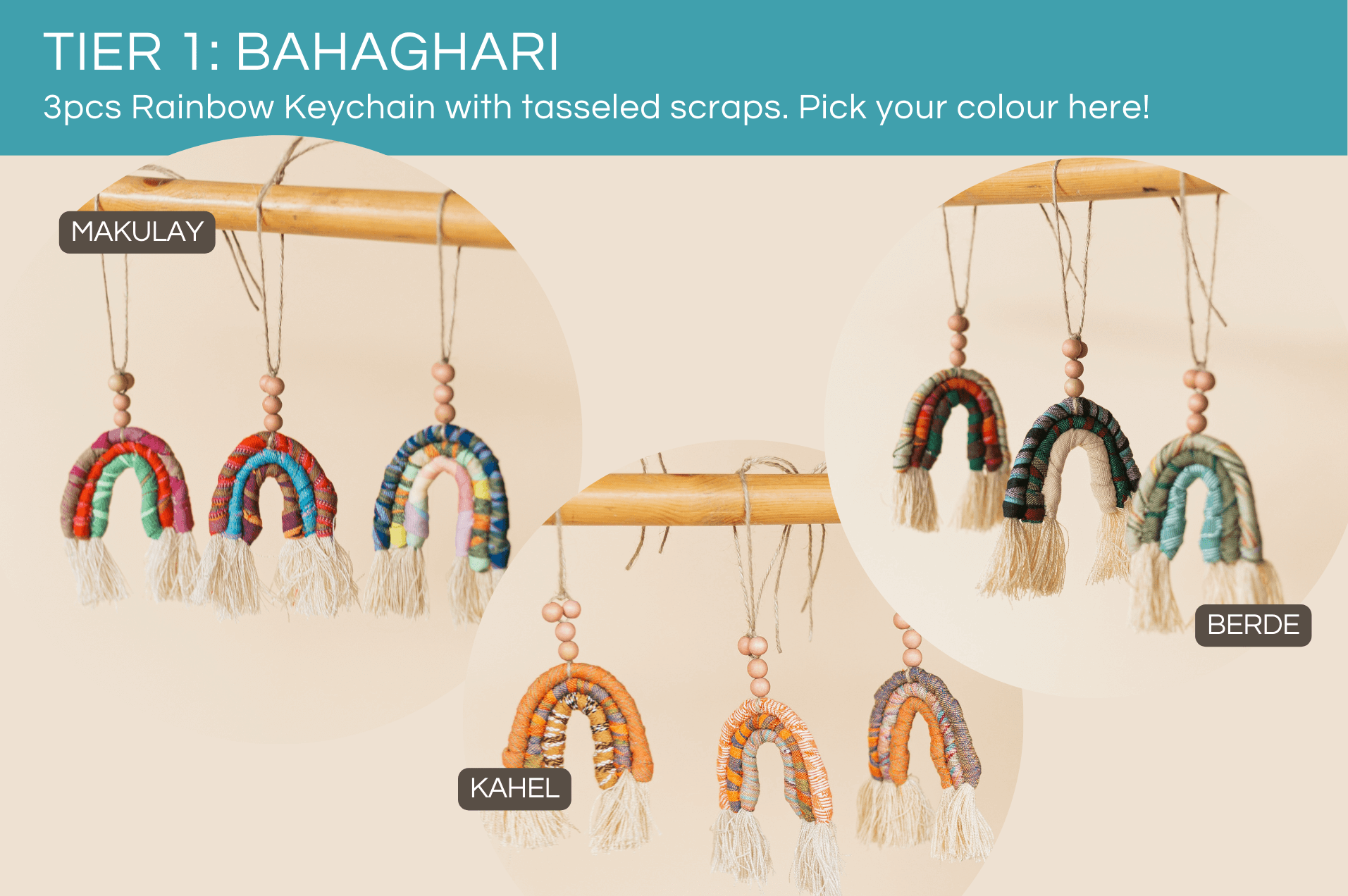 Tier 2: ARAW GABI YAKAP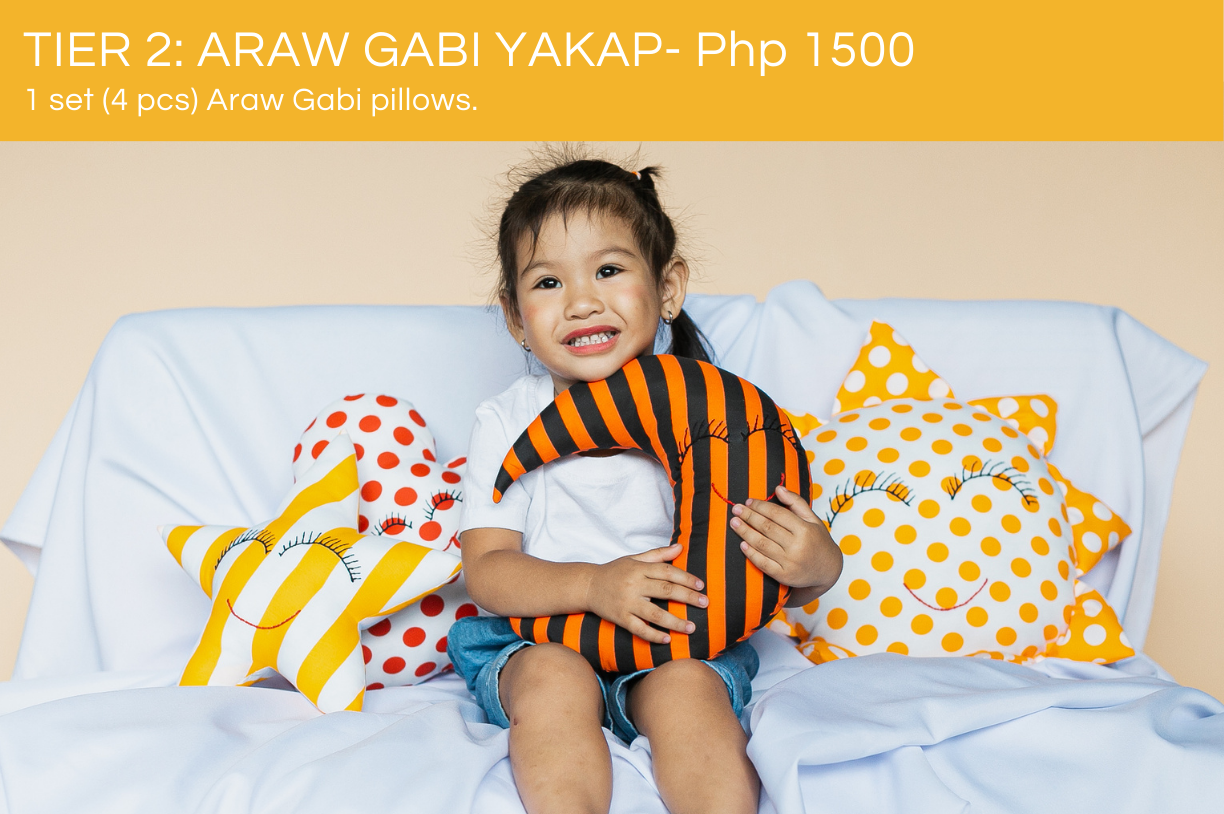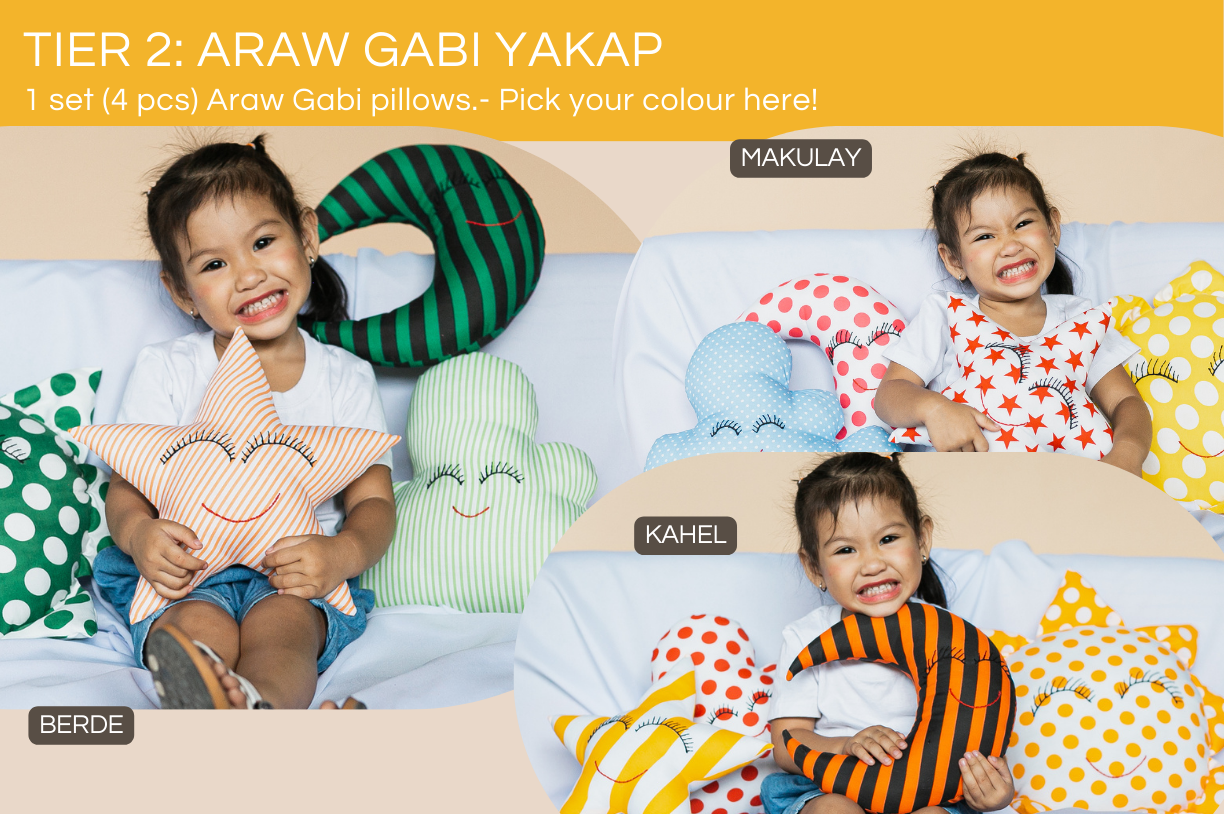 TIER 3: LARO-LARUAN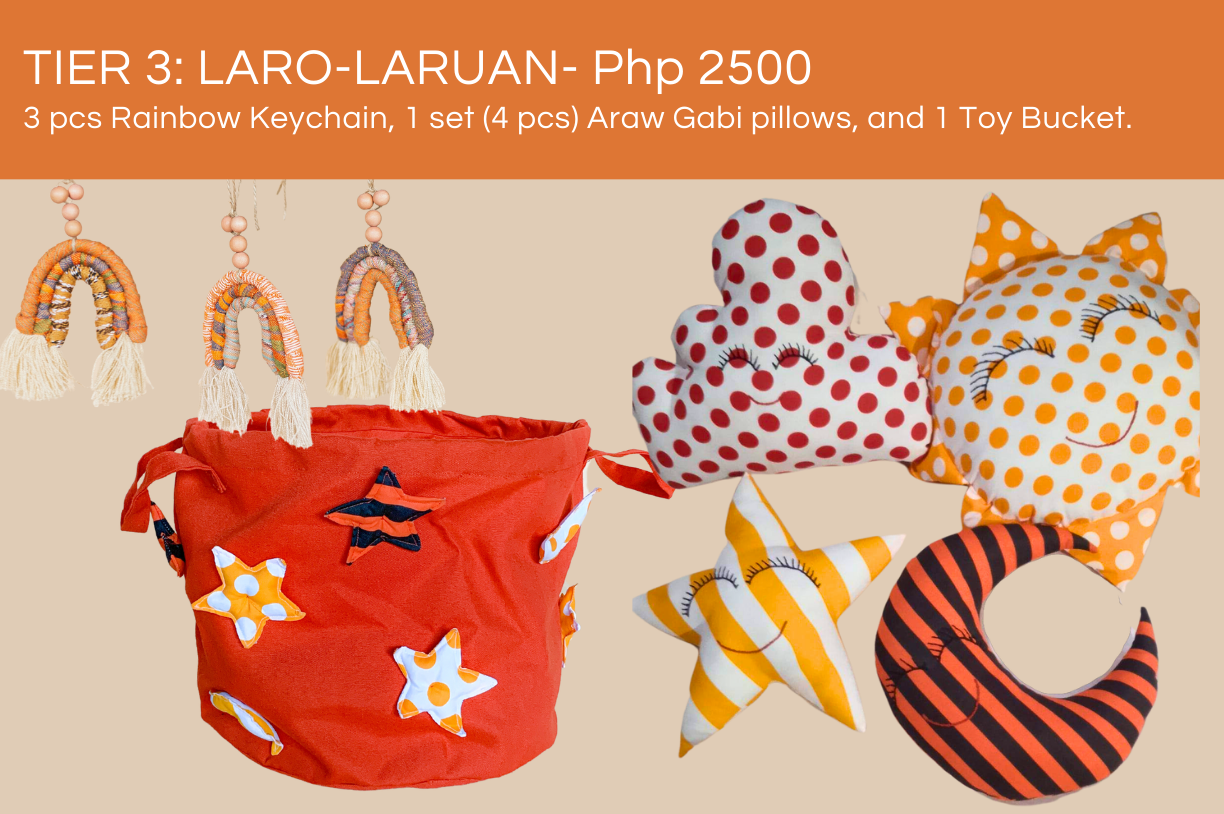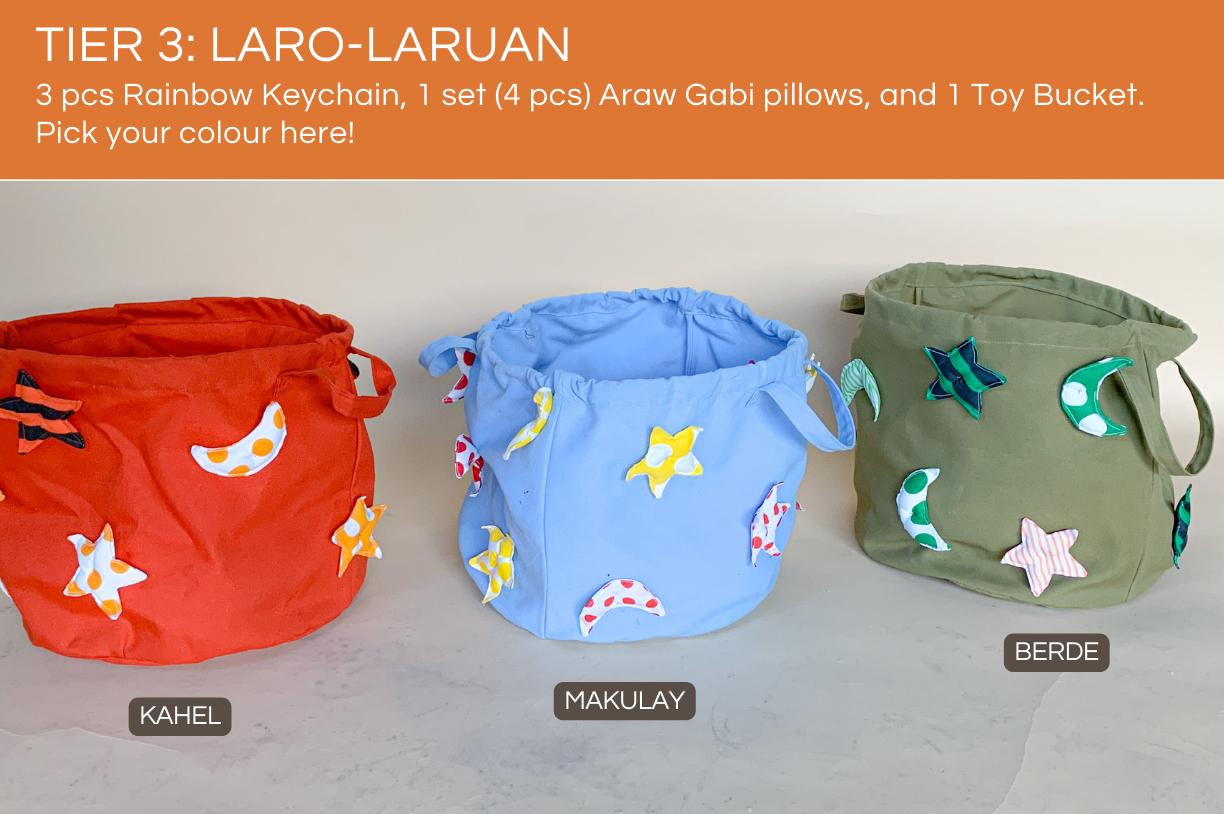 TIER 4: MASIGLA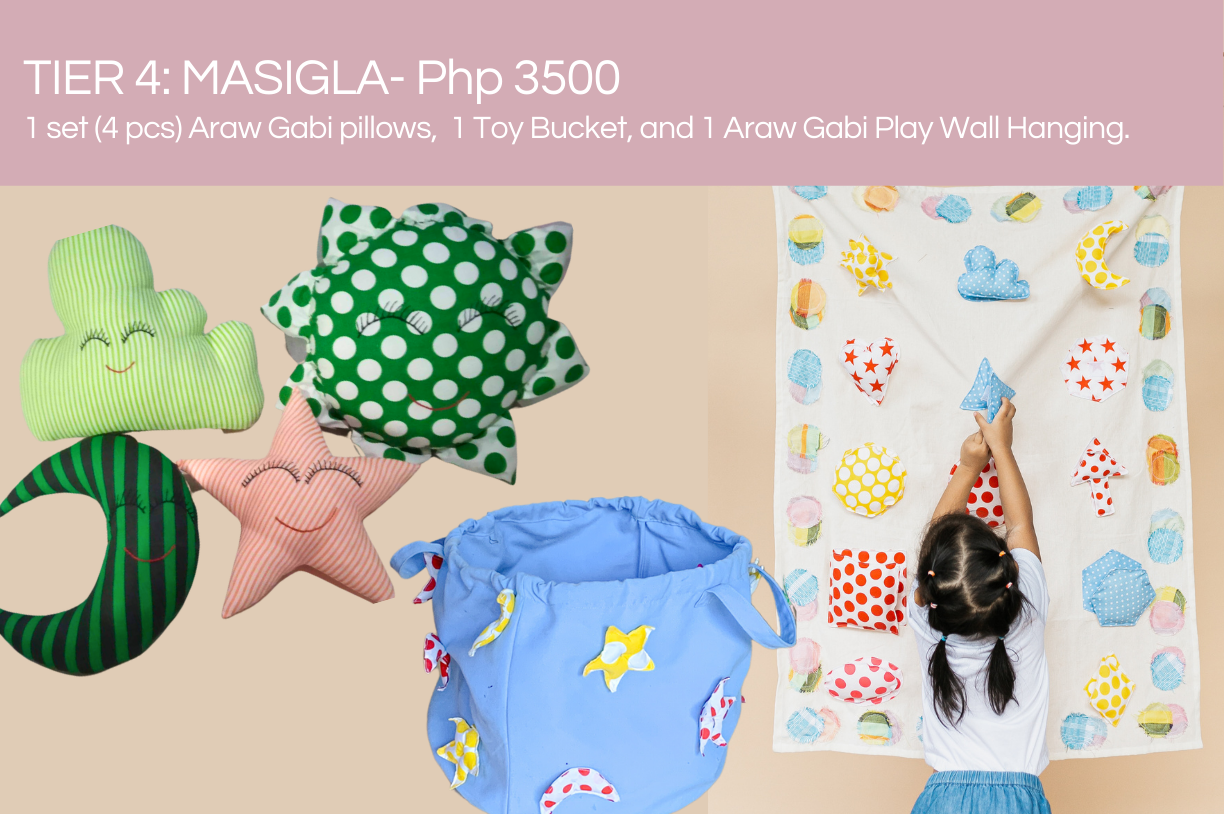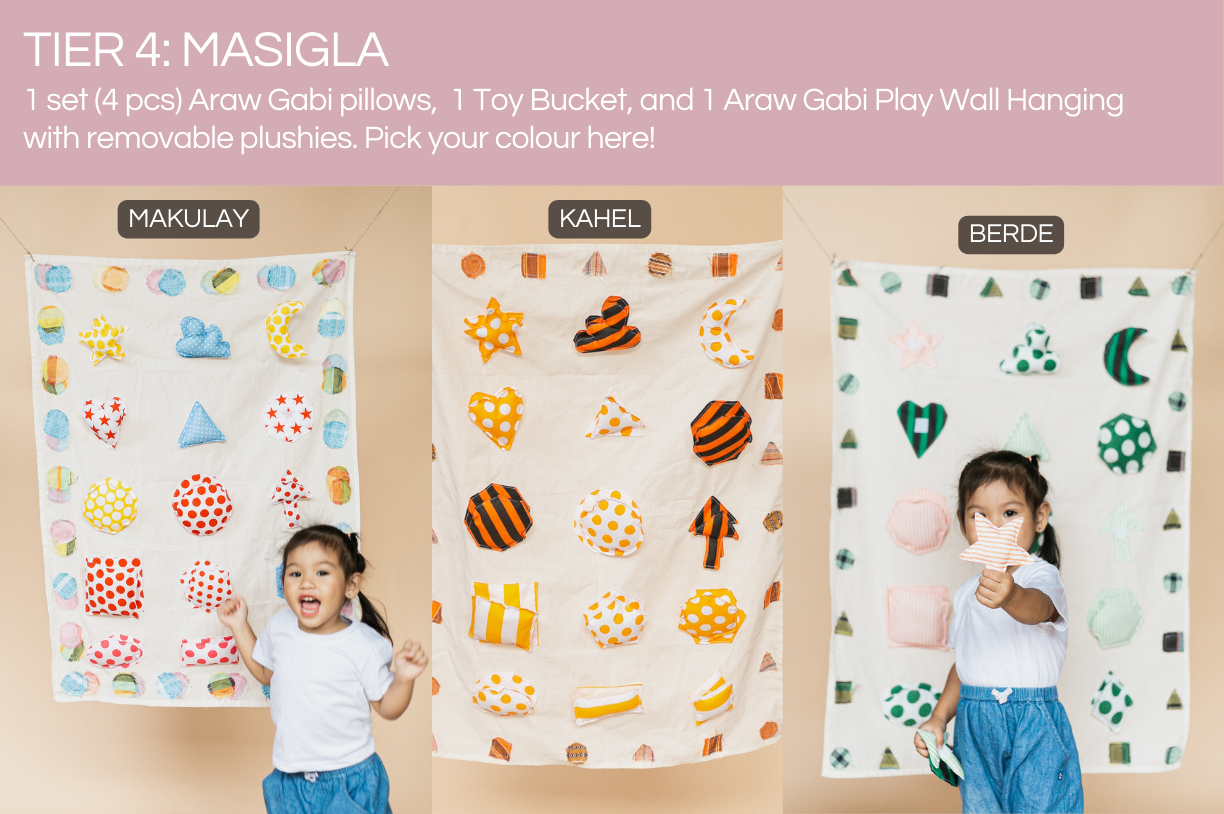 TIER 5: MASAYA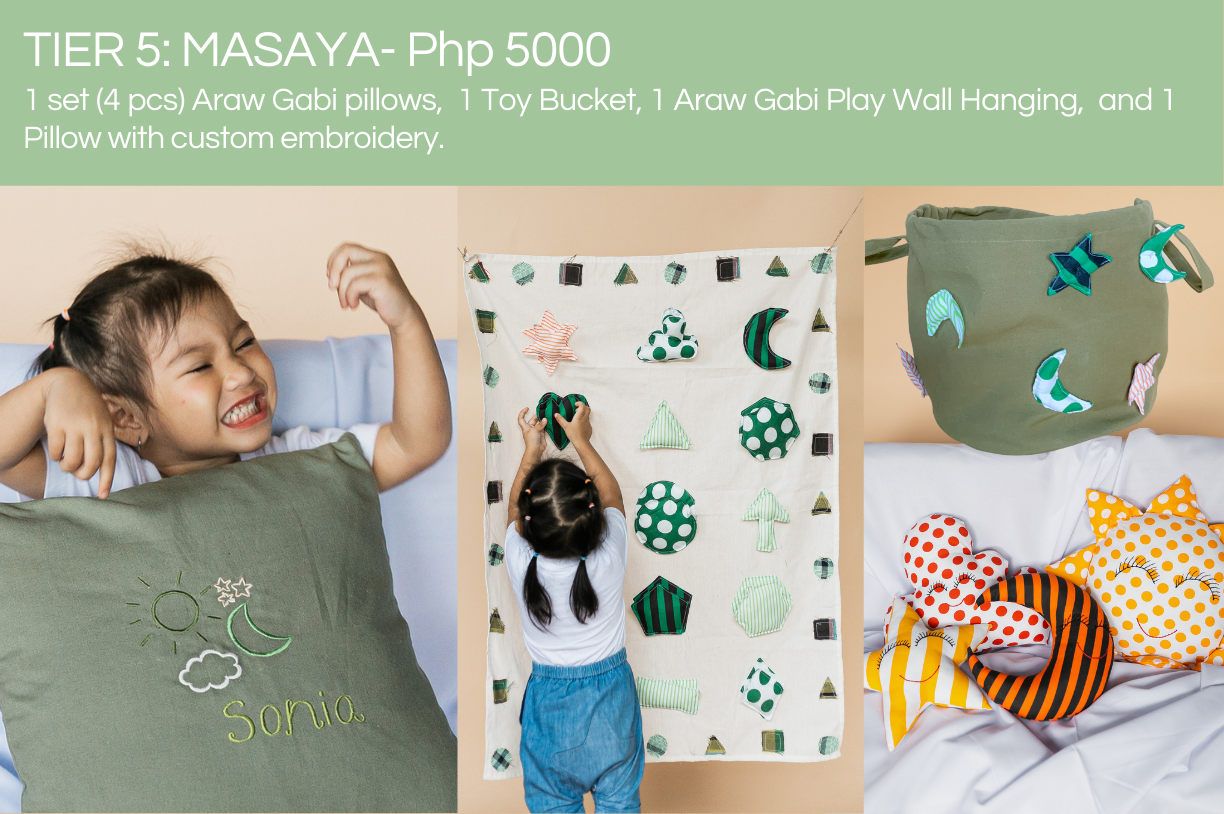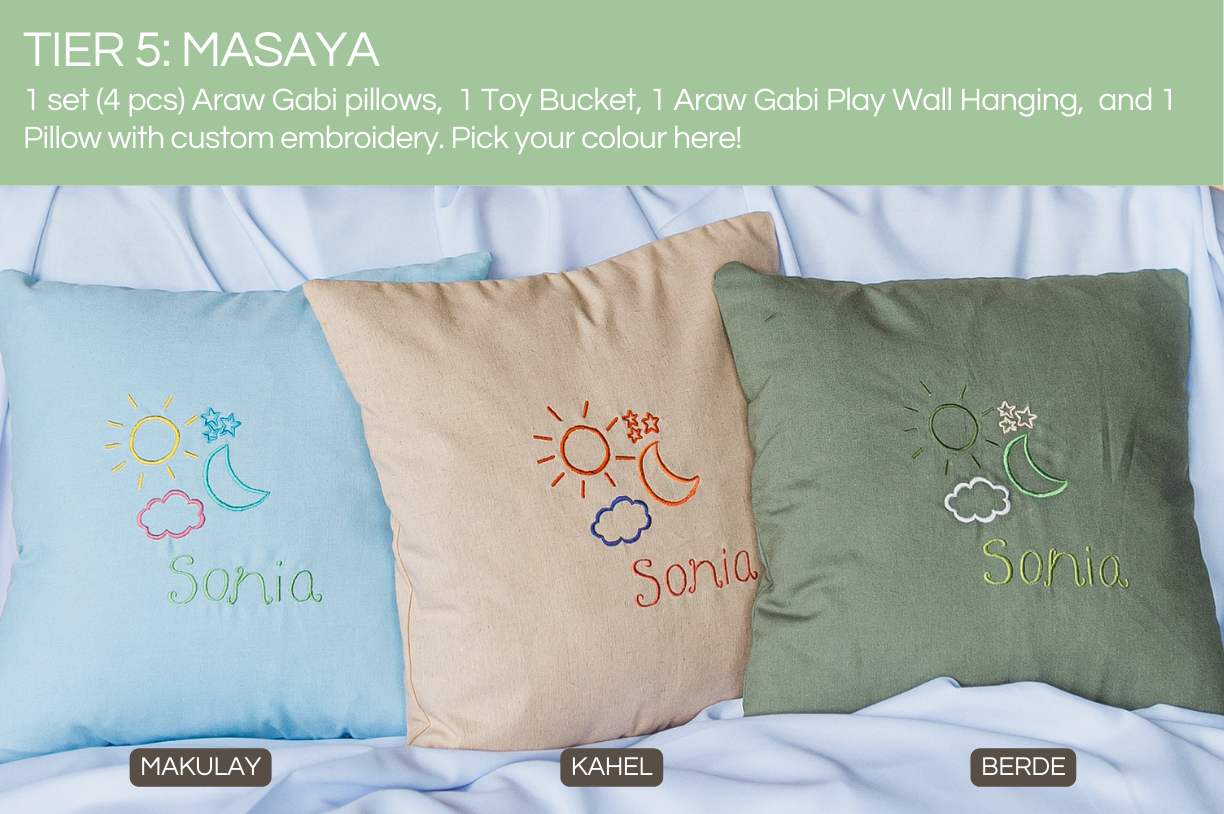 These beautiful rewards are thoughtfully designed in collaboration with Bayani Designer and inspiring Entrepreneur Roma of Pop Junk Love and Common Room, an arts and crafts store for Filipino makers and creatives. @popjunklove @commonroomph

At P25,000 she can purchase an automatic water machine
At P50,000 she can purchase an automatic water machine and refrigerator
At P75,000 she will have enough to cover additional capital for the sari sari store to purchase the automatic water machine, refrigerator, new products, and inventory
At P100,000, Ate Jingle will have enough funds to purchase new appliances and invest in an expanding inventory that will help sustain her growing sari-sari store. New products will bring in more customers and business.

Unlike other crowdfunding initiatives, the funds received from the campaign will directly benefit the Bayani Artisans. The money gained either through reward pledges or donations will be utilized for the purchase of supplies necessary to put in the work required to fulfill the production of the rewards or contribute to fulfilling their aspirations.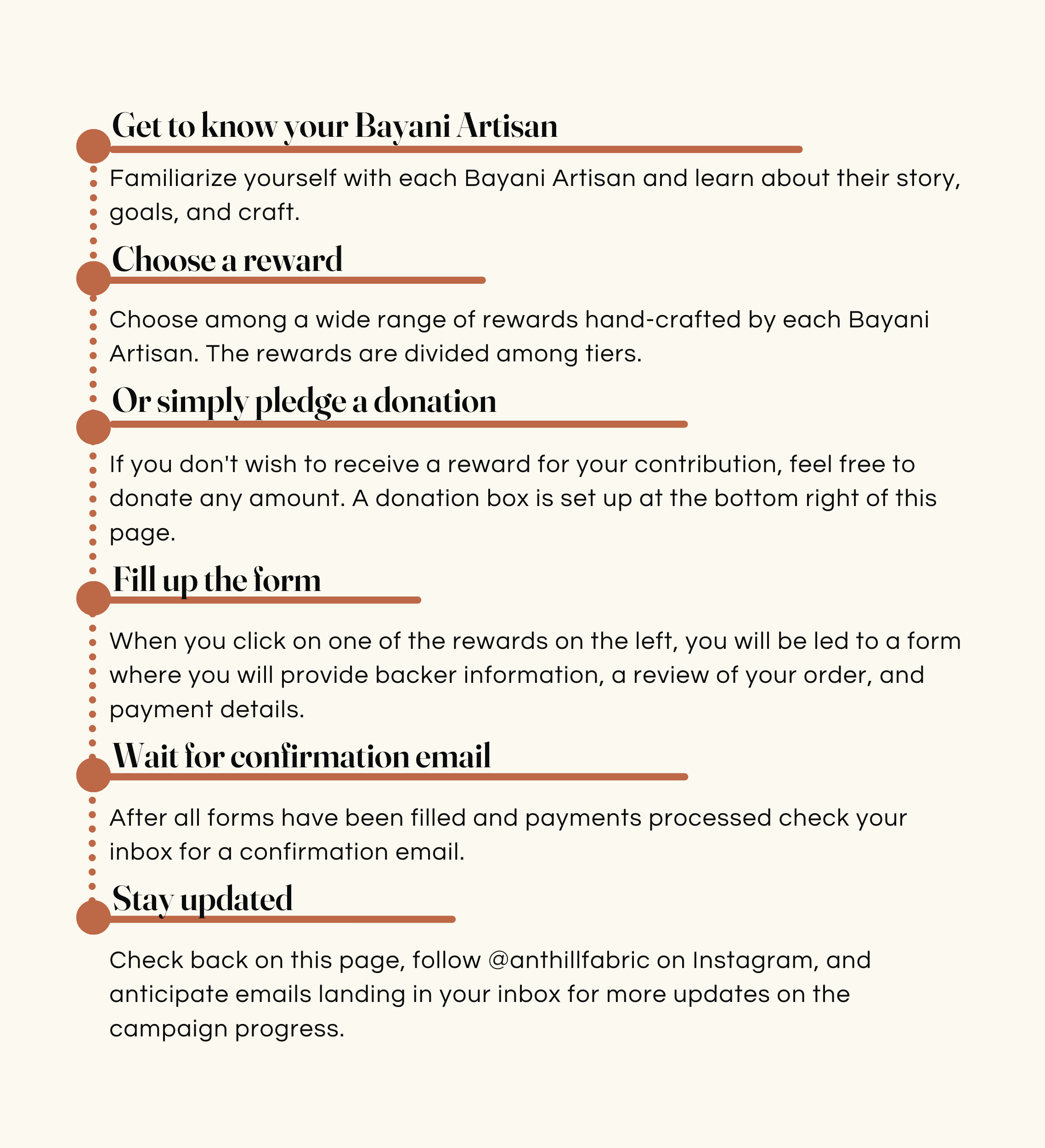 Keeping the BAYANIHAN spirit alive and spreading it to more communities will support the Bayani Artisans to reach their target goal however, if the target goal is not met, the artisan still receives the funds due to them from the campaign.
Thank you for your pledge to #BeABayani!
| Name | Date |
| --- | --- |
| Yella | 26 April, 2023 |
| Caissa Abao | 28 April, 2023 |
| Penny | 5 May, 2023 |
| Patch Dulay | 15 May, 2023 |
| Chaya Go | 16 May, 2023 |
| Josef | 17 May, 2023 |
| Ma Roma Agsalud | 20 May, 2023 |
| Anonymous | 22 May, 2023 |
| Jenn R | 31 May, 2023 |
| Alesha Borbo Kilayko | 7 June, 2023 |
| Alyanna Tenorio | 8 June, 2023 |
| Bernadette lim | 13 June, 2023 |
| Danielle Mari Sandrino | 15 June, 2023 |
| Grace Tamesis | 20 June, 2023 |
| Bernice Roldan | 22 June, 2023 |
| Gia Co | 2 July, 2023 |
| Salve de la Paz | 10 July, 2023 |
| anonymous | 13 July, 2023 |
| Hannah Muralla-Palustr | 18 July, 2023 |
| Jackie Sy | 19 July, 2023 |
| Bobbit Atendido | 24 July, 2023 |
Frequently Asked Questions
Deliveries would depend on the destination. For local addresses, it would take 3-4 business days while international addresses would take 5-7 business days.
Of course! You can send us a message and we can facilitate an introduction between you and Ate Belen.
Yes, your pledges would only cover the rewards you choose. We will email you an invoice for the shipping once the rewards are ready to be delivered.
Yes, we do ship internationally! We will email you an invoice for the shipping once the rewards are ready to be delivered.
At the end of the campaign, your pledges will go straight to the artisan to support them in their new venture. Click here: https://fund.thesparkproject.com/project/tailoring-a-sewing-studio
Yes, we will be posting updates on ANTHILL's social media accounts (@anthillfabric) and sending updates through emails. As a Bayani (contributor), you will also receive emails from Spark Project about the campaign.
You can back this project via Bank Transfer/Deposit and PayPal.
Check your inbox, you should have received payment instructions.
Yes! If you scroll all the way down to the bottom of the reward packages on the right side of the page, there will be a field where you can input any amount that you want to contribute to the project
After your payment has been verified, check your email for the next steps. You will be linked to a form where you can provide your delivery details. If you do not receive an email, please contact audrey@thesparkproject.com.
If your backing has been completed, you should receive a confirmation email. If you paid via Bank Deposit and PayPal, you may have to wait for up to 24 hours upon uploading your proof of payment for your transaction to be verified. If you haven't received an email yet and you think there was a technical issue, you may contact audrey@thesparkproject.com.
There may have been an error with the link, please email your screenshot/deposit slip to audrey@thesparkproject.com and we will have your contribution reflected in no time!
If you just want to contribute to the project, and not receive the rewards, be sure to click the "Do not receive the reward" option when you are processing your payment.
If you think there was an issue with your payment, or if you have any other questions or concerns, please email audrey@thesparkproject.com with the subject "Problem with Payment". *include project name.
Back this Project
Tier 1: BAHAGHARI - ₱500.00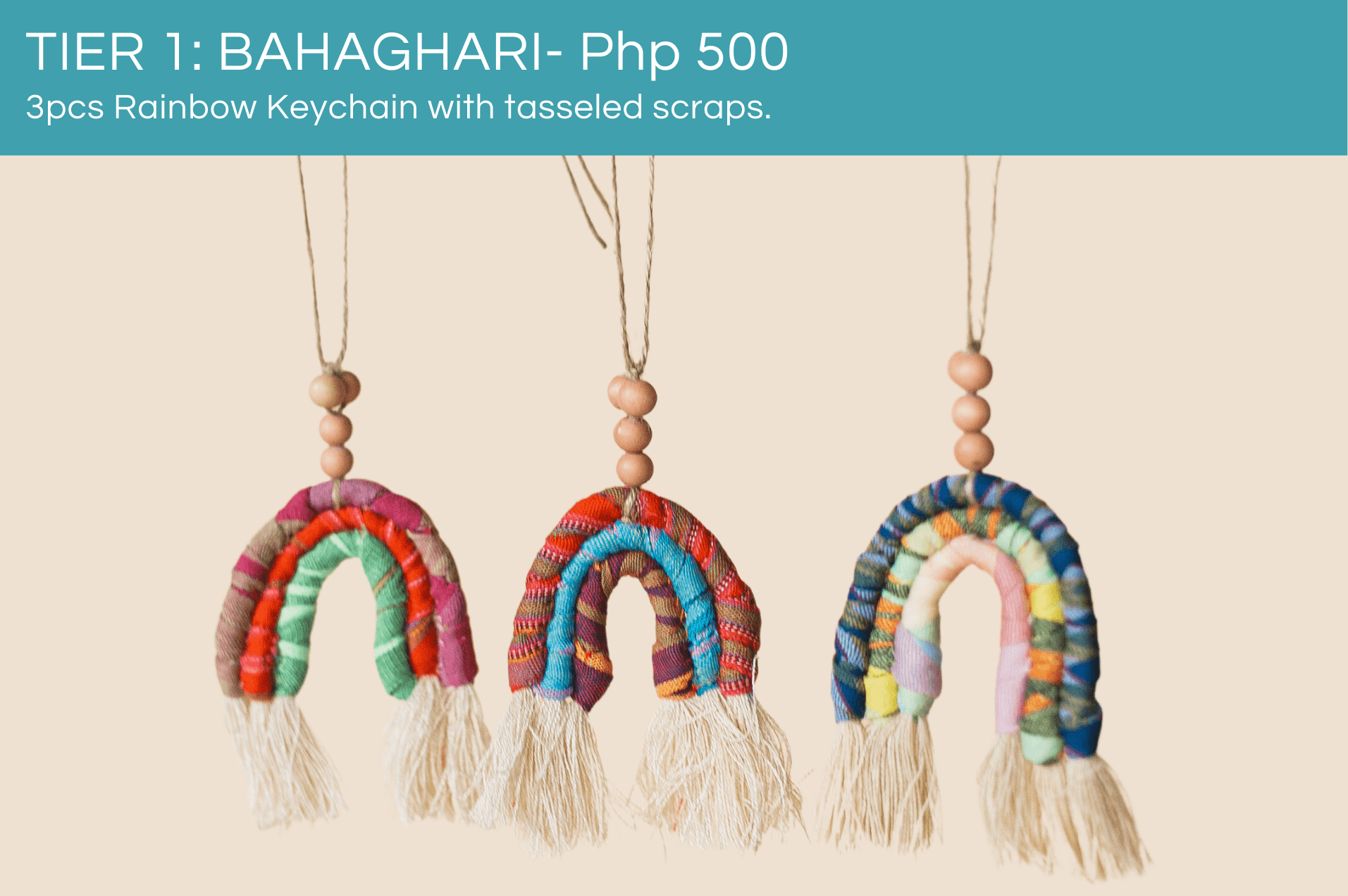 3PCS. RAINBOW KEYCHAIN WITH TASSELED SCRAPS

Bahaghari includes 3 pieces of the adorable rainbow plushie keychains made from handwoven scraps that you can carry wherever you go! Make those keys pop in your bag for easy access. You will also get a personal thank you note from Ate Jingle!

Measurements:
Length (incl. tassel) - 14 cm
Width - 7 cm
Tassel - 4 cm
6 claimed
Tier 2: ARAW GABI YAKAP - ₱1,500.00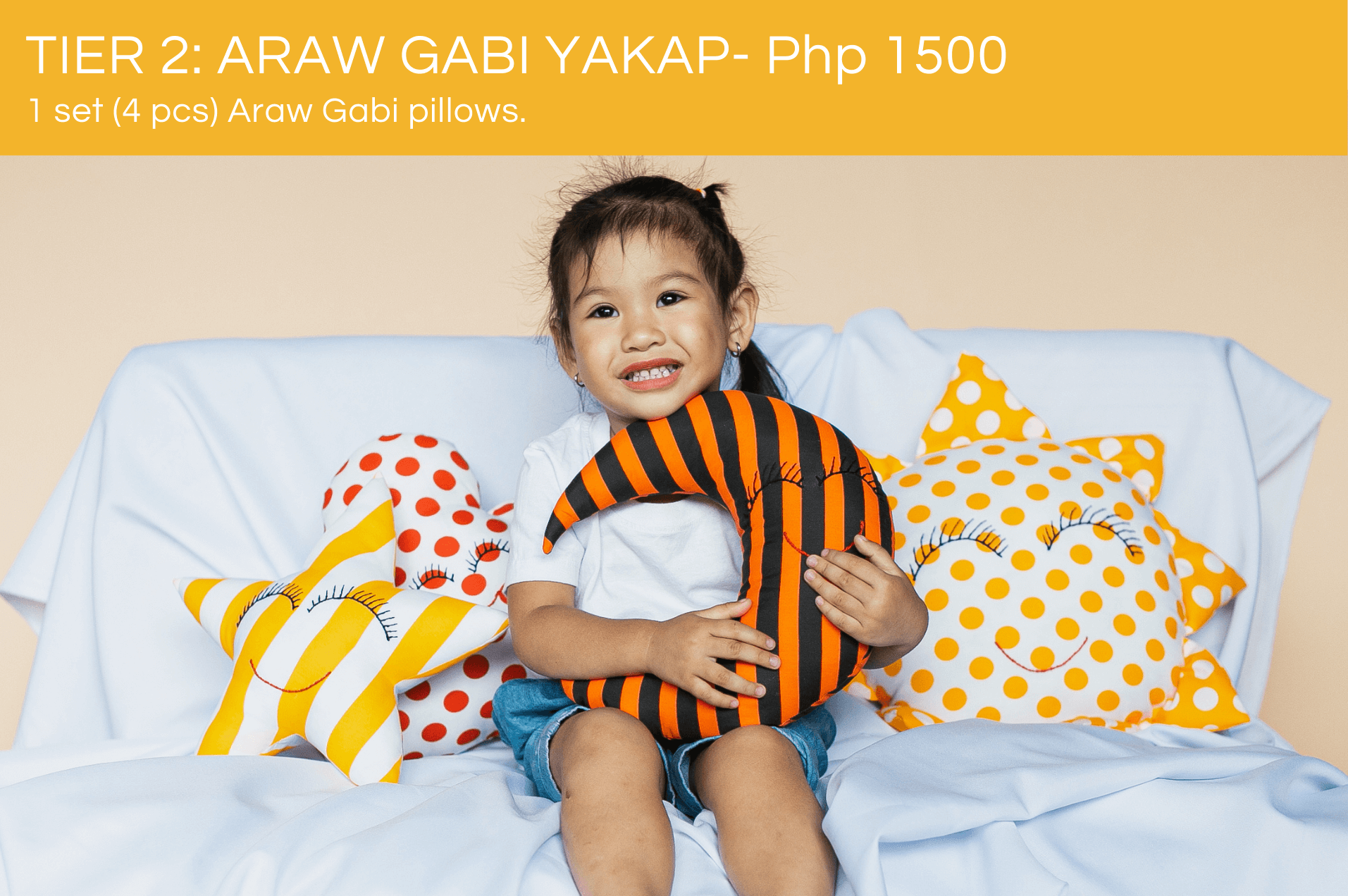 1 SET 4 PC ARAW GABI PILLOWS

Araw Gabi Yakap includes a 4 pc cuddly set of sun, star, moon and cloud plushies for our little angels and the children in us to embrace. These pillow plushies will not only brighten your day but also give you the comfort of a warm hug. You will also get a personal thank you note from Ate Jingle!

Measurements:
Clouds:
Length - 30cm
Width - 34 cm
Star:
Per side length - 11 cm
Per side width - 11 cm
Overall length and width - 31 cm
Moon:
Width - 27cm
Length - 30cm
C body width - 15cm
Sun:
Circle width & length - 33cm
Side width and length - 12 cm
2 claimed
Tier 3: LARO-LARUAN - ₱2,500.00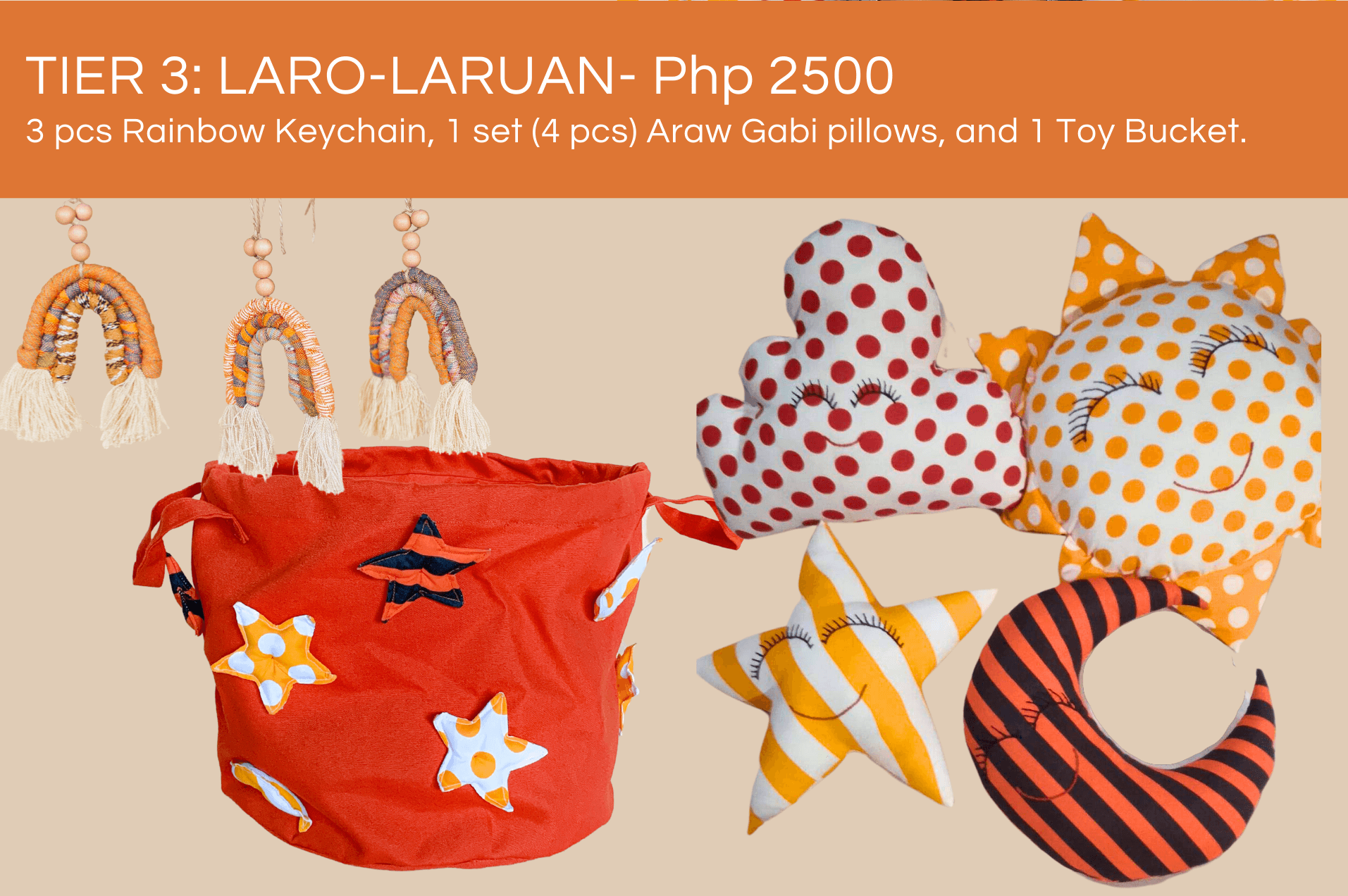 3PCS. RAINBOW KEYCHAIN WITH TASSELED SCRAPS
1 SET OF 4 PC ARAW GABI PILLOWS
ARAW GABI TOY BUCKET

Laro-Laruan is a special treat that's definitely a bang for the buck! This reward includes 3 pieces of our Bahaghari Keychains, 1 set of Araw Gabi Yakap Pillow Plushies and a special Araw Gabi Toy Bucket for storage, organizing and what not. You will also receive a personal thank you note from Ate Jingle!

Measurements:
Rainbow
Length (incl. tassel) - 14 cm
Width - 7 cm
Tassel - 4 cm
Toy Bucket
Length - 31 cm
Width - 31 cm
Handle - 32 cm
2 claimed
Tier 4: MASIGLA - ₱3,500.00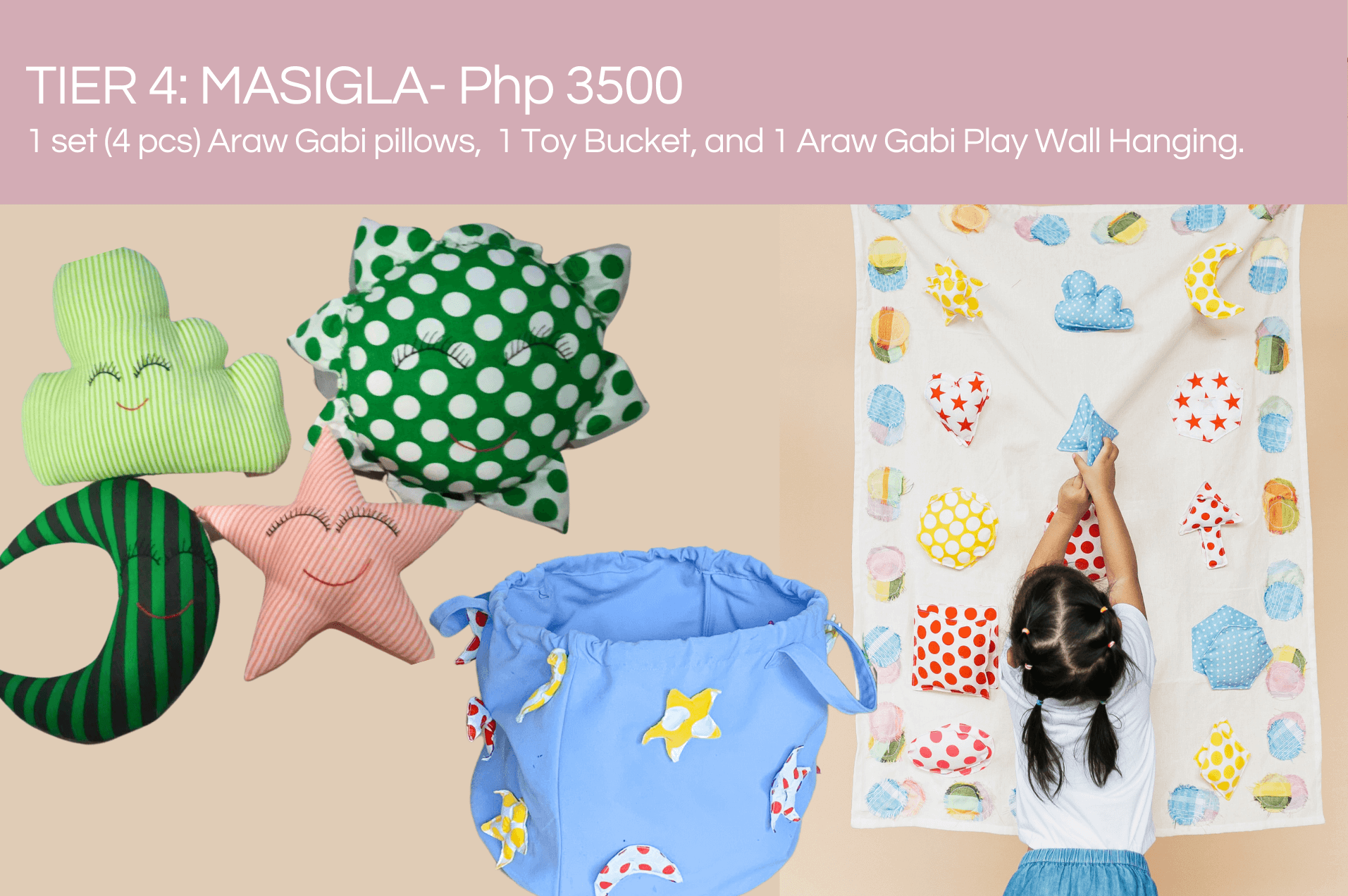 1 SET OF 4 PC SUN & MOON PILLOWS
1 TOY BUCKET
1 ARAW GABI PLAY WALL HANGING

Masigla reward will definitely energize your child and the child in you! We learn through play. This tier includes 1 set of Araw Gabi Yakap Pillow Plushies, a special Araw Gabi Toy Bucket for storage and an Araw Gabi Plushie Play Wall Hanging. You will also receive a personal thank you note from Ate Jingle!

Measurements:
Wall Hanging
Length -95 cm
Width - 69 cm
Side Piping - 1 cm
Toy Bucket
Length - 31 cm
Width - 31 cm
Handle - 32 cm
1 claimed
Tier 5: MASAYA - ₱5,000.00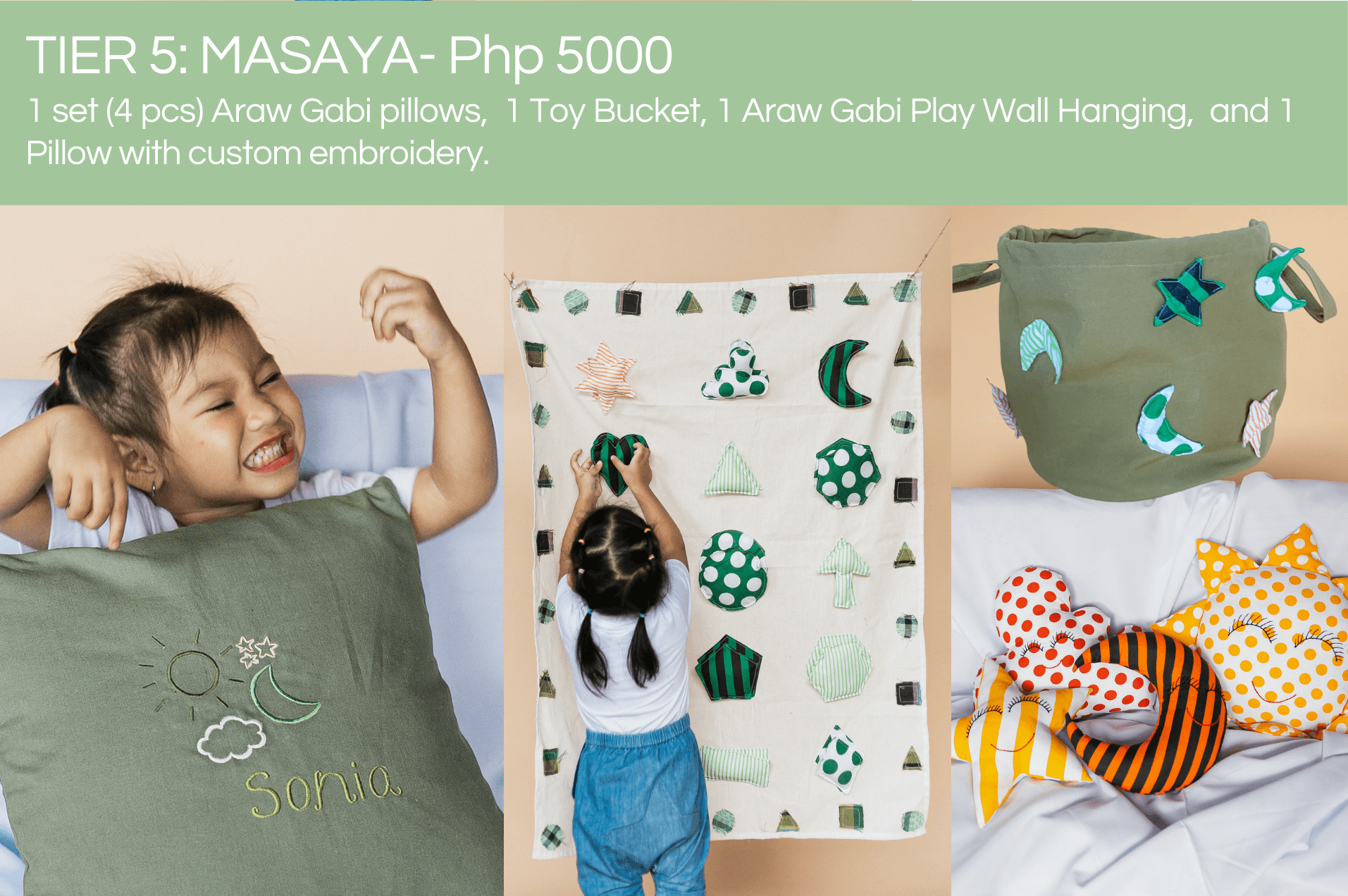 1 SET OF 4 PC SUN & MOON PILLOWS
1 TOY BUCKET
1 PLAY WALL HANGING
1 PILLOW WITH CUSTOM EMBROIDERY

Masaya is the ultimate package that will definitely spark joy! This is Ate Jingle's special offering that includes 1 set of Araw Gabi Yakap Pillow Plushies, a special Araw Gabi Toy Bucket for storage, an Araw Gabi Plushie Play Wall Hanging and a personalized pillow with a custom embroidery of any name. You will also receive a personal thank you note from Ate Jingle!

Measurements:
Wall Hanging
Length -95 cm
Width - 69 cm
Side Piping - 1 cm
Pillow Case
Length - 38 cm
Width - 38 cm
Toy Bucket
Length - 31 cm
Width - 31 cm
Handle - 32 cm
2 claimed